Build Your Own 5-String Electric Banjo Kit
SKU:

36-022-01

UPC:

602589223551

MPN:

36-022-01
Frequently bought together:
Description
The world needed an electric banjo that could drive a Marshall Stack.
We delivered.
Build your own and be the first kid on your block to crank rolling banjo fingerpicking fills through a raging amplifier like a bluegrass Jimi. (You know you wanna...)
This is the perfect gift for any level of instrument lover and made specifically for novice builders. It's our first official collaboration with another great American business, the Carver Banjo Company.
Easy enough to assemble with a screwdriver!

Perfect for beginner builders.

Kit comes unfinished. The

completed banjo shown here was actually painted with Rustoleum glitter paint!

Modding possibilities are endless. (Easily change pickups, tuners, knobs...)



The photo above shows one finishing option, as created by Shane Speal. The wooden pieces come bare/unfinished.

Kit includes:

1 x Fully fretted Banjo Neck
1 x Top piece with routed holes for pickup
1 x Solid body piece with pre-drilled mounting holes
1 x 5-string Banjo Bridge
1 x Pre-Wired 6-string Magnetic Pickup with Volume & Tone (pickup ring color may differ from photo)
5 x Open-Gear Chrome Tuners
Additionally the kit comes with all the mounting hardware necessary and detailed assembly instructions.

Specifications:

Instrument Length: ~37"
Scale Length: 26 1/4"
Width at Nut: 1 1/2"
String Spacing: ~3/8"
Width at body: 11 7/8"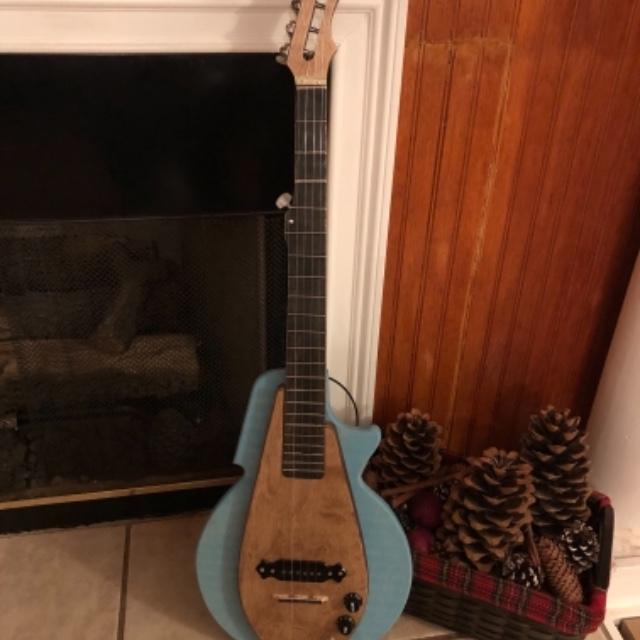 Customer feedback on the Electric Banjo Kit: I have used LR Baggs products to electrify a banjo [and] a cavenjo system, but this really peaked my curiosity...
Ever since I was young, I have loved the southern blues, and always wanted to play it. I never learned guitar, but I do know that the banjo was an original blues / jazz instrument. All my experimenting never played out like i wanted the sound to be. This Carver/Gitty electric filles the hole i have been looking for. I want to use this for a picking/slide instrument to slide my way into a real twangy blues. I will tweak it to pull the sound out of it that i want, but WOW what a sound right out of the gate. It is too hard to describe except to say that it is very unique. It pulls off the bluegrass sound of rock and roll!!!
View All
Close