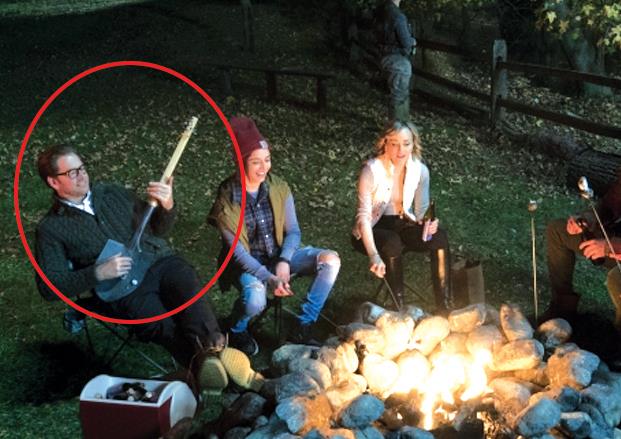 Last month, Ben "Gitty" Baker was contacted by the popular Bull TV show on CBS about helping to decorate a scene set in the workshop of an eccentric guitar builder. They wanted cigar box guitars, shovel guitars, old amplifiers any other cool-looking props to make the scene look realistic - and they wanted someone experienced in such things to help them get it set up. Ben Gitty Baker was just the guy to do it! He picked out the weirdest and wildest of the instrument creations at C. B. Gitty, loaded up the van and headed down to Congers, NY to get to work.
Our guitars and other homemade instruments seen in the workshop scene:
See ALL of our awesome Cigar Box Guitars and other homemade instruments, by clicking here!
Here is the full BEHIND THE SCENES photo and video montage Ben Gitty recorded while on the set!
The episode "Light my Fire" is scheduled to be aired on Tuesday, December 13 at 9 PM Eastern on CBS. We have a bunch of behind-the-scenes video and photos of the set decoration process, which we will be able to share once the episode airs.
Ben Gitty shares some stories of his time on set:
It amazed me how big of a production it was for them to film that one scene in a small garage. There were at least 50 people running around, probably closer to 75. Everyone had just one job. The prop people only did props, they did not set them up - that was the set design team. The set design team didn't do anything with lights - that was the lighting guy's job. Everyone was focused on their one thing, making sure it was just right, and that made the set operate like a fine-tuned machine. The director would mutter something under his breath and it would be called out by people out to the edges of the set. First rehearsal, second rehearsal, etc.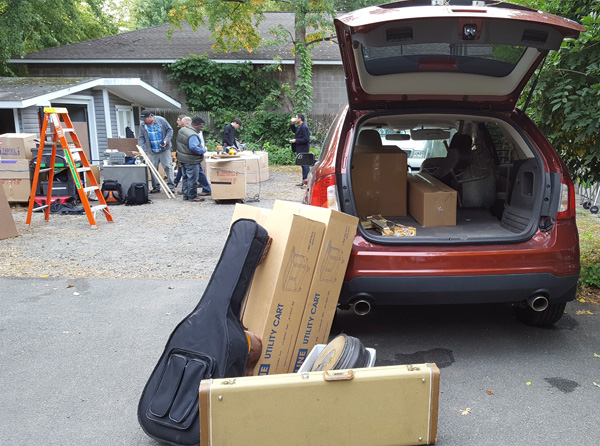 They built a big tent in front of the garage entrance and put a big camera boom in there on rails, to be able to get the smooth panning shots inside the garage that they needed. The sound moon had his own little tent off to one side. The director had two monitors to view what was going on - he was seated next to the script monitor (who makes sure continuity is maintained over multiple takes), and I was sitting right behind them. It was a lot more than a couple of guys with shoulder cameras, which I had been half-expecting.
During breaks and in between takes, the lead actors Michael Weatherly and Freddy Rodriguez would come and sit near me, and talk to each other and the director Dennis Smith. At one point Dennis turned to Michael and said "You know, this scene has taken on a lot more importance than how it was originally written." He did not elaborate, but I think it was because of how Michael (in character as Bull) was interacting with the instruments, especially the cigar box guitars... picking them up and playing them, seeming genuinely interested in them as he moved through the scene and spoke his lines. The director told me the originally the scene had been written as being about a piano builder, and that he (the director) had changed it to a guitar builder, because he is a big guitar guy. Somehow from there it morphed into an eccentric cigar box guitar builder, which led them to me and C. B. Gitty.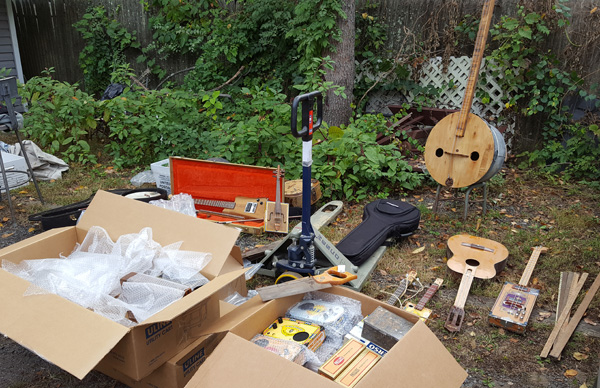 I actually had met Michael Weatherly on Wednesday night (set decoration happened Thursday and the shoot was on Friday), at the hotel bar. The artistic director had recommended me the hotel to stay at, and it turned out to be the one where some of the actors and crew were staying too. So when I arrived Wednesday evening and ended up at the hotel bar, there at the other end was Michael. I didn't know quite who he was at first, but it was pretty clear he was "somebody". I looked up the Bull show on my phone and saw he was the lead actor. As the night went on and drinks flowed, eventually we struck up a conversation and ended up outside, smoking (I don't smoke - but I did that night) and talking about guitars and various things. He is a guitar player too and has been in a band or two, so he was very interested in cigar box guitars and the whole idea of homemade instruments. I think this may have helped get him thinking about the scene in the workshop, and may have helped him be as engaged as he was... but that could be wishful thinking too. At any rate it was nice talking with (really, mostly listening to) him.
Interestingly, the episode was set in a fictitious town in New Hampshire named "Kavanaugh". They had signs up, staged a farmer's market, and went all-out to make Congers, New York seem like Kavanaugh, New Hampshire. The cigar box guitar builder's workshop was supposed to be situated way out in the woods (Maybe you noticed the bushes shaking at the start of the scene, when Bull and Benny move into sight through the window? That was actually an overgrown hedgerow separating two suburban yards). It was weird, having just driven from New Hampshire, to see all of these signs saying New Hampshire this and New Hampshire that. We were only about 40 minutes from New York City. They brought in real vendors for the farmer's market scene (that scene was shot on Thursday, I wasn't a part of it). There was a bakery vendor, a pie vendor and a pickle vendor among others. I bought some pickles, and a lot of the crew bought pies, so the vendors made some extra money off of the event.
On Thursday evening, also in the hotel bar, I was invited to sit at a large table with the Dennis Smith director, assistant director and various members of the crew - Michael showed up a bit later. I had a nice talk with Dennis, who has directed quite a few of the NCIS episodes in the past. He is a guitar player and collector, and we shared a few stories. I mostly sat and listened once everyone showed up... the crew talked about their various jobs and shows they had worked on and who knew whom. Michael told animated stories about fellow actor friends in Hollywood, and other experiences. Dennis served pie (from the farmer's market scene earlier) and I felt more than a little out of place. I headed up to my room at a reasonable hour, but I heard rumors the next day that some of the others had partied on for quite a while. There were some rough faces on set the next morning for the shoot... but I won't go into who exactly.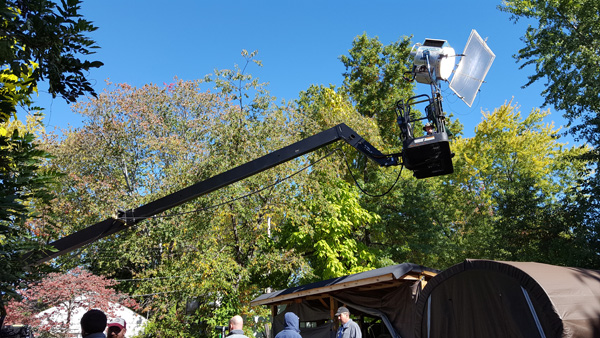 The shoot Friday morning was exciting. I was on a personal time crunch, because it was my anniversary weekend and my wife would be waiting for me that evening up in the White Mountains of New Hampshire (quite a drive from Congers, NY) so as the hours dragged by I was more and more nervous. I couldn't exactly grab my stuff off the set and go before they were done filming. I got to hang out with Freddy and Michael (Benny and Bull) in between shoots, which was interesting. The "GUEST" chair in the pic below was mine.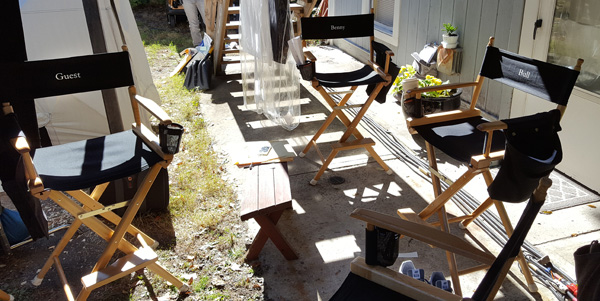 All told, this was a very interesting event to be a part of. It was eye-opening to see behind the scenes, what it takes to produce a prime-time network TV drama like Bull. Meeting and listening to the actors, directors, producers and crew who make TV happen was cool.
But for me, the coolest thing about all of this is that it will mean cigar box guitars and other homemade handmade instruments will have a few moments of time on a prime-time network TV show. My hope is that this will turn even more people on to the idea that they can build their own cigar box guitar and make music on it. We have seen this hobby/movement obsession grow far beyond what anybody ever expected, and things like this will take it even further.