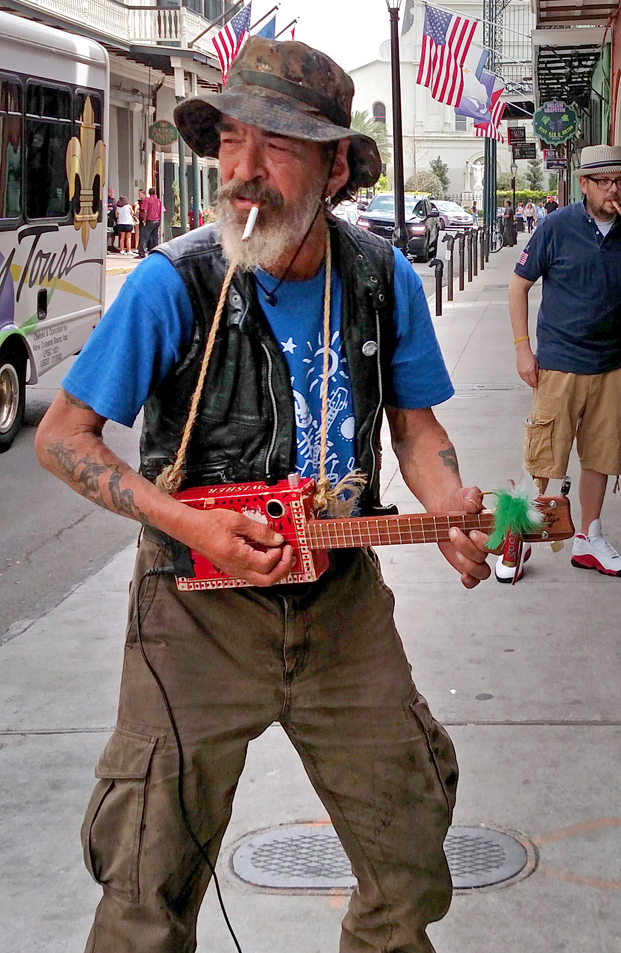 This is Connan. Shane Speal and I met him in January, 2016 during the New Orleans CBG festival, and I spent some time with him again this year. He is a street artist and performer who (until June 21, 2017) had been living homeless on the streets of New Orleans for around 10 years. He is also a veteran, often talking of his time with the Army's 82nd Airborne Division.

Usually he can be found somewhere around Frenchmen or Decatur Streets, in the French Quarter. In the photo to the right, he is performing on Orleans Street (that's the back side of the famous St. Louis Cathedral visible behind him) on the cigar box guitar that I gave to him this year.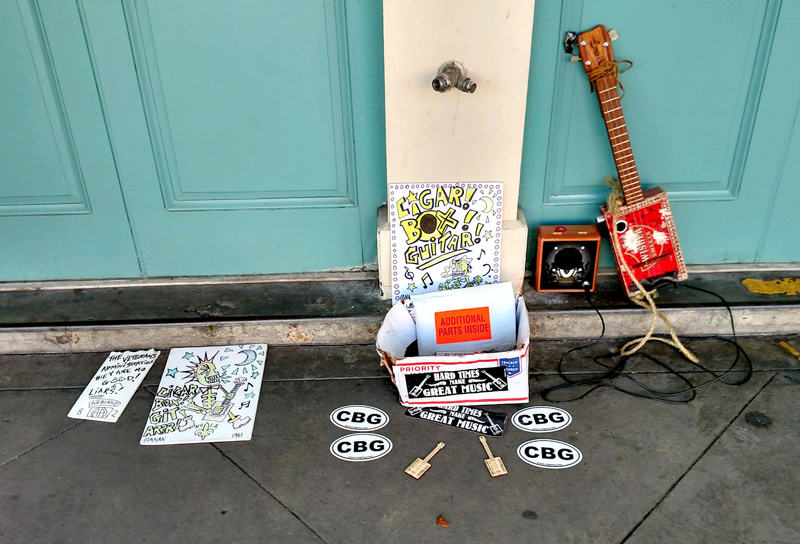 Connan's sidewalk setup, with his artwork, tip box and cigar box guitar.
He calls it his "publicity booth."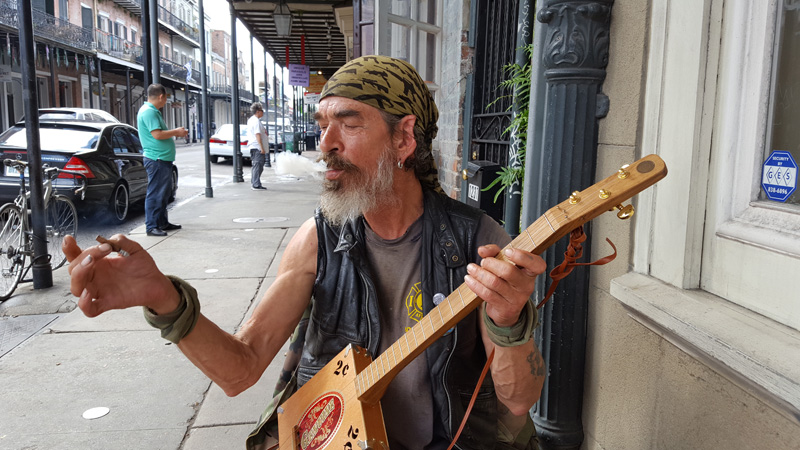 Ben Gitty spent a couple of hours with Connan in January 2017, during the New Orleans CBG festival, sitting outside the Envie Cafe on Decatur Street and making some music. Connan checked out and played Ben's 2-Cent Genny cigar box guitar, and also played along on his harmonica.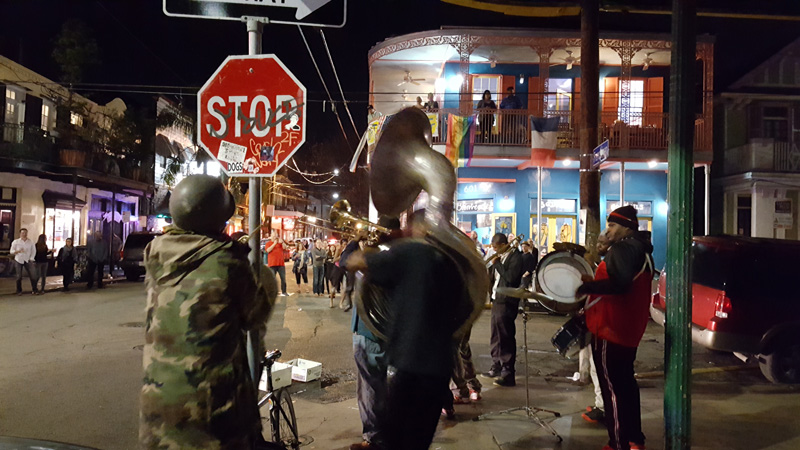 Connan (in the army helmet and Army jacket) plays along with a brass band on the corner of Frenchmen and Chartres streets, on the edge of the French Quarter in New Orleans, by banging on the metal light pole with a drumstick.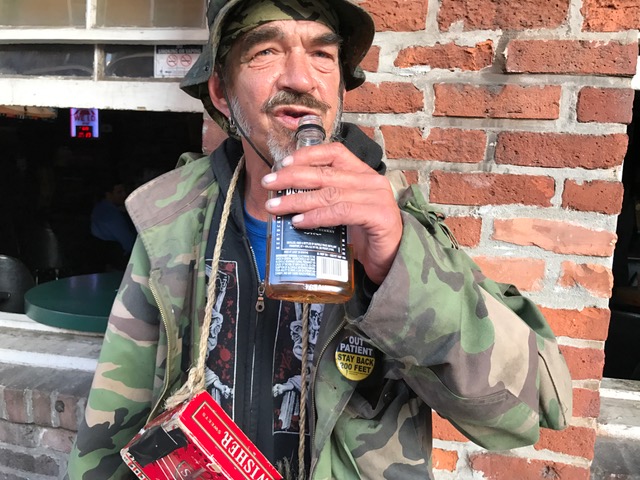 Connan in his natural habitat, in between cigar box guitar performances.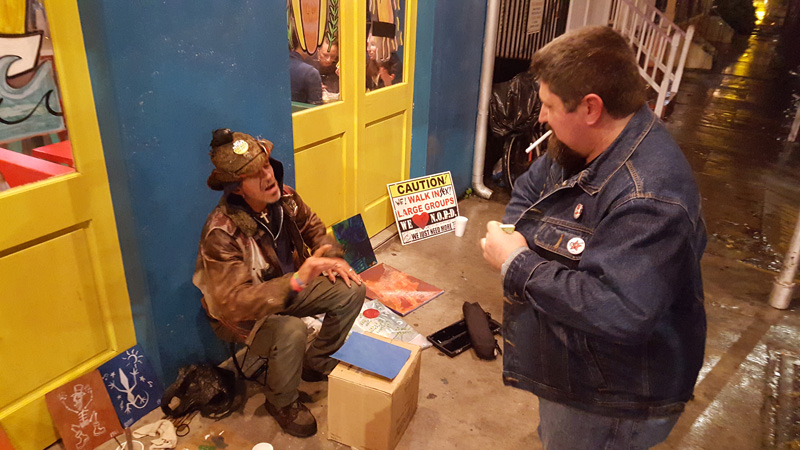 Our first time meeting Connan, in January of 2016, on the sidewalk outside the Dat Dawg hotdog shop on Frenchmen Street. That empty blue artboard in front of him would, over the course of the next two hours, become the piece of art we now call "Blue Voodoo Boogie".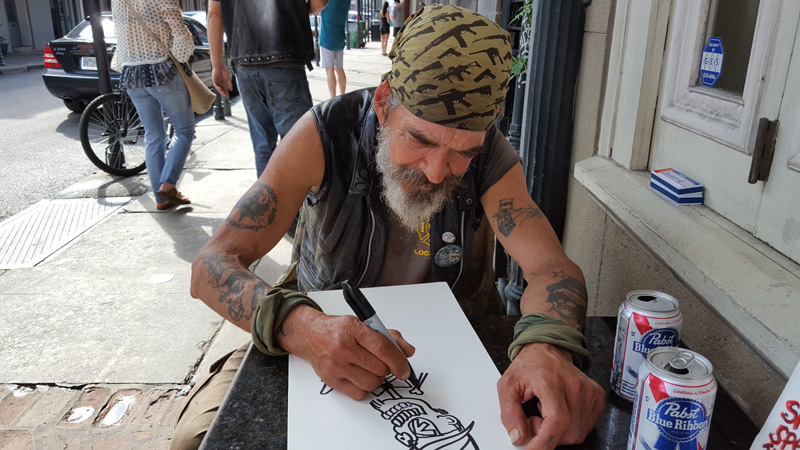 The artist at work on a new drawing that was intended to be a portrait of Ben Gitty, and became a bit more...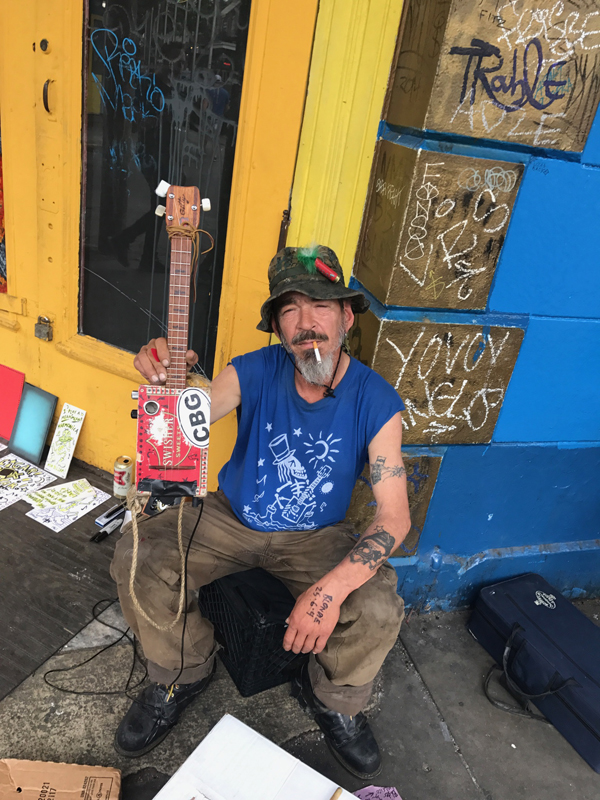 Set up on Frenchmen Street, making art and music. March 24, 2017.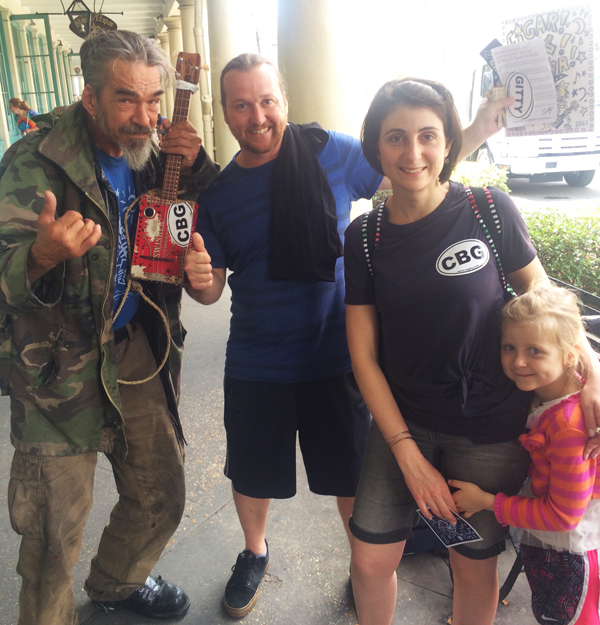 Posing with Greg Fundis, drummer for the "Zeppelin 2" Led Zeppelin tribute band. March 29, 2017.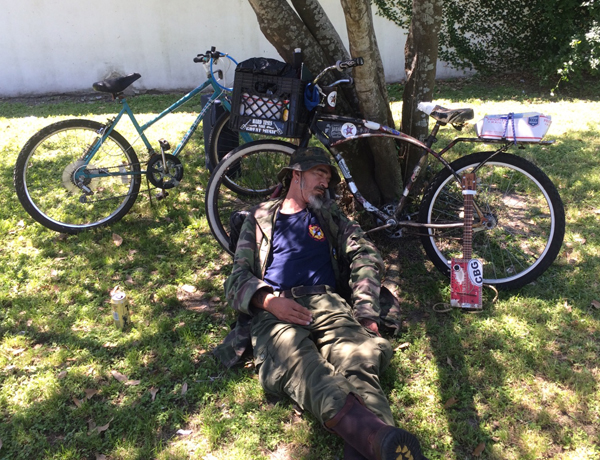 Resting in the dog park, one of the few places he can relax without being hassled by the police. Most of what he owns is on that bike behind him. April 10, 2017.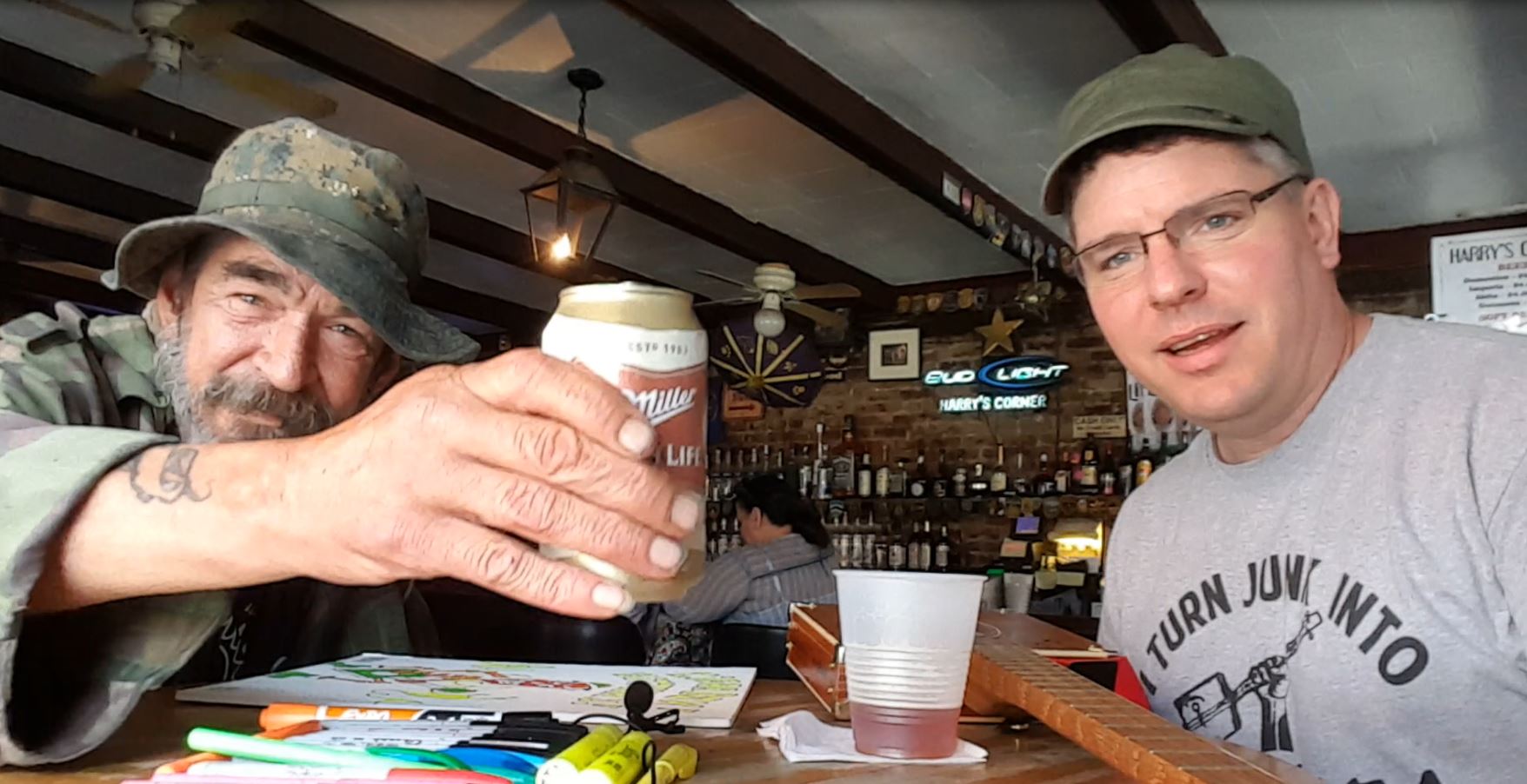 Connan and Ben Gitty at Harry's Corner in the French Quarter in May 2017, drinking some beer, playing cigar box guitar and talking about his life story.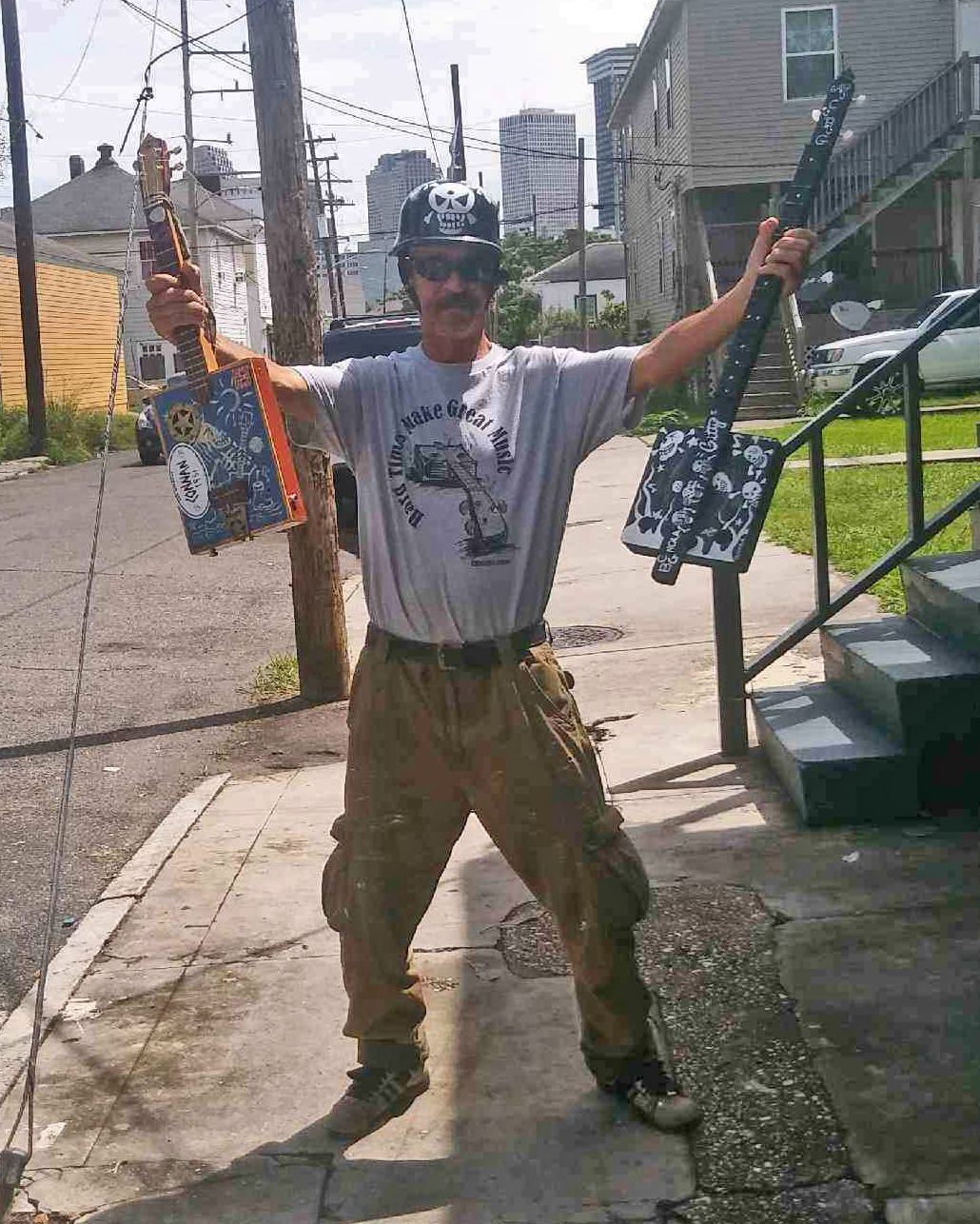 Connan on the sidewalk in front of his apartment, showing off his cigar box guitars; the one Ben Gitty built for him on the left, and the first one he ever built himself on the right.