"Tin Pan Alley" 3-String Paint Can Resonator Guitar Kit
SKU:

36-034-01

UPC:

602589224862

MPN:
Description
The "Tin Pan Alley" 3-String Paint Can Resonator Guitar sounds like the Deep South, circa 1928.
It delivers the iconic classic metallic, Delta Blues tone in an easy-to-assemble guitar kit.
Play it fretted or use a slide - the secret to the tone is the paint lid resonator.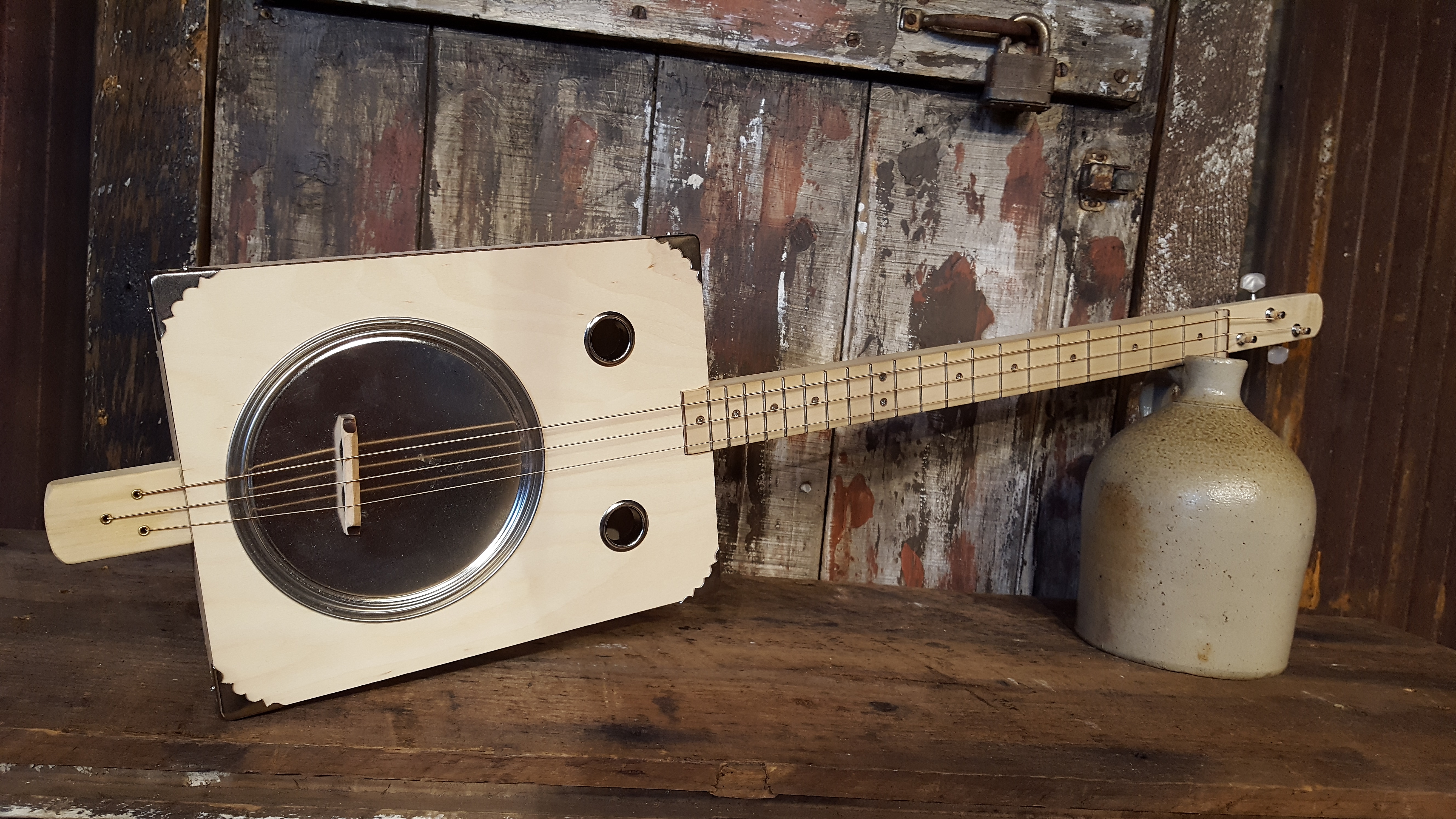 It was a warm summer day when we were brainstorming ideas for new kits in the Gitty workshop, and we came to the conclusion that something was missing from our lineup.
Thus began our quest for an affordable, easy to build 3-string resonator guitar that can be built with simple hand tools - and we think we nailed it!

This kit utilizes a modified version our popular 8 1/2" x 11" Box Kit for the body, one of our 3-String Fully Fretted 25" Inch Scale Necks and a gallon-sized paint can lid.
As one of our "blank slate" style of kits - with an unfinished box and neck - how you personalize your "Tin Pan Alley" Resonator Guitar is up to you.
Painting, staining, decoupaging, wood-burning, inking... the possibilities are nearly endless.
Your "Tin Pan Alley" Resonator Guitar will be a piece of playable musical art!
Kit content includes:
> One 8 1/2 x 11 1/2-inch box kit
> One fully fretted, 25-inch scale, 3-string neck
> One gallon-size paint can lid
> Three chrome open gear tuners
> Eight nickel-plated box corners
> Two chrome candle cup sound hole inserts
> One maple small banjo-style bridge
> Long Shank Brass Eyelets
> Blues Blaser Acoustic Medium strings
> Drywall screws
> Bracing blocks
Learn how to play your Tin Pan Alley:
Once you've finished building your guitar, you'll want to learn how to play it.
For that purpose, you'll find the largest selection of cigar box guitar songbooks available here at C. B. Gitty.
In addition, we also have the most comprehensive and eye-catching chord charts and posters around.
And, of course, we have an enormous and growing library of lessons and downloadable cigar box guitar song sheets, all totally free in our cigar box guitar knowledge-base, CigarBoxGuitar.com.
With all these resources, you'll be playing your cigar box guitar in no time!
View All
Close