One Cigar Box Nation member donates C. B. Gitty gift certificate to another building guitars for military veterans.
Cigar Box Nation member "the anonymous pick" donated a $100 C. B. Gitty Crafter Supply gift certificate to another Cigar Box Nation member Henry Dervaric. Henry, along with his family, builds cigar box guitars for military veterans adjusting to civilian life.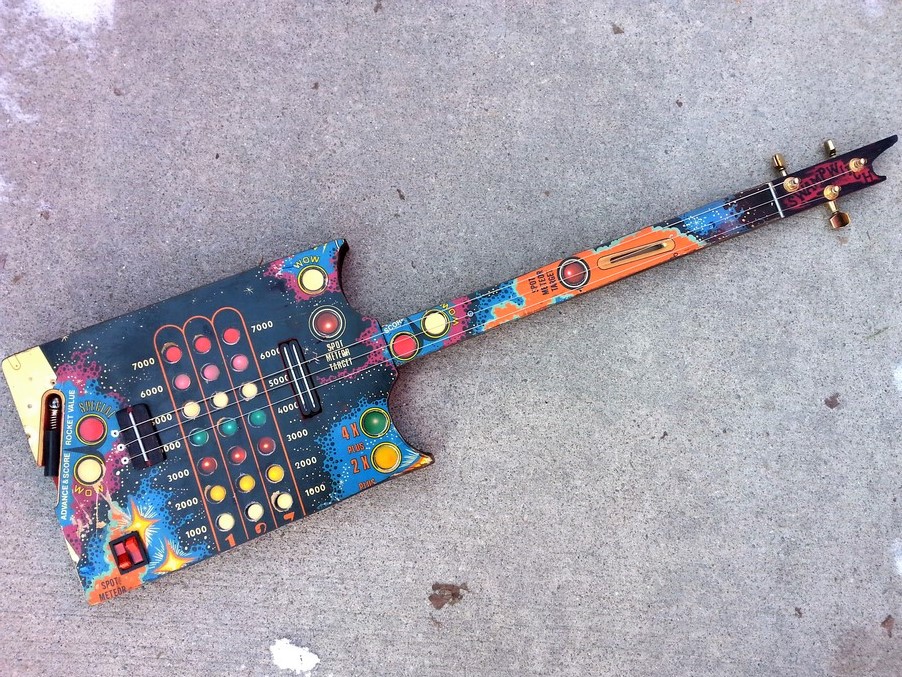 For an astonishing pinball machine-themed build entered into a Cigar Box Nation contest, "the anonymous pick" (aka Pick) won a $100 gift certificate to C. B. Gitty Crafter Supply. This wasn't the first time Pick has won a C. B. Gitty gift certificate for his incredible work. And this wasn't the first time Pick has donated his winnings to someone else. Of those prizes he's won, Pick has turned around and gifted each of them. This last time, as with a few others, Pick gave his gift certificate to Henry Dervaric.
Henry Dervaric and his family also donate a good deal of their own time and resources to worthy causes. Over several years now, they have been built more than 350 cigar box guitars to benefit local military veterans. Some of those guitars are given directly to vets, while others are made for fundraisers and others sold through a local consignment shop. 100% of all money raised goes either straight to the local community center or is used to purchase gift cards and other goods to help ease veterans' lives.
*** Update 06/11/2019 ***
Henry gave an excellent interview regarding his compassionate work which you can see at end of this post.
Both Pick and Henry are members of Cigar Box Nation, the world's largest online community of cigar box guitar enthusiasts. While they have not met in person, Pick and Henry's passions to help others have connected them. Their relationship has benefited those struggling with life after experiencing the horrors of war.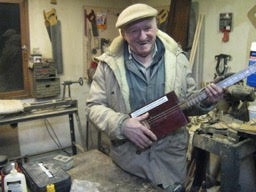 Henry began helping veterans after he discovered cigar box guitars (CBGs). Already a guitar player, CBGs sparked an interest in Henry, and while researching them online, he stumbled on Cigar Box Nation. On that community website, there was a group called CBGs For Service Members which connected active service members with CBGs built by Cigar Box Nation members. Henry introduced his father -- who hadn't played a note in his life -- to CBGs, who then made a couple for soldiers serving overseas. Upon seeing a picture of the smiling soldiers holding the CBGs he crafted, Henry's father got to work building more.
Being that there is a veteran community center in their area, Henry and his family decided to serve those local vets in this profound new way. It took a couple years of Henry showing up with bottled water and other goods before he earned the vets' trust. Once he did, the Dervarics began building CBGs to help improve vets' lives. And with each CBG, a new set of resources has given a local veteran dignity and helped them cope with their daily struggles. "If (a cigar box guitar) makes them forget for five minutes why they're at the center, then the work we do is all worth it," says Henry.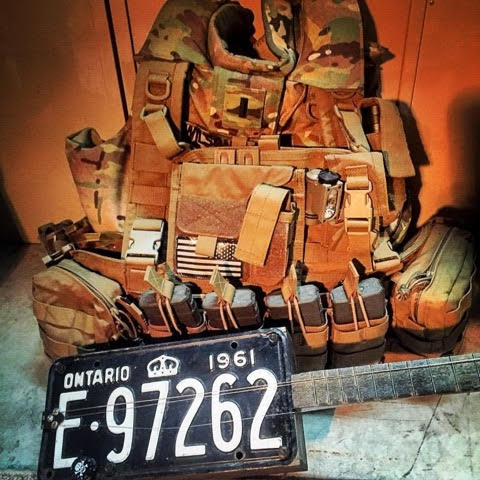 Longtime Cigar Box Nation member Pick has been donating his C. B. Gitty contest winnings to the Dervaric family's efforts and other individuals for several years. "I have received a handful of C. B. Gitty gift certificate prizes from contests, and have passed them on every time," says Pick. "Ben's (owner of C. B. Gitty) contests on Cigar Box Nation help folks more than he knows." However, it's not just contest-winnings that Pick has donated. Pick also gives guitars to up-and-coming cigar box guitar festivals which always receive a boost in outside interest when his guitars are present.
Pick has also donated to various efforts on Cigar Box Nation when the community has rallied to help one of its own. One such case is when a member's family lost their home to a fire. In addition to the financial contributions made with other members to assist the suffering family, Pick also built and sent a memorial-themed guitar to help the family re-establish some normalcy. About his donations, Pick says, "I'm a byproduct of Cigar Box Nation," citing that it's the community as a whole that deserves any credit for kindness.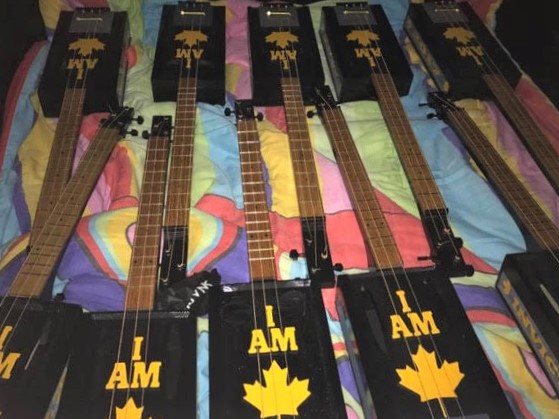 Adding to their own long list of kind acts, a couple years ago the Dervaric family built 10 gorgeous guitars for the Invictus Games held in their area. The annual traveling games are a gathering of service members who've been exposed to the terrors of war and are learning to cope with struggles of life post-combat. The beautifully crafted guitars represent the strength and hope of veterans who've given so much to the country they served.
Actions such as the Dervaric family's and Pick's illustrate the breadth and depth of inclusivity, caring, and kindness in the cigar box guitar community. When action is needed to serve others, the community on Cigar Box Nation responds. As Pick puts it, "When put in this position to help others due to the community, the community is due. It's what we do, and it continues the cycle."
Henry Dervaric's video interview for Dandelion TV's Canadian Artists series:
Photo credits:
Pinball guitar - the anonymous pick
All other images - The Dervaric family
Recent Posts
C. B. Gitty presents the Fireworks of Savings Sale - SAVE 20% on these Made in America items! …

HOW MANY INSTRUMENTS HAVE YOU MADE SINCE THE START OF QUARANTINE? As the quarantine slowly lif …

Shane Speal is back with his latest creation, and this time it's absolutely stunning! His "Mot …