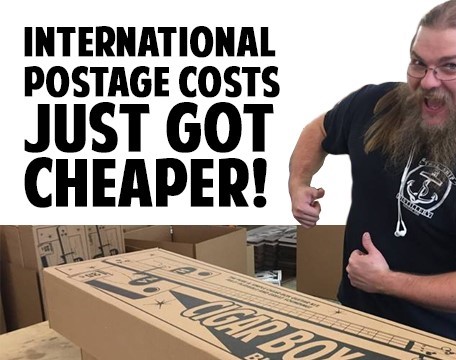 Getting cigar box guitar necks, pickups and all other parts just got less expensive this week. C. B. Gitty just announced sweeping reductions to worldwide postage. The free shipping level for U. S. customers has also been lowered to $84.99!
Ben "Gitty" Baker says, "we negotiated a special price deal with the US Postal Service that will save customers 25-30% off shipping in Canada and 20-25% in most other countries. And it's easier to get free shipping on U. S. orders too!"

FREE SHIPPING THRESHOLDS REDUCED FOR INTERNATIONAL ORDERS:
In addition to the lower shipping rates, C. B. Gitty has also reduced the threshold to qualify for free shipping*.
United States: Orders over $84.99 will still get free shipping
Canada: Orders over $165 will get free shipping
Europe: Orders over $235 will get free shipping
Australia, New Zealand and Select Other Countries: Orders over $275 will get free shipping.
*Some restrictions apply. See full details here.

Cigar box guitar builders are also getting free hats, per stickers, shop aprons and other items in their C. B. Gitty orders. We recently started a rewards program with an ever-increasing selection of freebies. Several new items have been added just in the last week!

OTHER NEW IMPROVEMENTS TO CBGITTY.COM:

We now accept Amazon Pay as a payment method - allows you to use the payment methods you already have saved on Amazon.com.

New "Optimized One-Page Checkout" for a smoother, easier checkout process.

Added Fedex Ground shipping option for U. S. orders, and Fedex International Economy option for international orders.
We have also reinstated shipping to Mexico!
All shipments to Central America, South America and Africa will now require Priority Mail International or Fedex International Economy, with included insurance.