In this post for building canjos, you'll learn how to remove the top from a beverage can in under a minute without a single tool!
Making your own canjo is one of the most uncomplicated and satisfying musical instrument-building projects you can undertake. To build one requires little more than a neck, a tuner, a string, and a can.
As a toast to the canjo's simplicity, Ben "Gitty" Baker recorded a short video demonstrating how to remove a beverage can-top using no tools. And that process to prepare the can for use in making a canjo is done in under a minute!
Watch that video here.
VIDEO
BREAKDOWN
To start this quick and easy canjo building hack, Ben got a hold of an empty beverage can.
Ben already knew that he could use a sanding machine or related hand tool to remove the can-top. The sanding process abrades the rim holding the top of the can to the body. When done long enough, the rim is sanded off, and the top is made ready to remove.
Gitty also knew there had to be a way to prep a can to be used in making a canjo without having to use any special tools. And so, honoring the DIY tradition of building folk instruments, he sought a cheap and easy way to prep beverage cans. What he discovered is that by simply dragging the can across a rough surface, such as a slab of concrete, he could replicate the sanding process without a single tool. As an added bonus, the entire can-top removal process took less than a minute.
So, with a phone in hand and someone to record the video, Ben stepped outside the Gitty shop and onto a concrete walkway to record the short builder's hack above.
Ready to prep the can
Fear naught! The contents of that can did not go to waste.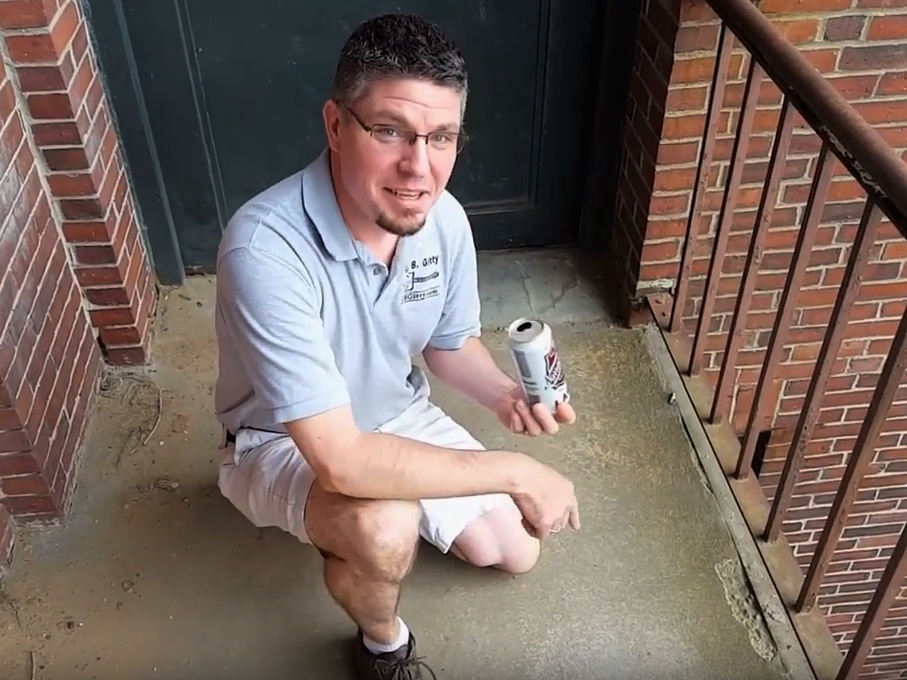 The process begins
While holding the can firmly to the walkway, Gitty drags it across the concrete with consistent and deliberate strokes.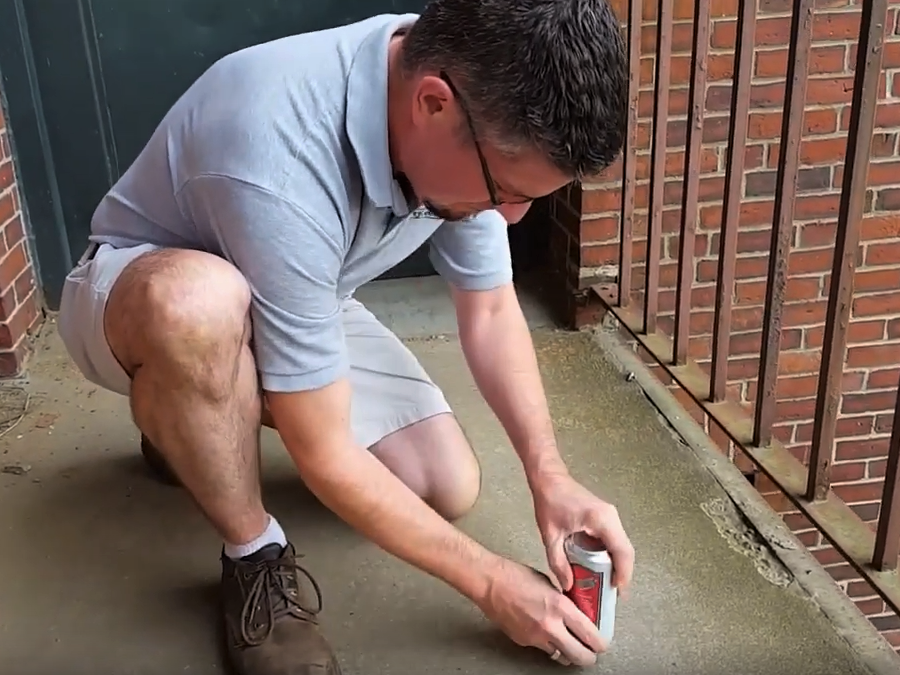 Twist the can
To ensure that the rim is evenly abraded, Ben periodically twists the can throughout the process.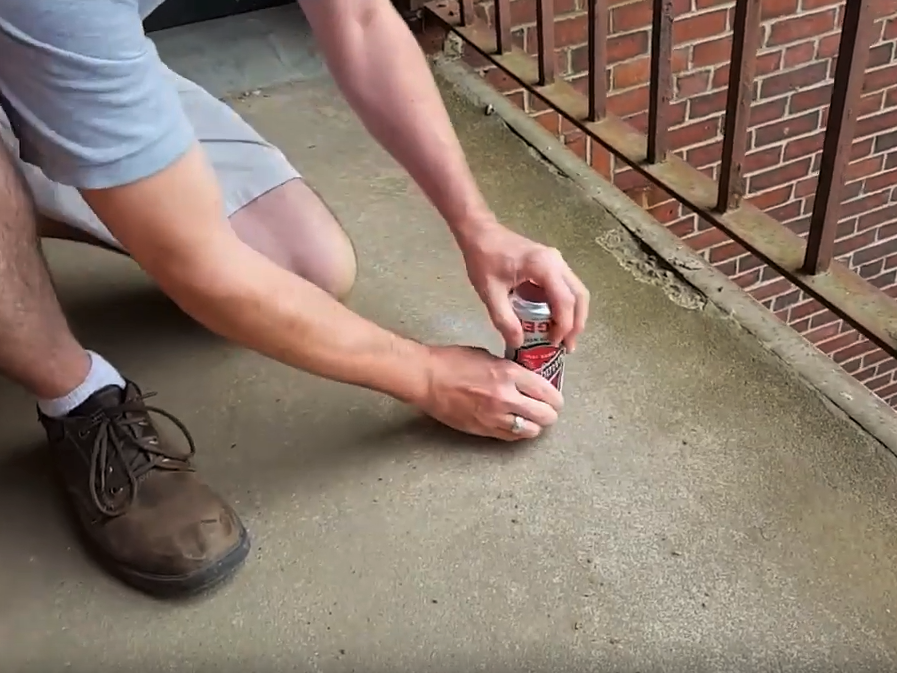 Insert finger into pour-spout and pull top
To check if the rim has been sufficiently abraded, Gitty inserts his finger into the pour-spout and gives the can-top a tug. If the top doesn't release by using a little pressure, he resumes the process.

Process complete (in less than a minute)
With just a little time and elbow grease, Ben sands the rim enough for it to release the can-top. With just a little smoothing of the rough rim-edges, this beverage can is canjo-ready!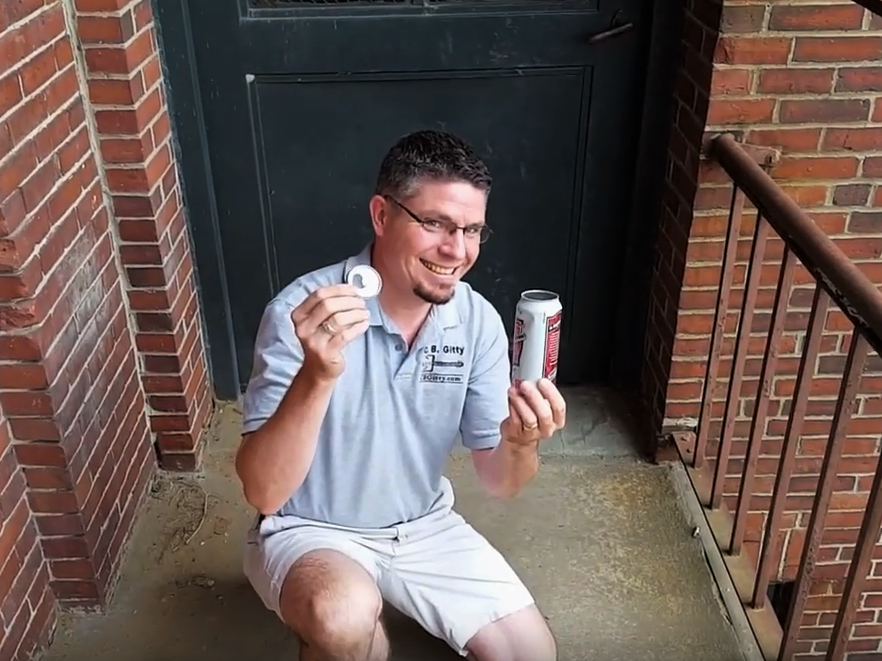 How's that for DIY?
Keep reading for additional resources and ideas to build your own canjo.
RESOURCES
A Complete How-To Build A Canjo guide
Do you like how-to books filled with practical advice and insights for enjoyable building? Well then, you'll love Ben Gitty's How To Build A Canjo book!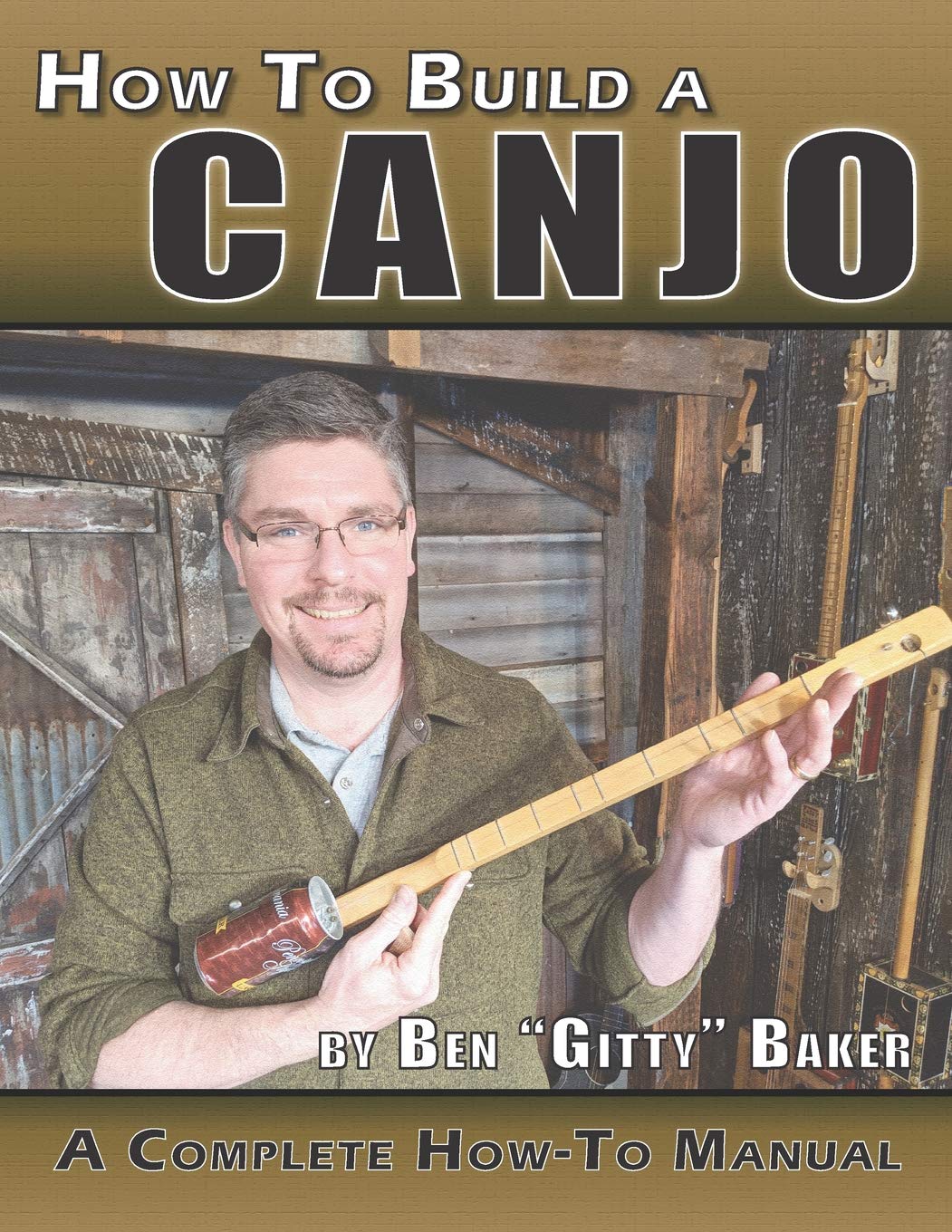 This 120-page manual contains all of the canjo-building how-to info that Ben has gleaned over almost a decade of building these fun, easy-to-play instruments.
The guide walks you step-by-step through building a one-string fretted soup can canjo, and also discusses several other topics including:
Using alternative types of cans (beer cans, flat tins, oil cans & more)
Electrifying your Canjo
Fretless canjos
The Secret of Removing Soda and Beer Can Tops
Multi-can Canjos
Much More!
Click here to get your copy of Ben Gitty's How To Build A Canjo book.
Fully-fretted diatonic one-string canjo neck
Want to ease the canjo-building learning curve and get a pre-made canjo neck?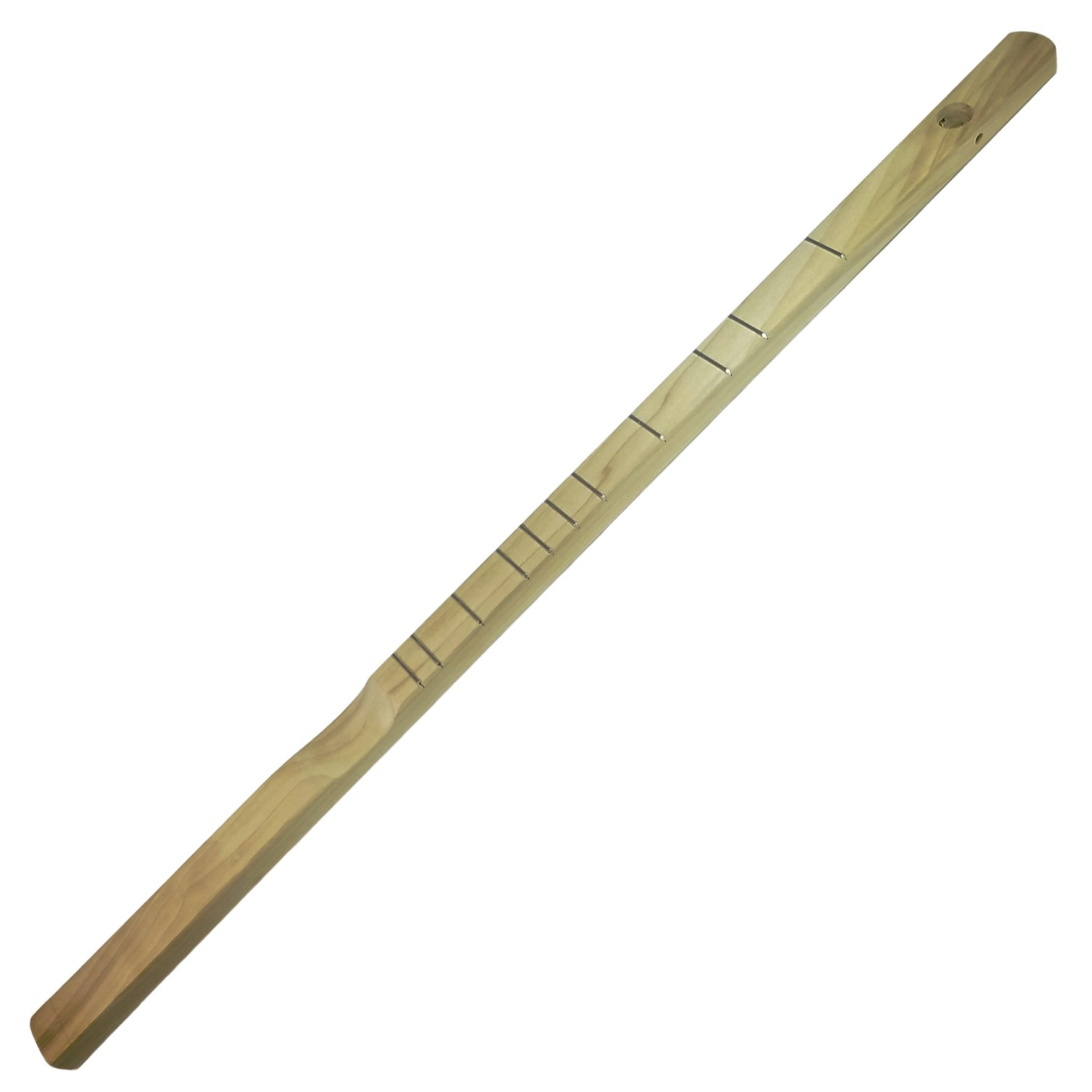 Gitty's canjo necks are handmade in the C. B. Gitty workshops in the state of New Hampshire, USA. The Gitty crew works hard to make sure they are a high-quality product and use these same necks on their various finished canjos as well as in the Complete One-String Canjo Kit.
Complete one-string canjo kit
How about a complete canjo building kit to make your own one-string musical instrument or to give as a terrific DIY gift?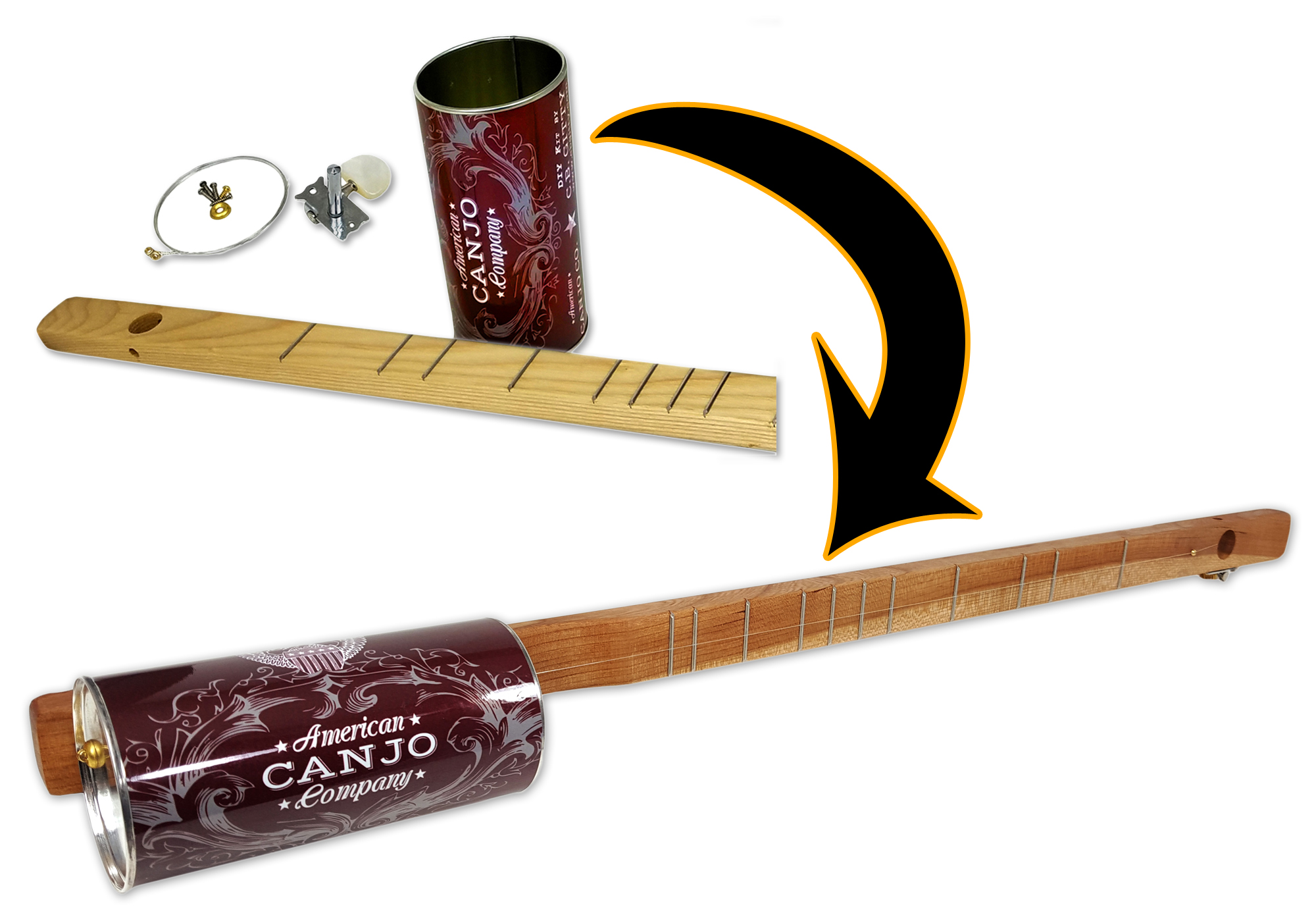 This is an acoustic canjo kit, offered under the American Canjo Company(tm) brand by C. B. Gitty. Each of these instrument kits include a fretted neck that is handmade in the Gitty workshop. They are fun and easy to build. Plus, they're even easier to play, and look great!
Also included with the kit are:
a 5-page assembly booklet
a free 2-page "How-to-Play" guide written by Ben Gitty
two picks
a spare string!
Also be sure to check out the Canjo Song Tablature section of the knowledgebase over at www.CigarBoxGuitar.com for an ever-growing list of popular and traditional songs you can play on these instruments!
Finished American Canjo Company canjos from C. B. Gitty
Looking for a high-quality, finished canjo made in the United States? These American-made canjos are fun and easy to play without having had to break a sweat to build one.
Just like the complete one-string canjo kit mentioned above, these handcrafted canjos also include:
two picks
a spare string
Gitty's free 2-page "How-to-Play" guide
For more free canjo tablature to learn how to play both popular and traditional songs, head over to CigarBoxGuitar.com.
Canjo songbooks
Grab your canjo and get picking with this library of songbooks packed with well-known songs!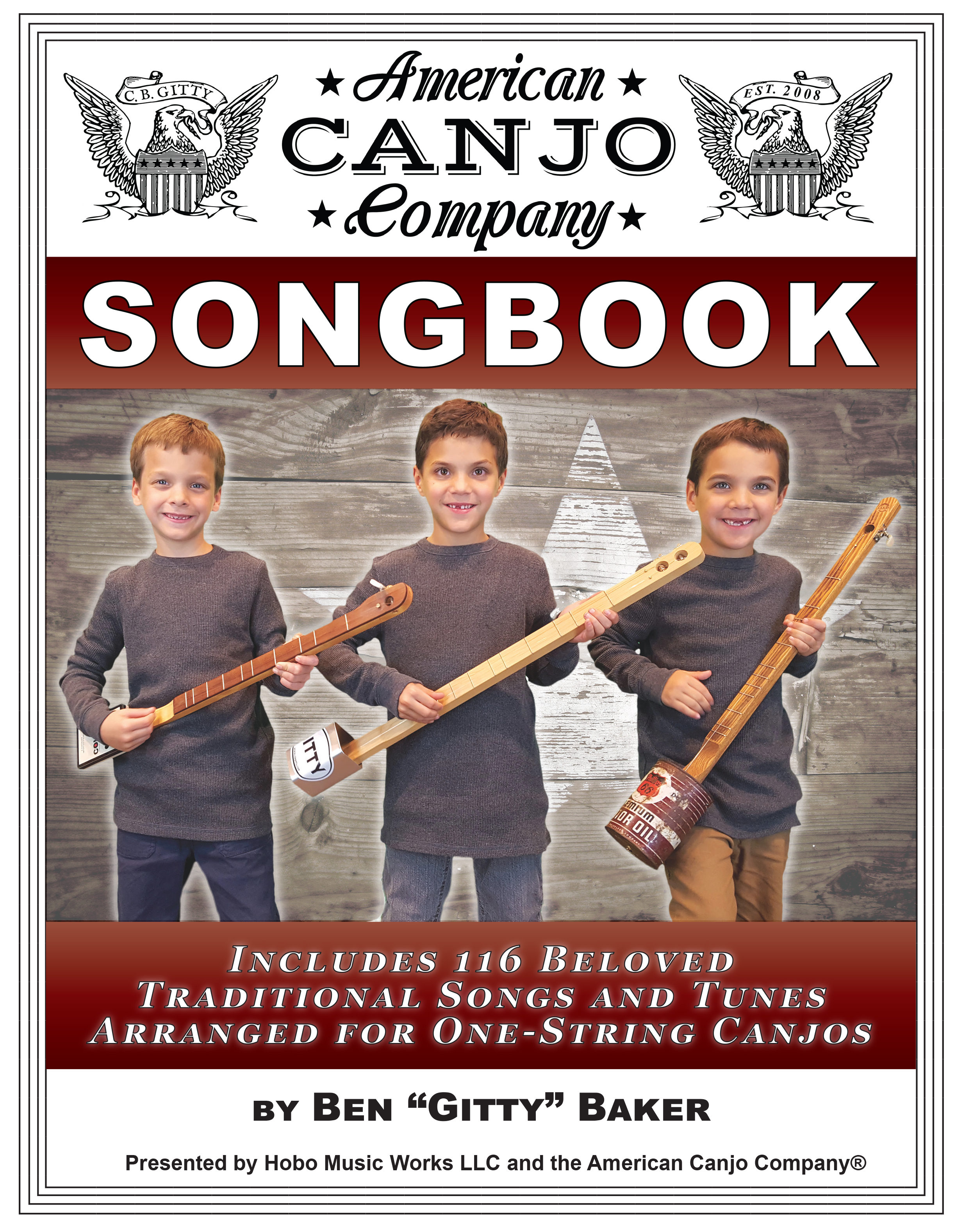 With your trusty canjo, playing these songs is easier than you ever imagined. Just follow the numbers above the words in the easy-to-play canjo tablature format used in Ben Gitty's self-published canjo songbooks.
Gitty's library of songbook titles includes:
Recent Posts
On a request from a long-time customer, Ben Gitty recently sat down to arrange tablature for the bel …

Recently, Gitty customer Vince Wesley sent us a couple of pictures of recent builds, and one of them …

I've heard it said: "A cigar box guitar is never going to sound like a Martin or a Gibson... but the …