My grandfather Irv was fifty-one years old when I entered the world on a cold January evening in 1977. He had been working his whole life fixing and maintaining mechanical equipment, starting as a car mechanic and then later helping to keep the ancient machines in an old crayon factory running.
As a child, I remember studying his hands, as we sat at the veneer-topped table in the small kitchen of my grandparents' home. I spent a lot of time there growing up, while my mom was at work. Those hands were large, and strong, swollen with years of toil. As part of his job in the maintenance department, he was tasked with keeping the factory running, from the ancient coal-fired boiler to the pumps in the basement; from the century-old crayon and pencil machines to the typewriters in the front office. His work days passed with his hands immersed in grease and oil and grime and spilled wax and pigments and graphite pencil lead, and all of it seeped into the creases and wrinkles to make a permanent etching of black on dark tan.
At other times, I remember those hands holding the steering wheel of a boat as we headed out onto Lake Erie for a day of fishing. The memories of them folded in prayer or holding his bible are numerous as well. Or holding the handles as he guided a tiller through the garde, or in the earth while planting. Through the warmer months, cutting wood for the stove to get ready for the winter. Those hands were rarely idle throughout a lifetime of toil. He worked into his early 70's before retiring, and afterwards he passed his time in his own little garage workshop, on various projects: restoring an old wooden desk, a vintage motorcycle rebuilt from a pile of parts, keeping his old Ford truck and little fiberglass boat running.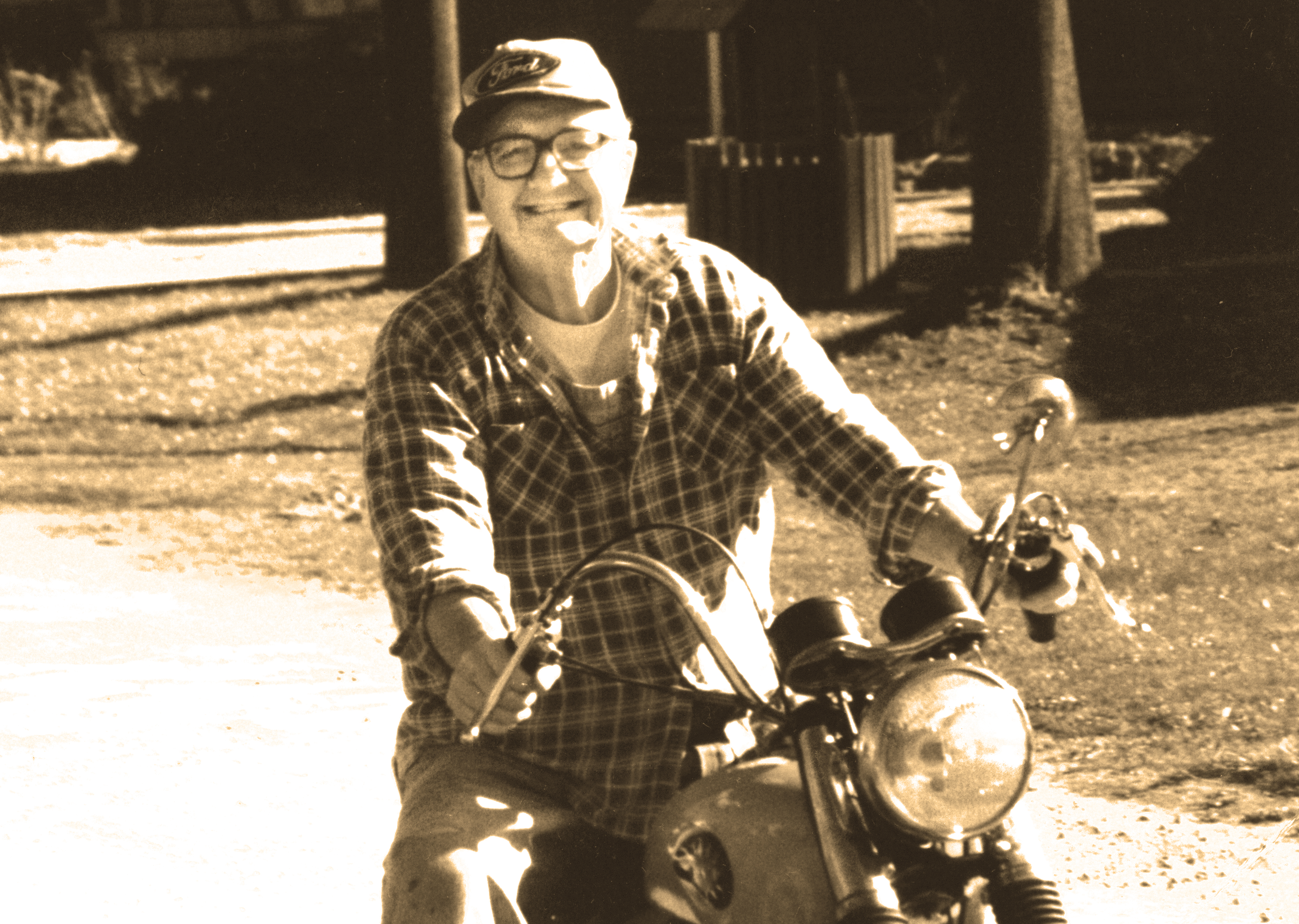 As he grew older, those hands softened and the deep black creases faded. When he got too old to do much out in the garage anymore, he'd pass his time with woodcarving and woodburning, including a set of building blocks he made for my own young son. At the end of his life, in a nursing home, those hands would hold his harmonica while he played to pass the time, his music helping to bring a little cheer into the dreary institutional existence.
At the very end, as he lay in a bed in a hospice facility, I held his hands as the wasted husk of his earthly form struggled to draw its final breaths. He was no longer visibly conscious or able to speak, but I felt him give my hand a squeeze at a couple of meaningful moments, letting me know some part of him was still there. I played my guitar and sang for him as family came and went, and late that night he passed.
Those hands helped shape my life and guide me to become what I am today. Without the skills I learned from him in the woodshop, there would likely never have been a C. B. Gitty. Without the quiet wisdom I gained from him, there is no telling where or what I would be today. I think of him as I raise my own son, and I think about what my boy will remember of my hands as he goes through life. There is work yet to do.
Recent Posts
On a request from a long-time customer, Ben Gitty recently sat down to arrange tablature for the bel …

Recently, Gitty customer Vince Wesley sent us a couple of pictures of recent builds, and one of them …

I've heard it said: "A cigar box guitar is never going to sound like a Martin or a Gibson... but the …