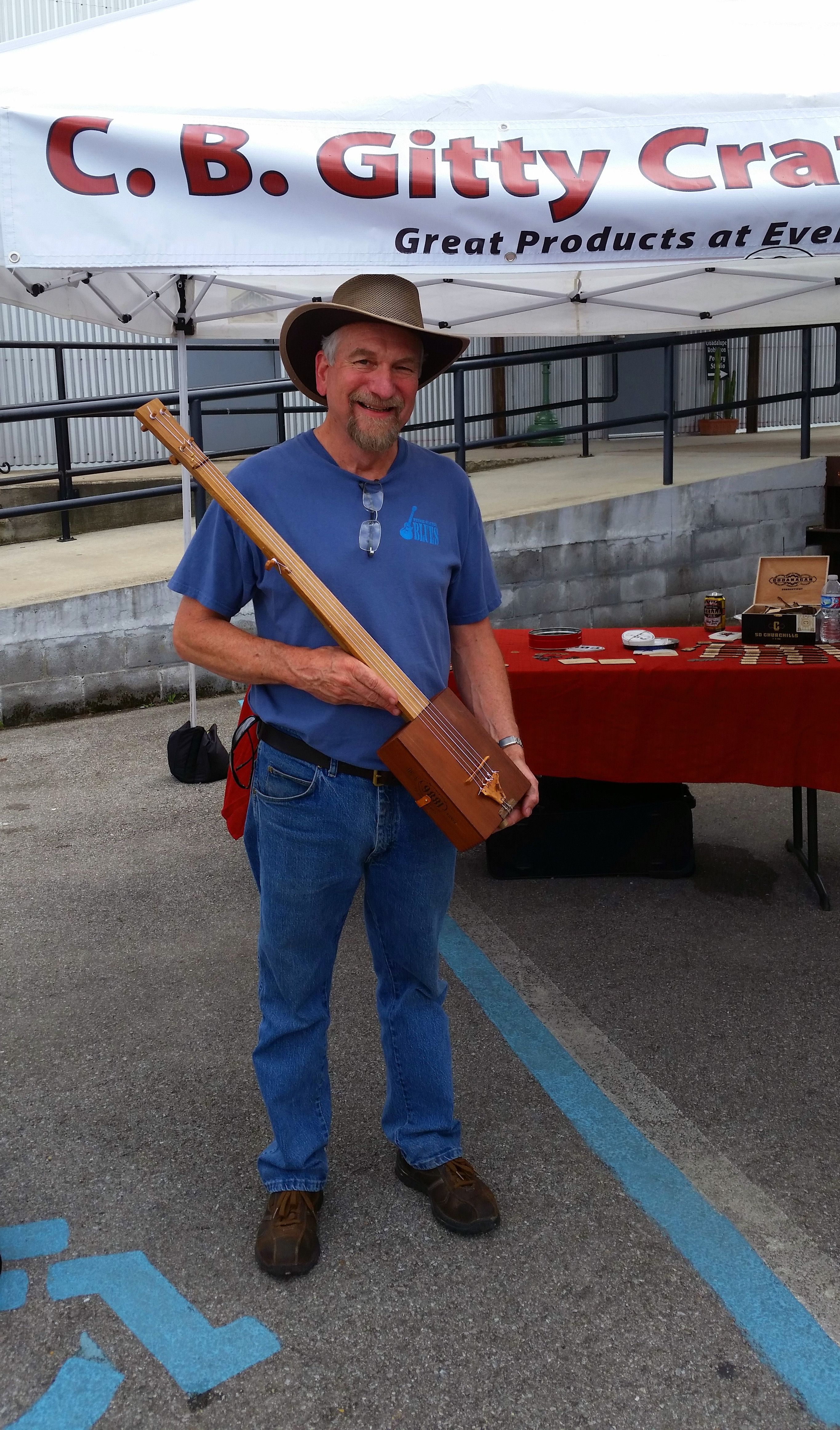 "I've got something you're going to want to see," Merlin Miller said, as he entered my booth at the 2015 Huntsville Cigar Box Guitar Festival carrying a cardboard box.
Merlin has been building cigar box guitars and other homemade instruments for years. In addition to having a really cool first name (and he does have a bit of a wizardly look about him), he is also the father of Jon Miller, who is currently working on a "Strung Together" documentary on cigar box guitars and the people who build them.
Recently Merlin decided to take on a very special project, one near and dear to my own heart - he decided to build an Uncle Enos banjo, and he decided to do it by following the original plans from the late 1800's as closely as possible.
The Uncle Enos banjo story and plans were written by Daniel Carter Beard (who later was one of the founders of the Boy Scouts), and were first published in 1884. A PDF version of the original publication, and more of the story about it, can be found in this article over at CigarBoxGuitar.com. What makes them special was that this is the first known instance of a cigar box instrument plans ever having been published.
"I probably wouldn't have normally done that, because we have all this modern amplification and everything," Merlin said, when I asked him how he got into cigar box guitars. "Jon bought me a book (David Sutton's "Cigar Box Guitars") about CBGs as a present, and I read the book and that's what got me interested about building them in the first place. [Before that] it hadn't even crossed my mind."
Merlin said he decided to try his hand at these historic plans when he and son Jon were thinking about a special thank-you gift for a sponsor of the documentary project. Mark Caples of Lousy Luthiery in Texas had donated generously to the documentary fundraiser, and since he was already a cigar box guitar builder, they knew something special was called for. An exact, historically accurate Uncle Enos banjo seemed just the right thing.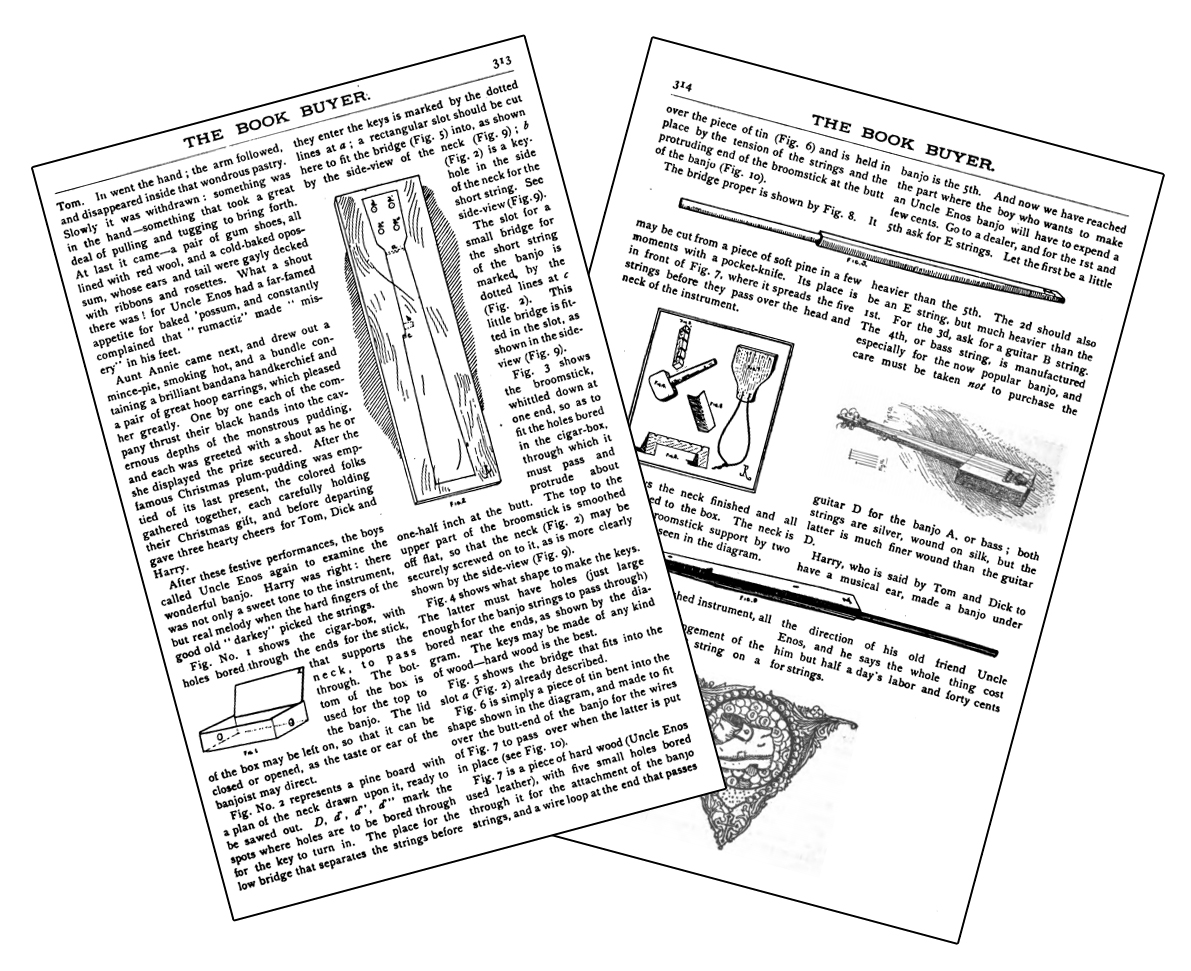 The plans were written such that the banjo could be built with simple tools and materials that a boy in the late 1800's would have easily accessible. In keeping with the written instructions, Merlin hand-carved his tuning pegs and peg holes, and used a pocketknife to shape the back of the neck, carve the bridge and other pieces.
While doubtless many people have built an instrument from these plans over the years, I haven't heard of anyone making the effort to do so lately, or to follow them so exactly. The instrument that Merlin created looks exactly like you'd think it should: rustic, hand-made folk art, like something out of a museum. Merlin says that several people have already approached him about buying the instrument, and that he has plans to build more. For more information, contact us at Gittyfans@cbgitty.com.
Photos below courtesy of Jon Miller.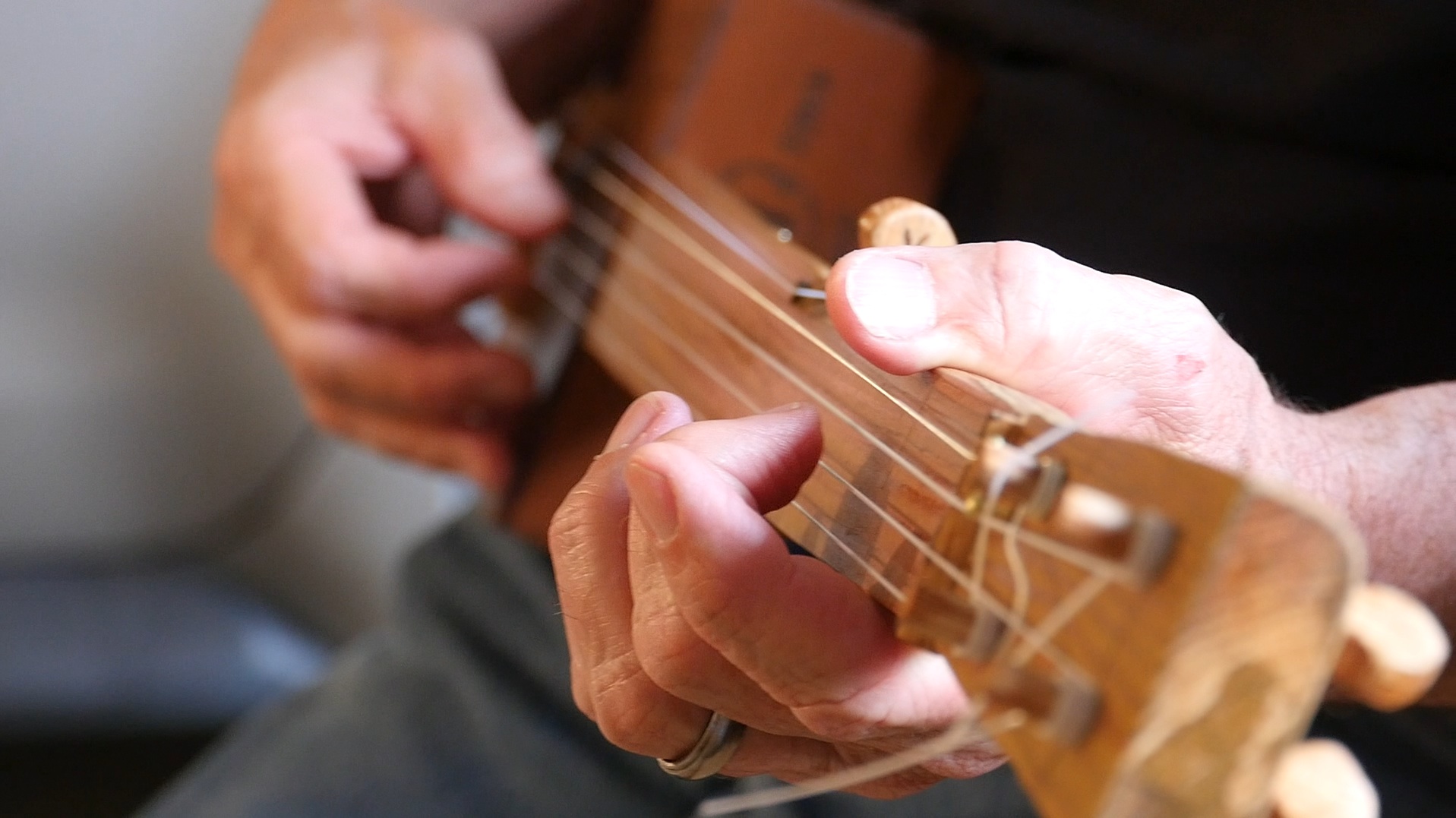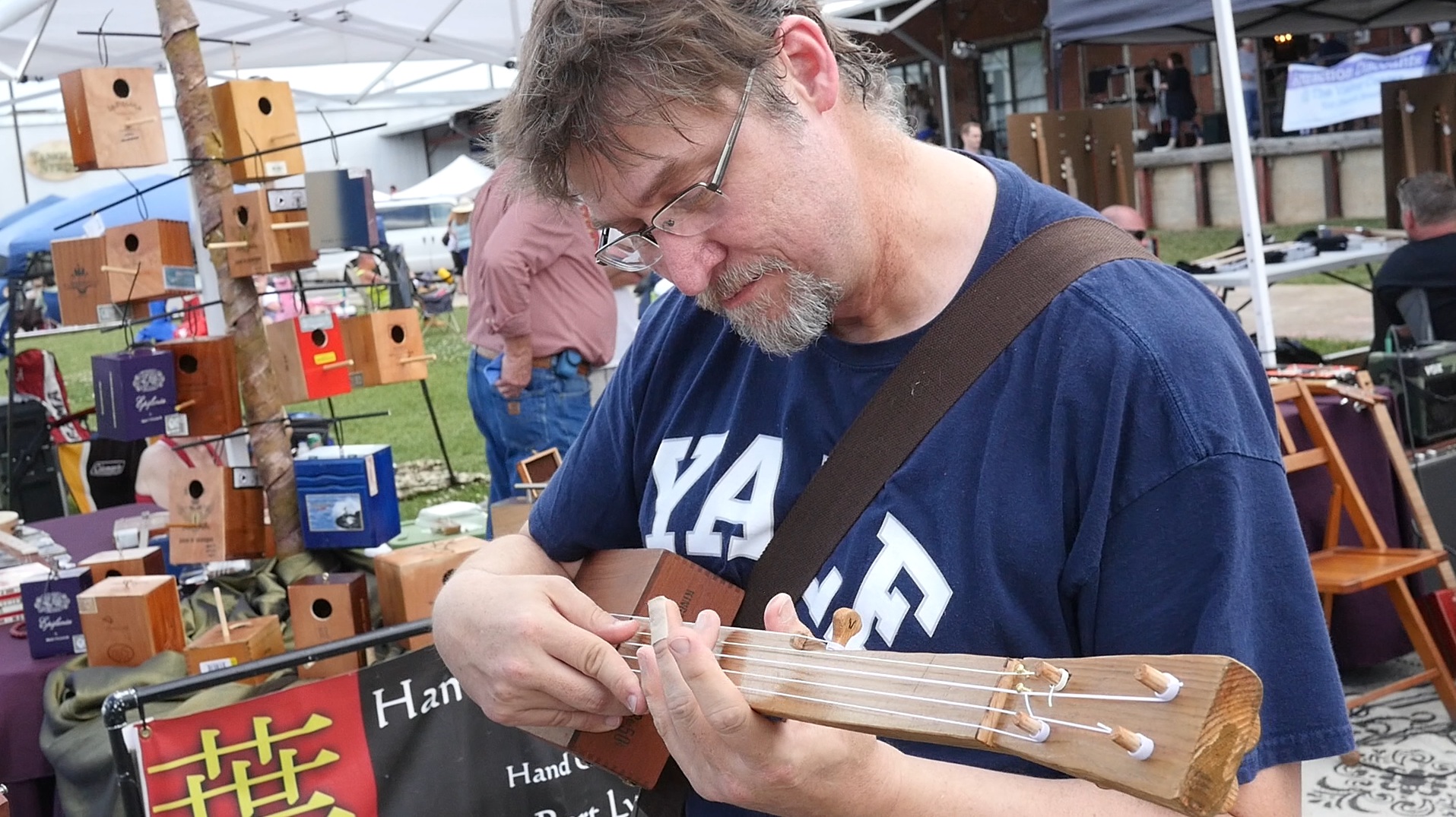 Author and Cigar Box Guitar Museum owner Bill Jehle checks out the Uncle Enos banjo. Bill wrote the book on cigar box guitar history ("One Man's Trash") and is very familiar with the Uncle Enos story.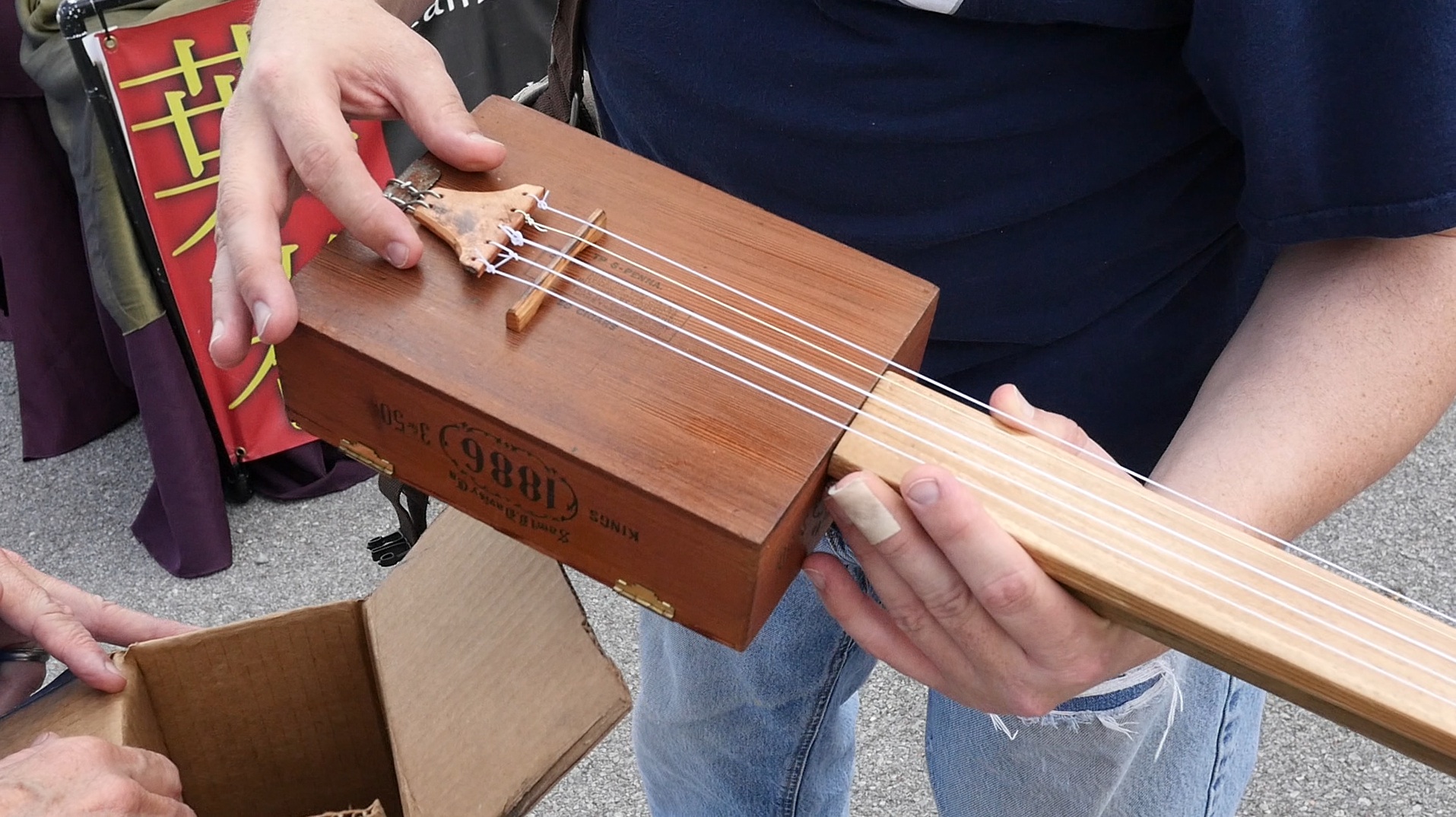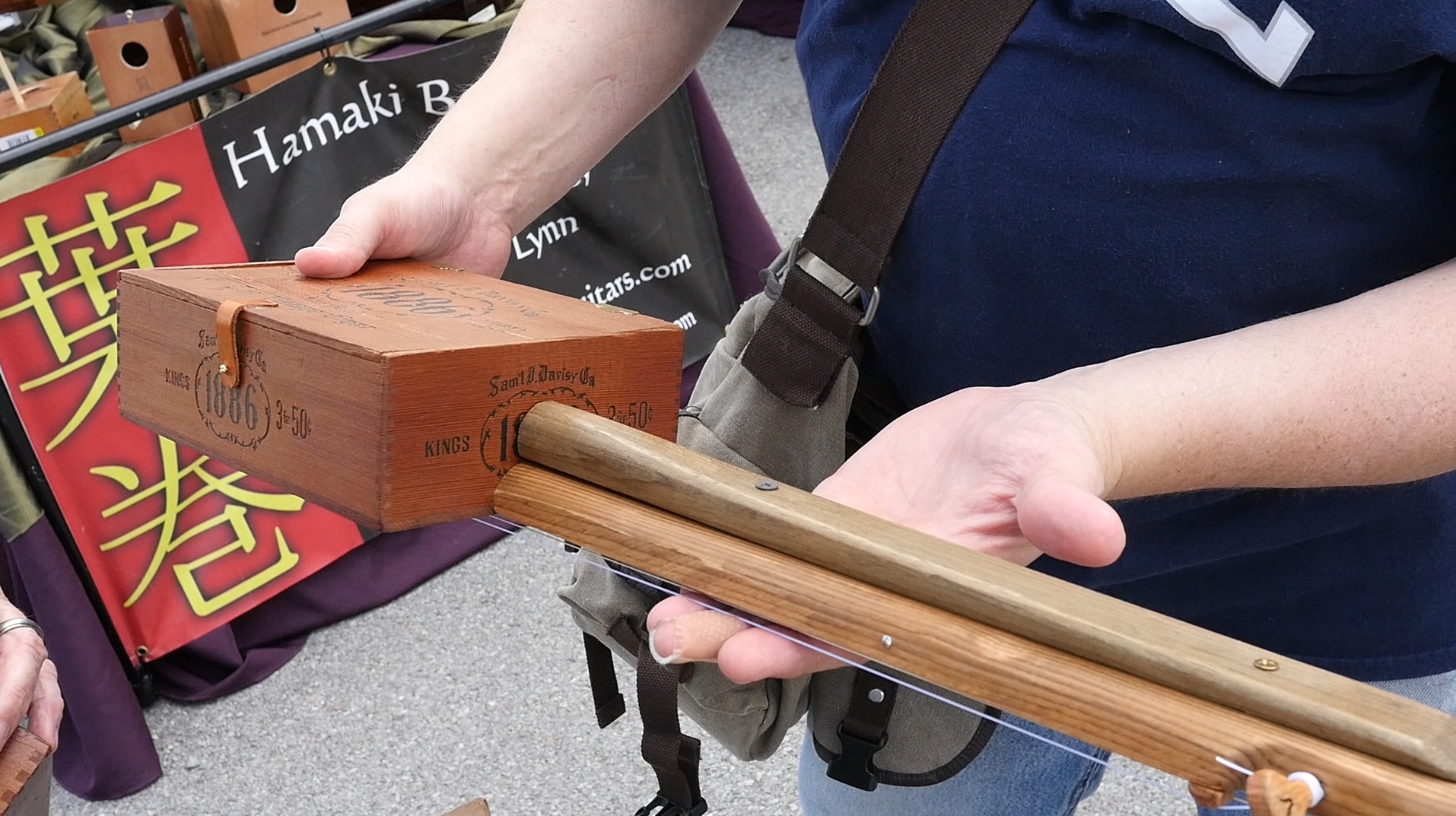 A closeup of the back of the banjo, with the broomstick brace visible.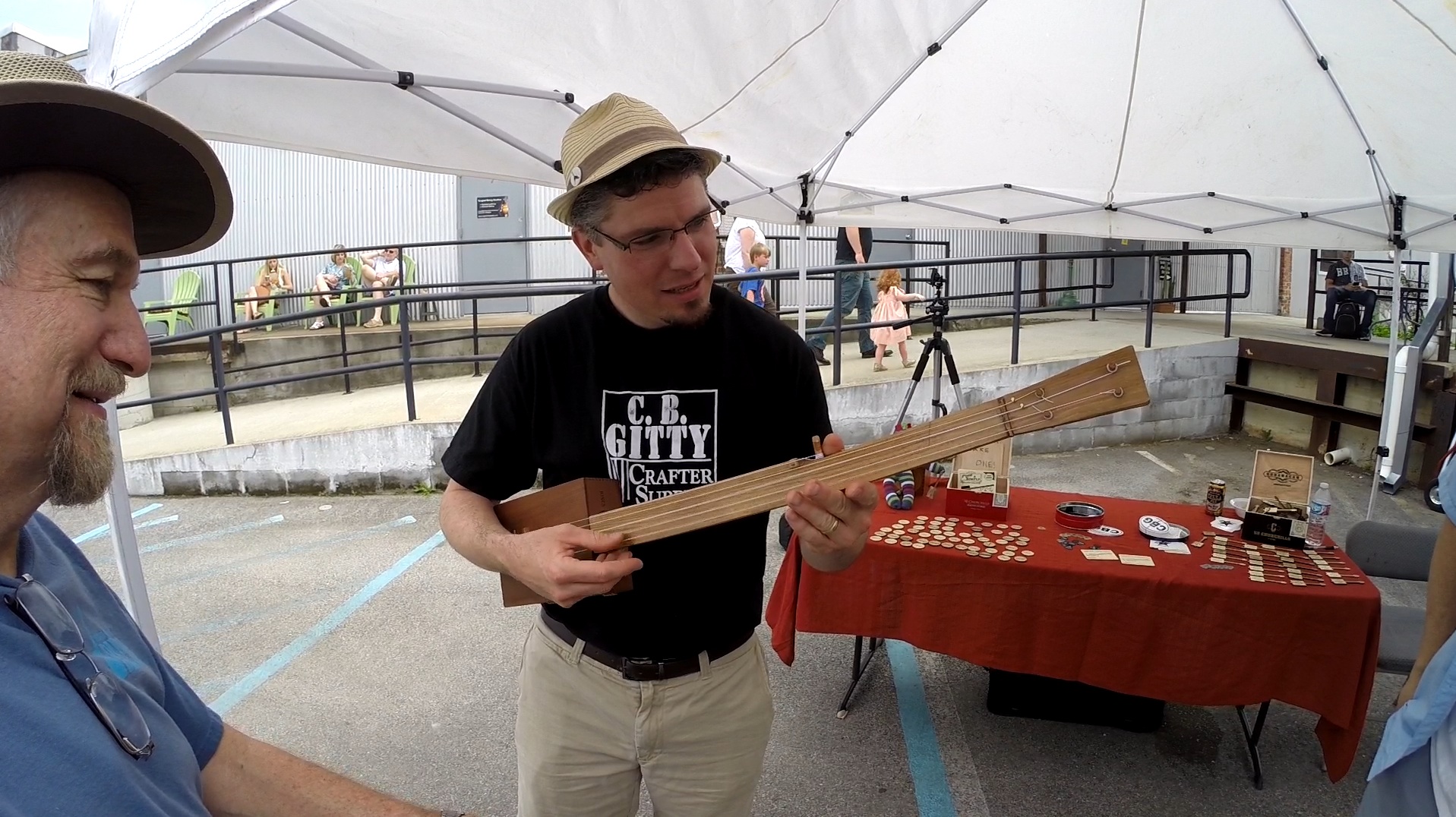 Merlin lets me take a spin on the banjo at the 2015 Huntsville cigar box guitar festival.
Recent Posts
C. B. Gitty presents the Fireworks of Savings Sale - SAVE 20% on these Made in America items! …

HOW MANY INSTRUMENTS HAVE YOU MADE SINCE THE START OF QUARANTINE? As the quarantine slowly lif …

Shane Speal is back with his latest creation, and this time it's absolutely stunning! His "Mot …