We're totally gonna steal these licks! Historian, author and all around Renaissance man, Charles Atchison just posted this video giving an overview of the main parts of Stairway to Heaven. (Which means he took an 8 minute song and condensed it down to under 2 minutes for us!)
Atchison is the author of The Folk Art Instrument Reference book on building homemade instruments. It's over 200 pages with more than 400 pictures and illustrations. Copies are in stock right now.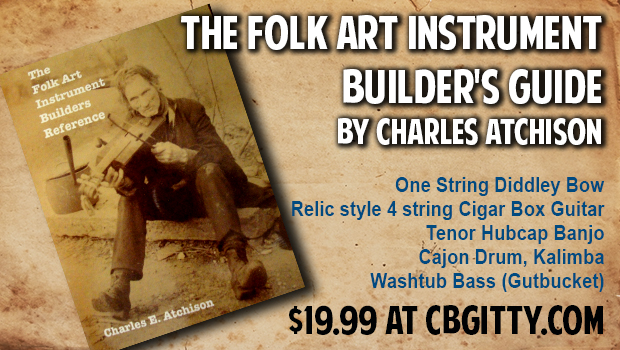 In addition to being an author, Charles also fabricates high-quality cigar box guitar parts, including the very popular 5.5-inch "Lightning" and 7-inch "Thunder" resonator cones.
Recent Posts
On a request from a long-time customer, Ben Gitty recently sat down to arrange tablature for the bel …

Recently, Gitty customer Vince Wesley sent us a couple of pictures of recent builds, and one of them …

I've heard it said: "A cigar box guitar is never going to sound like a Martin or a Gibson... but the …