Hey all, it's Shane. I just want to reach out with a little advice to help you build cigar box guitars that play well and sell.
Learning how to play cigar box guitar, even badly, can increase the quality of the instruments on your workbench.
This little blog is for the builders looking to take their craft to the next level.
Play Guitars To Build Better Guitars
Two years ago, I was hanging backstage with Reverend Peyton, discussing cigar box guitars.
I was restringing my live arsenal as I prepped to be his opening act later that night.
The Rev noticed that several of my axes had screws and other items added to make them more playable.
I explained that those certain guitars were built by others and that I had to modify them for concert.
(See example below)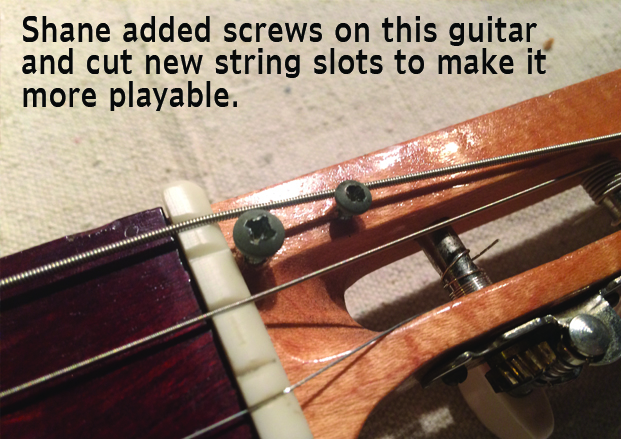 "I get a lot of homemade instruments, especially cigar box guitars," said The Rev.
"You can always tell which ones were built by guys that don't play because you have to change things around."
He added, "they look great, but it's apparent the builder doesn't know all the things to make them play well."
I've been building cigar box guitars for almost 24 years.
My instruments aren't as pretty as others (even though I try to make them look good), but every guitar that emerges out of my woodshop is set to play concerts.
There are several advantages for builders who know how to play.
Listed below are a few I'd like to share with you.
Make Guitars That Play Well
Musicians (even novice ones) have the instrument's playability in mind as the instrument sits on the workbench.
They think less about aesthetics and more about tone, string action, and sound vibration.
Players Enjoy Unique Sounds
Players approach the workbench with twisted creativity, wanting to capture new and exciting sounds.
To use a personal example, this is a recent build of mine that doubles the low string for a 12-string guitar effect.
It's not normal, but it creates a new sonic palette.
Learn To Play Your Guitars
Builders who play sell more instruments at craft shows.
Learn a small handful of good blues licks and people become intrigued.
If you can play something well on your instruments, it'll have the potential buyers thinking, "I can do that" as they reach for their wallets.
Further Advice
As an example, to improve her craft, C. B. Gitty's own master builder Farley Andreson who has been playing to play cigar box guitar.
You can see in the video below that she chose a riff that is fun for her to play.
By slapping the strings around and creating a simple groove that makes her smile, Farley learns about things like...
String action:
How far the strings need to be from the fretboard to be pressed down comfortable and without buzzing.
String spacing:
How far apart the strings can be to more easily finger chords.
Scale length:
A guitars scale length affects many things, including the instrument's tone and how easy or difficult it is to finger chord shapes.
Acoustic properties:
Playing the guitars she builds allows her to make adjustments on future designs for improved sound.
Overall feel:
A cigar box guitar that feels good in the hands is much easier to sell.
There's no better way to learn about this than to play them.
How-To-Play Resources
Have fun building and have fun playing.
If you need simple, easy to understand video lessons to get you going, check out my free video series, "How to Play Cigar Box Guitar."
If you learn better by using books, then Ben "Gitty" Baker's series of songbooks are essential.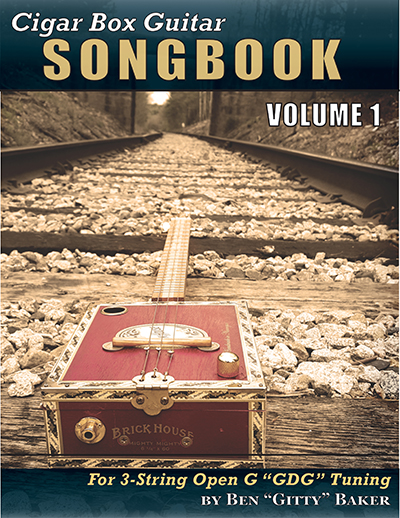 Conclusion
The secret to building better cigar box guitars (and selling them) is learning to play them.
So, if you're looking to improve your playing and building skills, I've given you some
Now get out there and learn to play what you've built.
Recent Posts
We challenged Shane Speal to build something with six strings using our large Hubcap Resonator …

Shane Speal just released a new video showing his technique for winding guitar strings using the …

With hundreds of entries across three social media platforms and direct to our email, this was th …