We all have an origin story: the reason each of us began crafting handmade musical instruments.
Some stumbled upon a cigar box guitar at a craft fair or music festival. Others saw Shane Speal's videos on YouTube, encouraging and educating people from all over the world.
No matter the inspiration, each of our stories guides our next build, and binds us together in this community of tinkerers, artists, hobbyists, musicians, woodworkers, and crafting-enthusiasts.
To give voice to these stories, we asked the cigar box guitar community, "What got you into cigar box guitars?" and this is what some of you had to say...
Music Festival
"I saw someone playing one at the Bean Blossom Blues Festival and said, 'I can build one of those' and I did. I've made about ten to date." - Mark R.
Lucky Internet Cruising
"It was pure dumb luck. I was cruising eBay looking at guitars and a cbg just happened to pop up. 'What the hell is that?' came straight to mind. But the more I thought about it the more fascinating the idea became. I took a chance on it and the rest is history." - Roger M.
My first build was inspired by my love for my son and for music.
High School Project
"A friend of mine was a teacher at an alternative high school (where I use to be Principal), and one of his students wanted to build (a cigar box guitar) for a senior project on guitar history. My friend helped and also built his own which he later showed me. I was instantly hooked to the point where it has impacted my retirement plans! I am now working towards becoming a luthier once I'm done being a principal!" - Craig L.
Craft Festival
"I saw my first (cigar box guitar) at a craft festival and just loved it. I looked online for builders and ran into a group of builders here on Facebook that recommended I build my own. People like Randy Bretz, Rusty Taylor, Shane Speal, and Glenn Watt talked to me, shared building tips and videos, and encouraged me to build them and play them. So, I did!" - Chris D.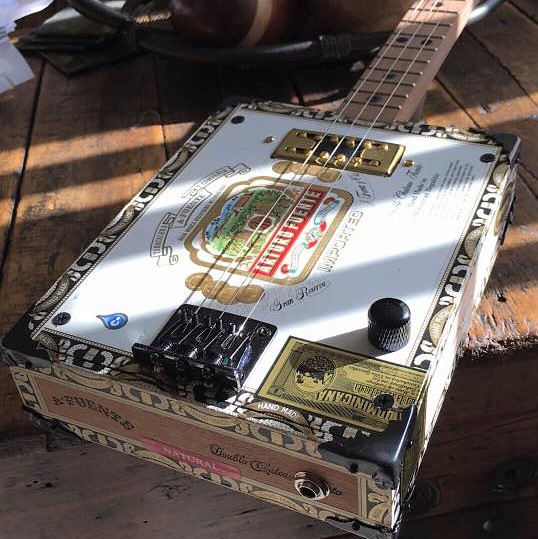 Fatherly Love
"My son was gathering materials to start building, then he and his wife moved from the states to Dominican Republic to do missionary work with hearing impaired. They sold everything except the items he had assembled; those were given to me. My first build was inspired by my love for my son and for music. Still trying to teach myself the 3-string and getting inspiration everyday for my next build." - Mark M.
Funny Internet Search
"The church pays me not to sing and the only instrument I can play is the radio and even then I listen to talk radio. Three years ago I was explaining to a friend on Facebook that I was doing diddley squat. I didn't know the correct spelling of diddley so I looked it up on Google and they directed me to diddley bows. After watching one video was I hooked on making them. I have since graduated to 3-string sliders. Still can't play but my CBG's look good, play good and sound good when someone else plays it... jus'say'n." - Art J.
Samantha Fish
"(It was the) Samantha Fish video Shake 'Em On Down. (Figured I) had to get me one of those, so I built one, and quite a few since." - David W.
Festival Performance
"I was at a blues festival and saw someone play one. Being a guitar player myself, I thought it would be cool to make and play one with my band. This began the addiction." - Jerry C.
Bible School Project
"Four years ago my wife had me buy (the book) Homemade Music Factory. The idea was for me to make a few drums for vacation bible school. I looked through the book, found CBGs first, ordered a kit from C. B. Gitty, and that started it all. Made one drum now and 170 gits." - Tom S.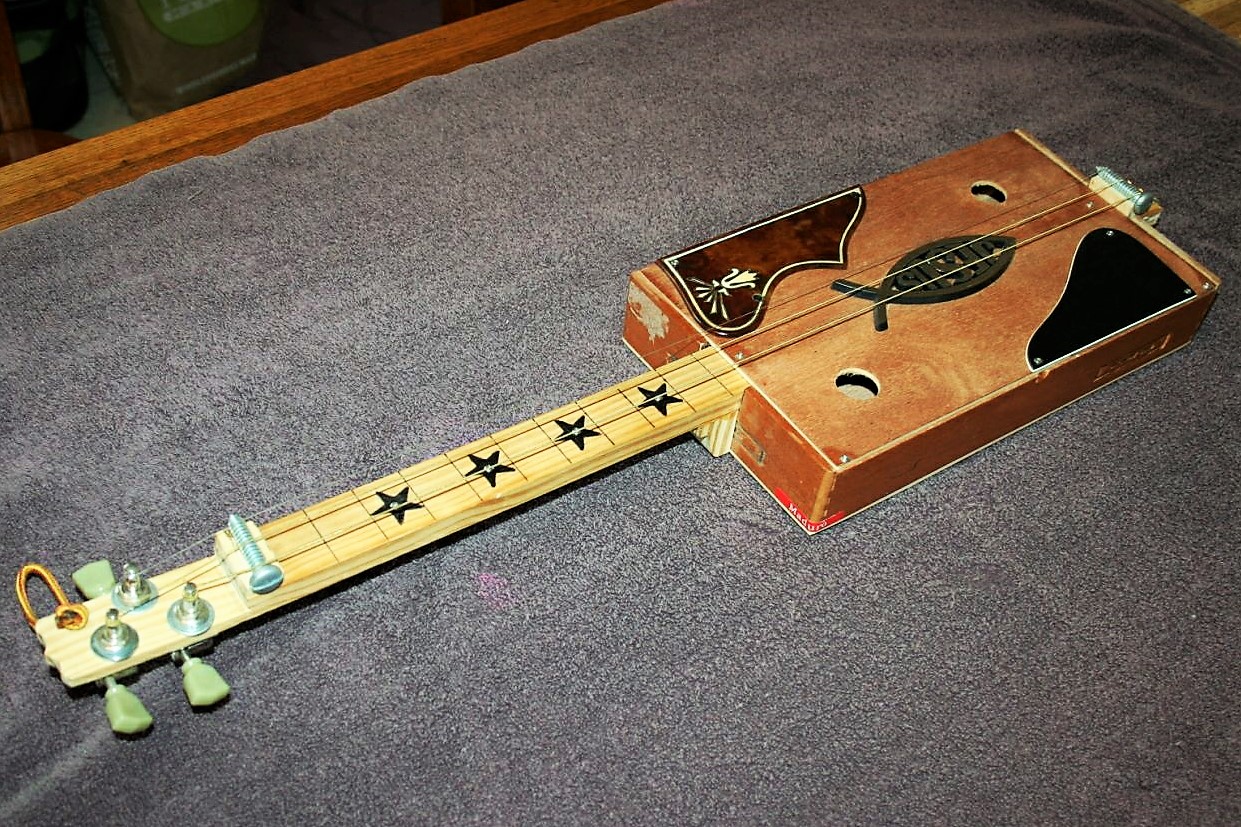 Gift From Dad
"One day I got a package in the mail from my dad. When I opened up the package, there was this Padron cigar box with a 1x2 stick coming out of it with three guitar strings stretched over two bolts, and three tuning keys fixed to the top end. Well as soon as I figured out what it was, I couldn't put it down! I played and played on it (I didn't know much slide at the time but the action was so high I figured that's about all I could do with it). Long story short, I got to looking at it and thought to myself: 'Man, I bet I can build one these suckers' or at least it was worth a try! And the rest is history!" - Eric D.
Saw a CBG Kit
"I saw a CBG kit in a local half-price bookstore of all places. I thought to myself 'I wonder if I can make one of those on my own?' I've built a handful of them now and each one gets better. Now I find myself looking at objects and wondering if I can make one out of 'this' or make one out of 'that'. My latest example was during a recent trip my wife and I took to NOLA. We were in a gift shop in the French Quarter and they had these really cool looking license plates for sale. We picked one out and I'm going to make it a 4-string license plate guitar! I've really enjoyed my new hobby. Thankful for the C. B. Gitty crew, Shane Speal, Glenn Watt and many others in this fun community! Rock on!" - Keith L.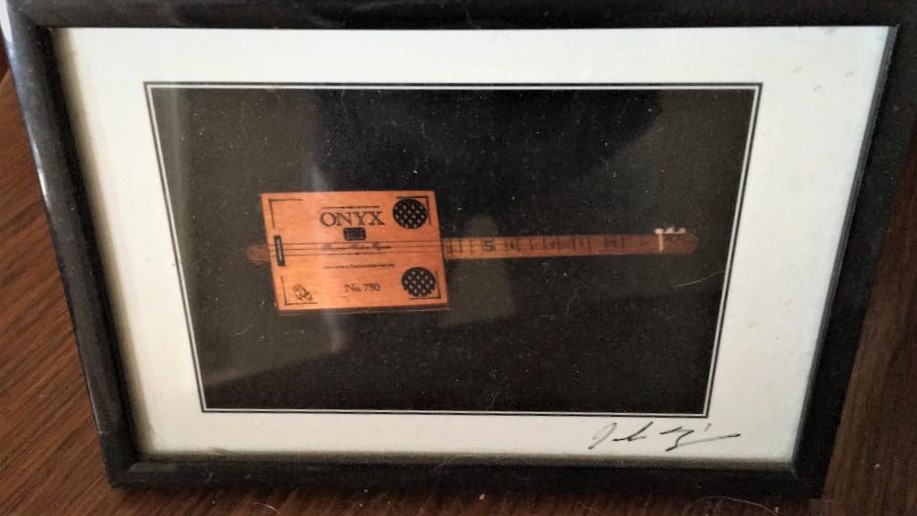 Online Community
"I found the old Yahoo group (now Cigar Box Nation) while doing research for building a marble machine. I was blown away and had to build one myself. It was a Christmas gift for my brother. That was twelve years ago. Been tinkering ever since." - Corb C.
Took a Chance
"About 15 years ago I was at a party and saw a cigar box ukulele. Fast forward a decade, I had three weeks off from work and bought a ukulele and a 'for dummies' book so I wouldn't go stir crazy. At some point, I remembered the cigar box ukulele and started searching for one. I found a guy selling CBGs locally and bought one from him. After a while I was looking it over and thought I would try to build my own; I did, and it sucked, but it made noise and didn't implode. That sparked a fire and I've now built and sold close to 200 guitars." - Patrick H.
Farmers' Market
"It isn't a matter of what got me into CBG's but who. My wife saw Peter Thorne playing a CBG at a local farmers market and thought because I played guitar already, that I'd be interested. And I was. So, Peter lived close to me and I had him make my first CBG. It got me to thinkin' that I could make these too. The next thing was Cigar Box Nation." - Rick C.
I thought to myself "I wonder if I can make one of those on my own?" I've built a handful of them now and each one gets better.
Paul McCartney
"I saw Paul McCartney play one on Saturday Night Live and said to myself, 'I can make one of those.' First made my own box (no cigar box around), used a one and a half inch oak board, put on some strings, and it made a sound. I was hooked." - Rick B.
Love for the Blues
"I stumbled on a PBS special highlighting the old juke joints and the delta blues. RL Burnsides, Model T Ford, and a couple of others just got my foot to tapping. So I did the natural thing a Googled Delta Blues. I caught a YouTube video of this Blues Boy Jag chap cranking out some good stuff on a cigar box guitar while stomping out the rhythm on some sort of foot pedal and drum. (kind of reminded me of that Jesse Fuller one man band kind of thing) That led to exploring cigar box guitars. I like to build them, not much of a player with a slide." - Frank F.

Shane Speal
"I saw a video of Shane Seal and several others playing CBG'S and thought to myself, 'You can make this.'" - Tom D.
Teaching Students
"Every year I lead a bunch of students in a box building exercise as a way to teach them how to build things in the shop, and decided to build a CBG while they built their boxes. Of course, I built the box first. I made one (3-string fretless) and that was it. Or so I thought." - Mark H.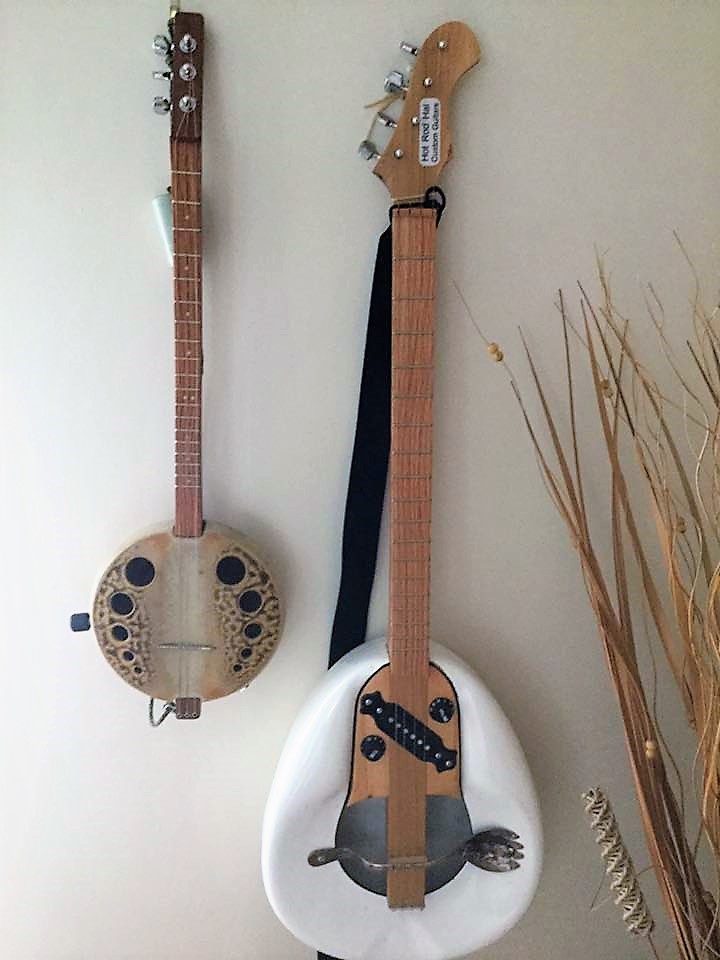 Bedpan Guitar
"Was at a craft fair in Daytona and saw this bedpan guitar. I had to have it. That is when I decided I could build a CBG. Since then I have made about 20 out of all sorts of things." - Larry K.
...
As you know, the things we use to build our cigar box guitars vary as much as what introduced each of us to the pursuit. For some it's idle hands searching for a new hobby, while for others faith and family filled their hands and hearts with handmade musical instruments.
Our stories are the unique paths each of us traveled to this satisfying DIY world. And while they are individual accounts, those stories also tie us together in the saga of men and women who learn to build what they play, and play what they love: cigar box guitars.
What's your story of how you got into cigar box guitars?
Recent Posts
On a request from a long-time customer, Ben Gitty recently sat down to arrange tablature for the bel …

Recently, Gitty customer Vince Wesley sent us a couple of pictures of recent builds, and one of them …

I've heard it said: "A cigar box guitar is never going to sound like a Martin or a Gibson... but the …