With hundreds of entries across three social media platforms and direct to our email, this was the most popular build-off contest we've ever hosted. The instruments were diverse and covered everything from traditional to experimental and high art.
Needless to say, Shane Speal and Ben "Gitty" Baker's responsibility for judging this was challenging!
Here are the winners in each catagory:
Grand Prize - Daniel Walter (Prize: $250 C. B. Gift Certificate)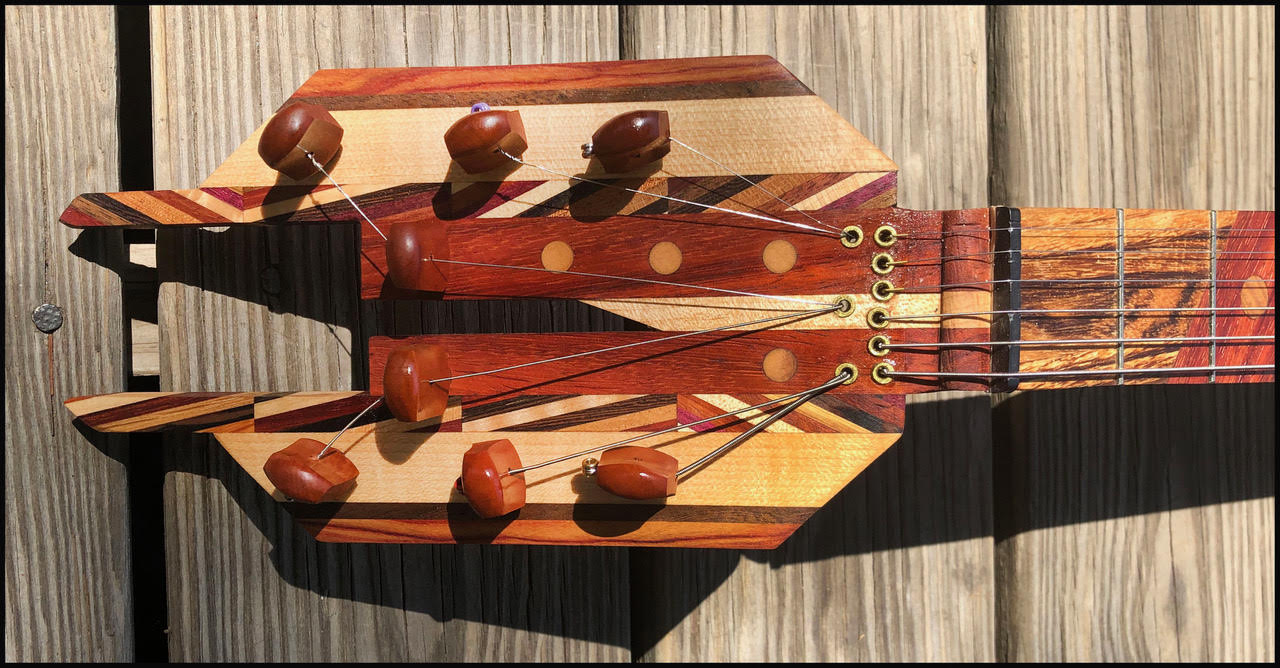 The Rocket Lap steel
This guitar took about a year to complete. Laminate woods, week to dry, cut, repeat. Laminate woods, week to dry, cut, repeat.
It took 6 precious Padron Cigar boxes! Three for the body, three tops cut for trim.
The "wings" were fed through a table saw full height, and both sides hinge open. I added the missing sides, but the surfaces to the body were not smooth to glue.
So I cut 1/8 inch pieces of balsa wood, soaked them in glue and sandwiched the wings to the body and clamped tight, The balsa conformed to the irregular surfaces.
Limited edition Gibson style bridge, with a piezo under each string, hooked to a active preamp. Made by Tone Monster and gifted. J-bass wiring harness for the mags.
The piezo bridge is super clean and crisp.
I wanted a headless guitar with a head, and put the tuners out back on the zebra wood tailpiece. Takes the full length of the string to reach the furthest piece. The strings on the headstock are faux.
Back design marks are wood burned. This thing morphed many times during the build. Sound holes tend an inch thick with multi-colored wood. (cannot see in this view).
Still not fully complete, but very close. FUN.
Runner up - Mark Clark ($100 C. B. Gitty gift certificate )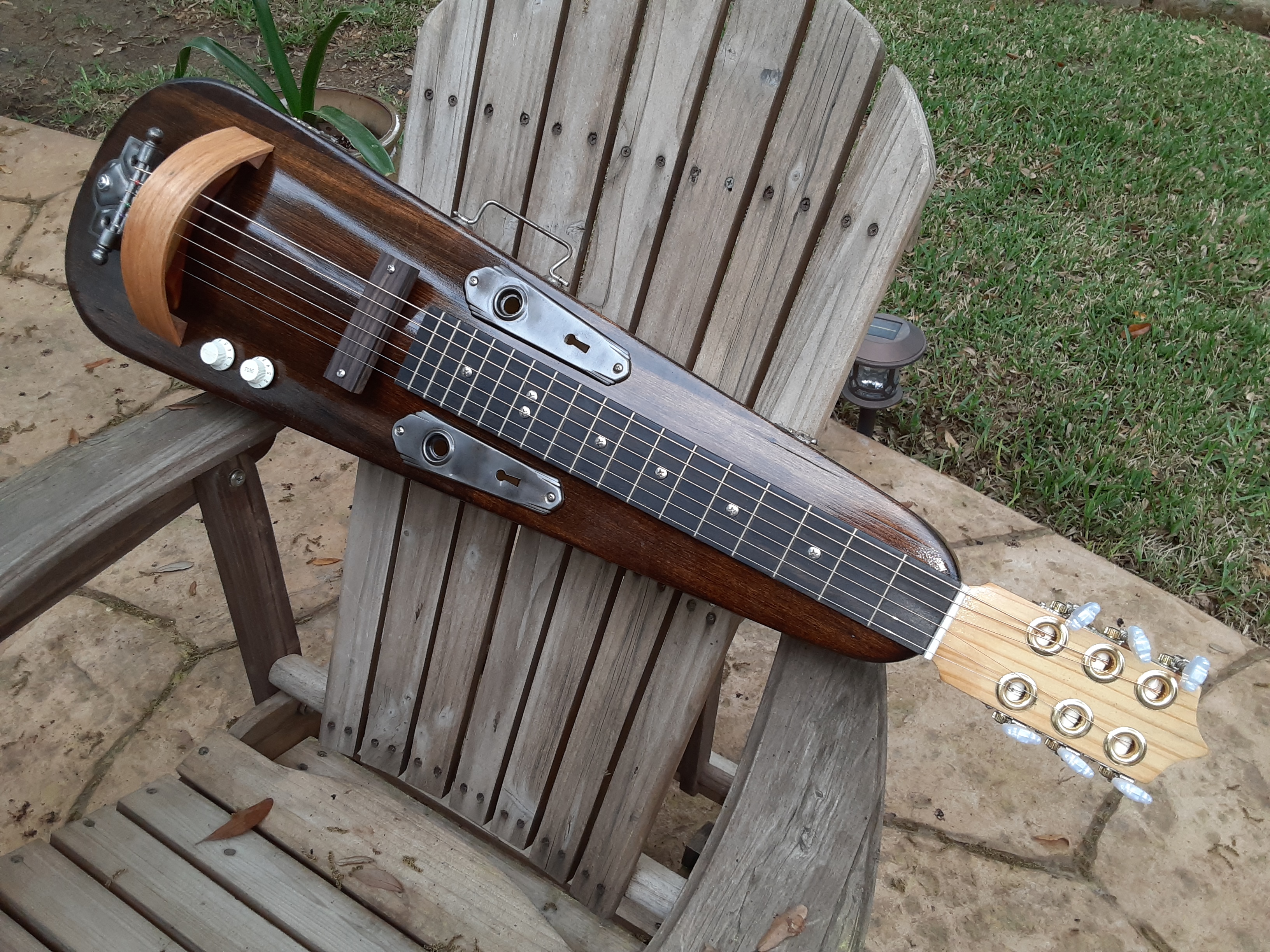 "This is the StratoCaseous 6-string lap steel. The body is an antique violin case more than 100 years old. The neck/headstock is aged pine from a 90-year old English upright piano. The bridge and hand rest are Oak. The fretboard is a 25.5" repurposed fretboard from a classical guitar. I believe tuners are from CB Gitty. The tailpiece is an old door hinge. All other hardware is original. A magnetic pickup completes. It sounds full acoustically and even more wicked when electric and/or with distortion.
Runner up - David Hopkins ($100 C. B. Gitty gift certificate)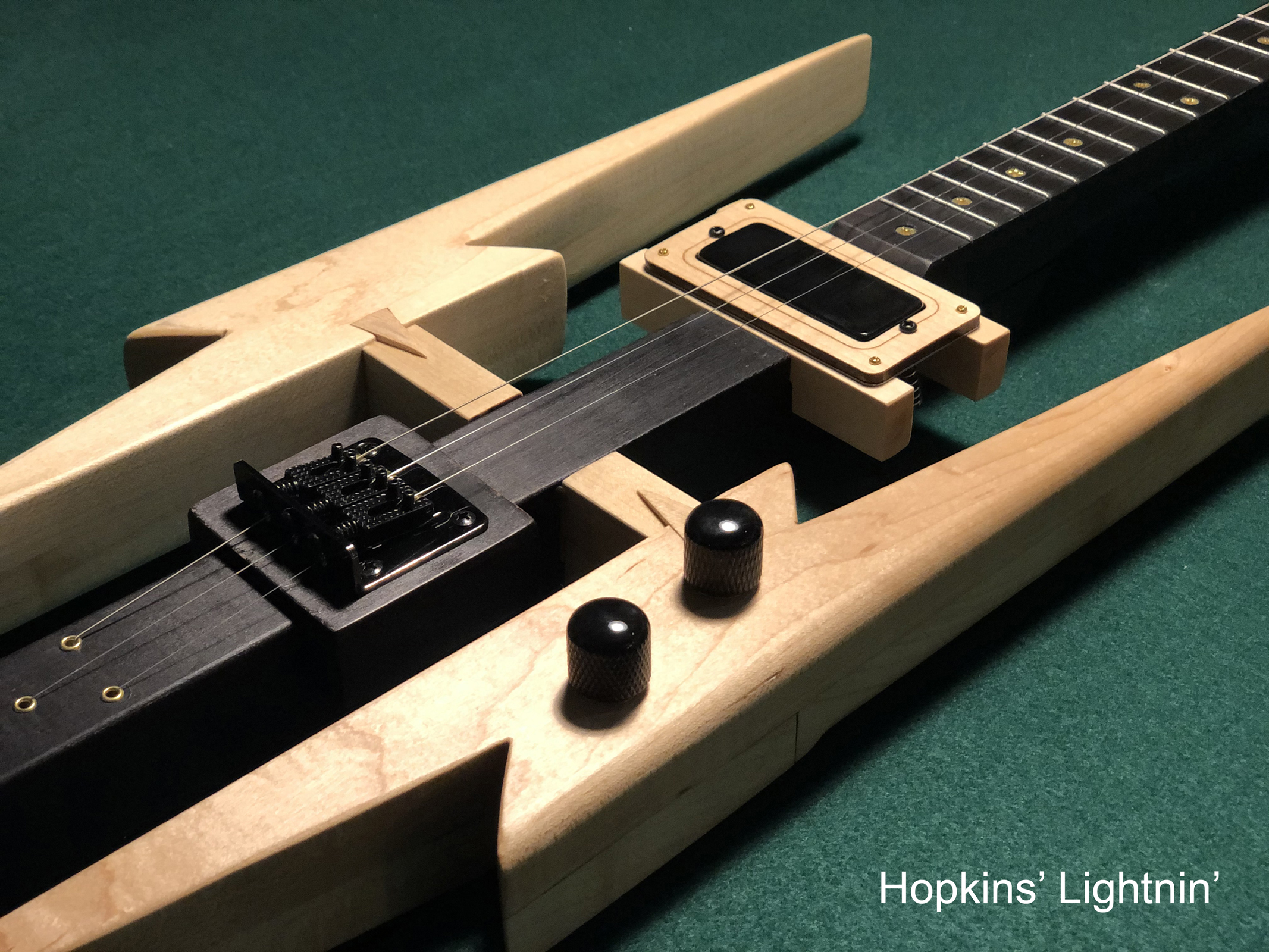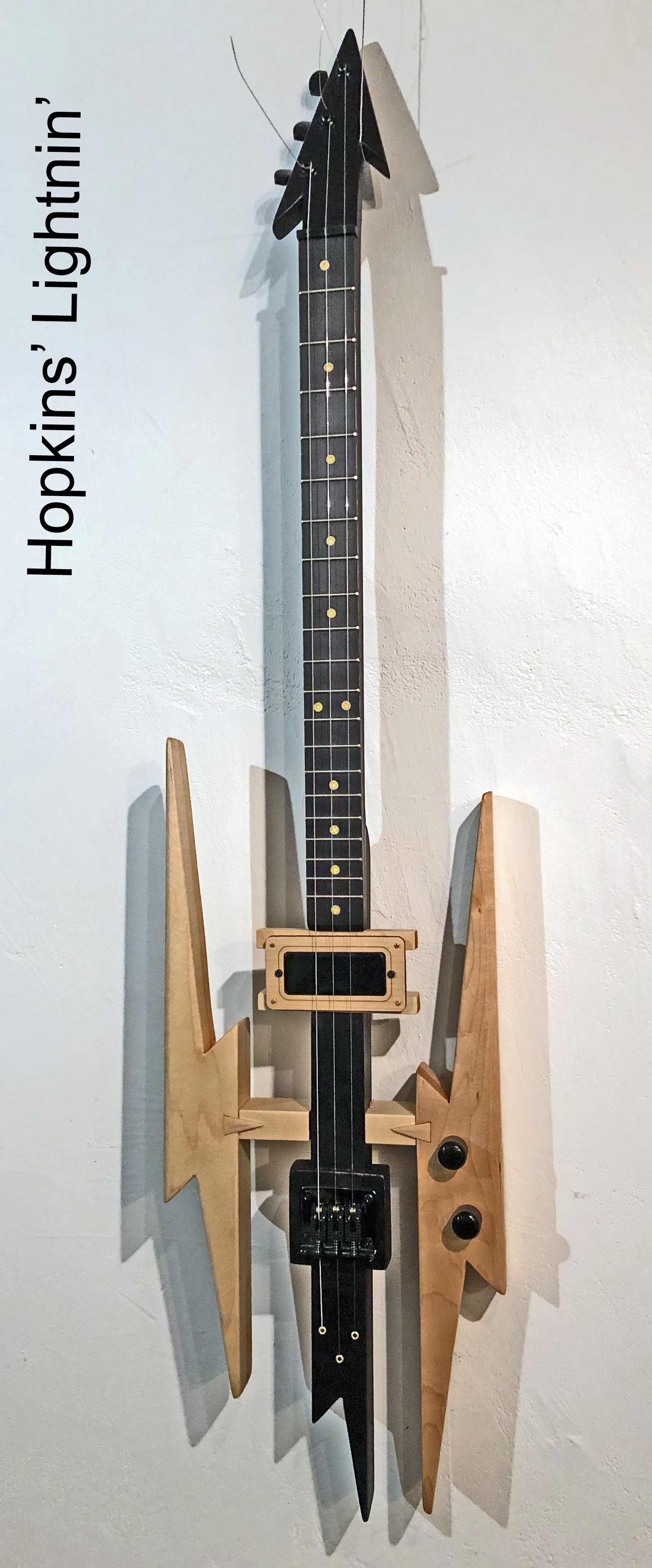 The Hopkins' Lightnin'
My name is Hopkins and the guitar is Lightnin'.
It is a 3 string electric guitar with tone and volume control. It is constructed of hard maple with a natural oil rubbed finish. The neck is dyed black. Everything metal on this guitar came from Gitty and includes a Black Snake Oil Humbucker with Tone and Volume Control, a black hard tail roller bridge, black sealed gear tuners / machine heads and black knobs. Feels, plays and sounds really good. Feels good to hold.
Runner up - Jason Carter ($100 C. B. Gitty gift certificate)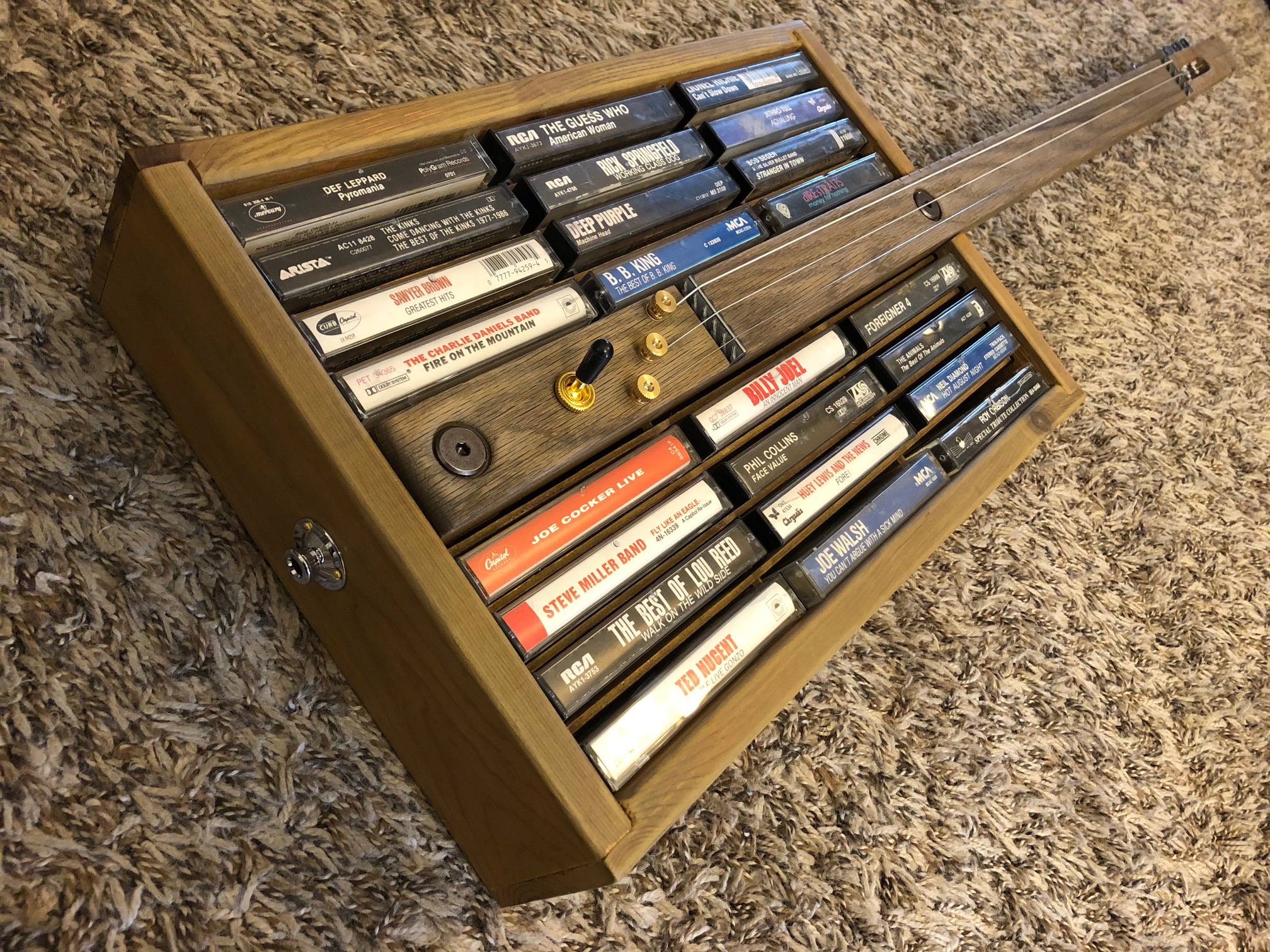 "Homage to Analog" Cassette Rack, Three-Stringed Fretless, Duel Pickup Electric Guitar

This guitar has two homemade electromagnetic pickups made from the coils of two 9v power adapters and neodymium magnets. The pickups are positioned and wired to sound like a Les Paul.

It has brass knurled nut string clamps and Fender American Standard tuners, with two pieces of cut 3/8" rebar for the nut and bridge. The headstock bears my trademark carved double razor blade. I had the cassette case laying around and had the guitar in mind for years, but it took a bit of time of trolling thrift stores and antique malls to find the right tape.
Runner up - Jim Wispinski ($100 C. B. Gitty gift certificate)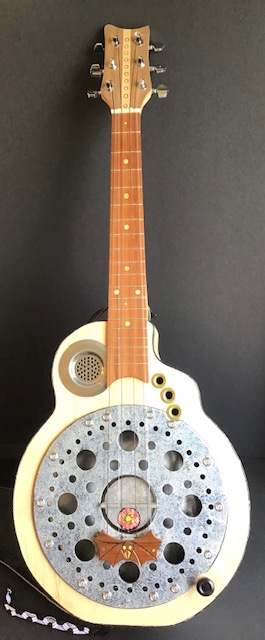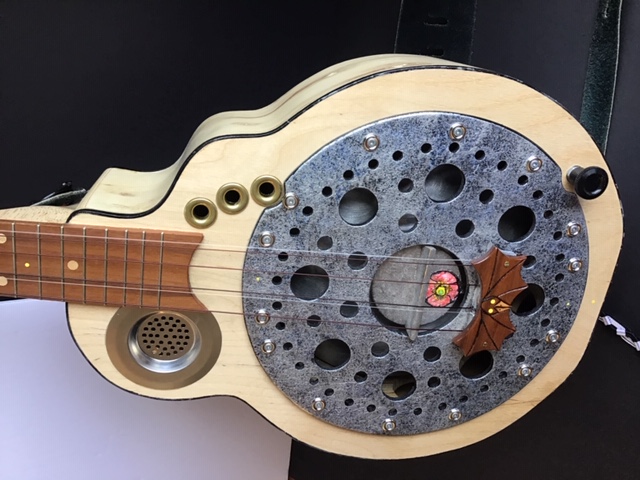 Baritone Resonator 6 string (high octave strings on 1st. and 3rd. course) ALL WOOD WAS "PICKED OR DONATED "

1. Tuners and internal Piezo pick up ( C.B. Gitty ).
2. Cow bone nut made from butcher shop purchase . (a long arduous process)
3. Head cover - Mahogany & Maple . Featuring double inlaid center strip dots (yellow knitting needle & mahogany) .
4. Walnut fret board ( white knitting needle markers ) .
5. Soundboard- Spruce . String holder cover " Bat-Bird " - Walnut .
Sound holes- sink drain and grommets . Cover Spruce "FAUVE" metal look .(sponged on metallic colour).
6. Piezo disk encased with hot glue and painted to look like a red rose .
7. The inside has a wooden round routed out layered sound box supporting a Aluminium resonator cone (pounded out from a thin Aluminium pot lid).
8. The body features a "cut out" on the side and black binding
(black plastic ties).
9. Back of the neck has a wallet centre strip and the back of the body has a donated decorative centre strip from a "real" luthier friend of mine. The back is a piece of thin "door skin "mahogany.
10. The sides of the body were the same door skin mahogany ply but when I soaked them in water and heated them to bend into the body shape the mahogany layer came off exposing a spruce inner layer - full of attractive knots
Best Demo Video - David Hopkins ($100 C. B. Gitty gift certificate)
Most Visionary - George McLeod ($60 prize pack from PoorMansGuitar.com)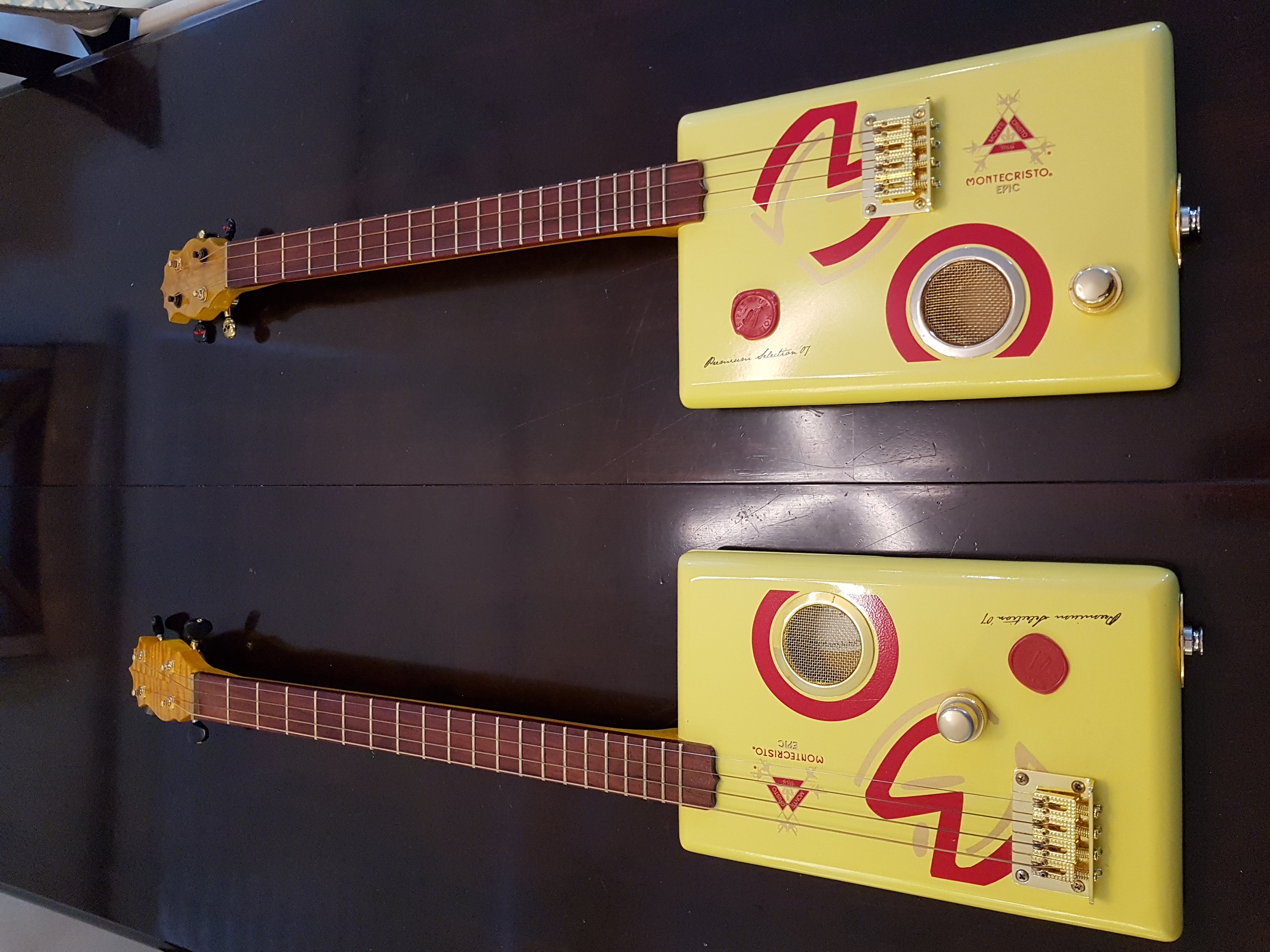 Shane Speal was looking for instruments that showcased plenty of forethought and ingenuity for the VISIONARY award. He chose McLeod's entry because the two instruments (made for a right handed player and a southpaw) were perfectly balanced, utilizing the box artwork for soundhooles and overall setup.
Historically accurate - Michael Copado ($60 prize pack from PoorMansGuitar.com)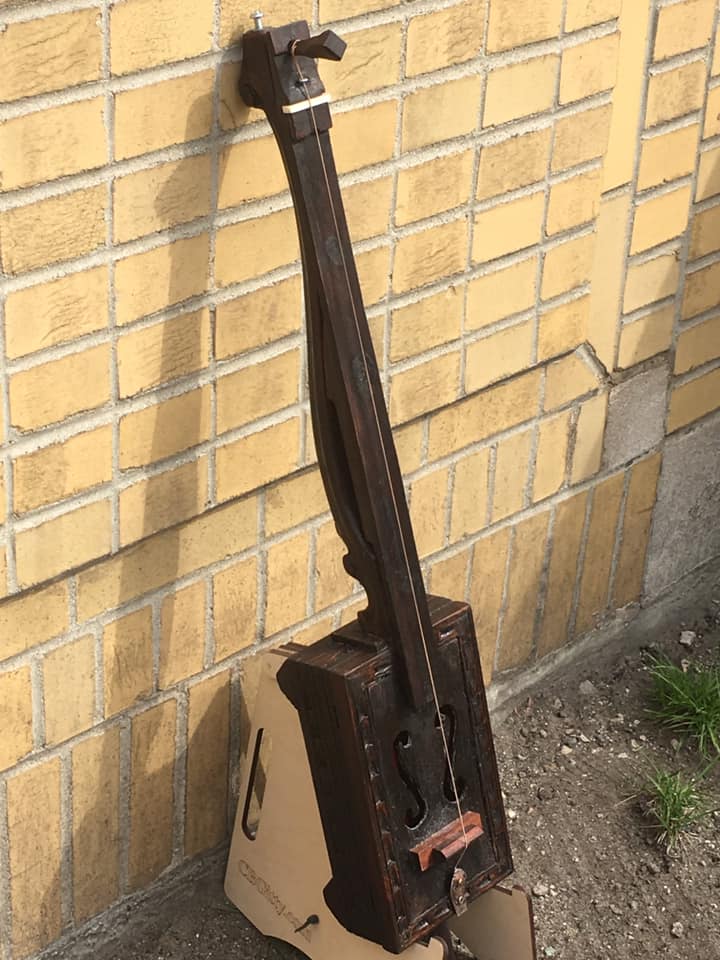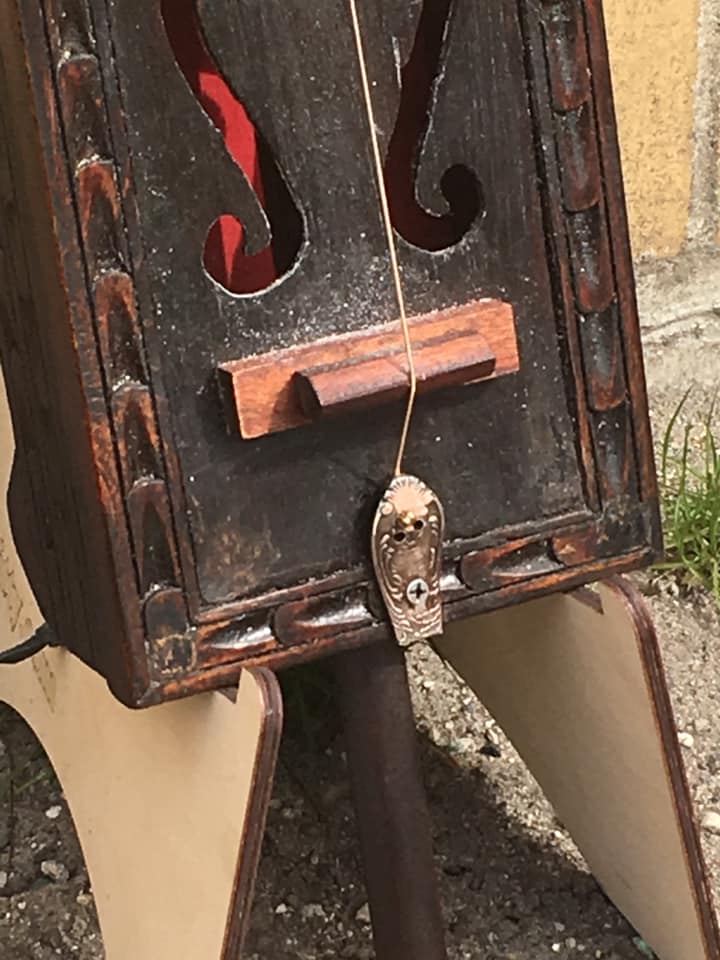 Here is my Vaudeville/Spike/Knee/Jap Fiddle or Diddley Bow depending on how ya play it. I became fascinated with the instrument when Shane Speal did the Guitarcheology video about it... it was probably the video and instrument that got me into digging into the history of these old instruments. I found the plans on Cigarbox Nation, as well as in Shane's book and some others.
I had found for 1 dollar this awesome highly detailed jewlery box, that I knew would be the perfect body for it. Right about the same time I found in the alley behind my house some ornate table legs... and it felt like they belong with each other.
I did some preliminary playing around with it, but nothing else seemed to come together so I put it aside. Shortly before the "lockdown" in the same alley I found a pile of lath from a teardown of my neighbors lath and plaster walls. The houses in this area were built between 1910 and 1919 so these rock hard pieces were over 100 years old, and fit perfectly with a 1920's era instrument. It was the perfect piece to go with it. And made for the perfect finger board resting on top of the curved table leg.
I had to do some bracing under it make it sit nicely. And I had to reinforce the"headstock" to take the pressure of the string and hold the hand carved friction peg in place. Speaking of the tuning peg, I made it by hand out of a hunk of dogwood. And after doing a lot of research online I built a simple "jig" to help shape the taper.
There was a lot of trial and error involved in getting the odd shaped parts all to fit together. As well as a few false starts in coming up with some of the pieces, the holder for the (CB GITTY) Bone Nut and tuning peg had several redesigns (including one that had me cutting the first tuning peg I made too short and having to carve a new one.) I worked on 2-3 different bridges, some fancier, before settling on the simple design. And as the video shows, I originally set out to use a split piece of bamboo and some (possibly centuries old) rawhide from and African drum for the tailpiece, but the first time I tightened the string, it broke, so I went with cutting off part of the handle of a silver spoon, which actually came out looking better than I hoped, and went with the 1920's fancy "big city" Vaudeville look.
MacGyver Award - Jason Carter ($60 prize pack from PoorMansGuitar.com)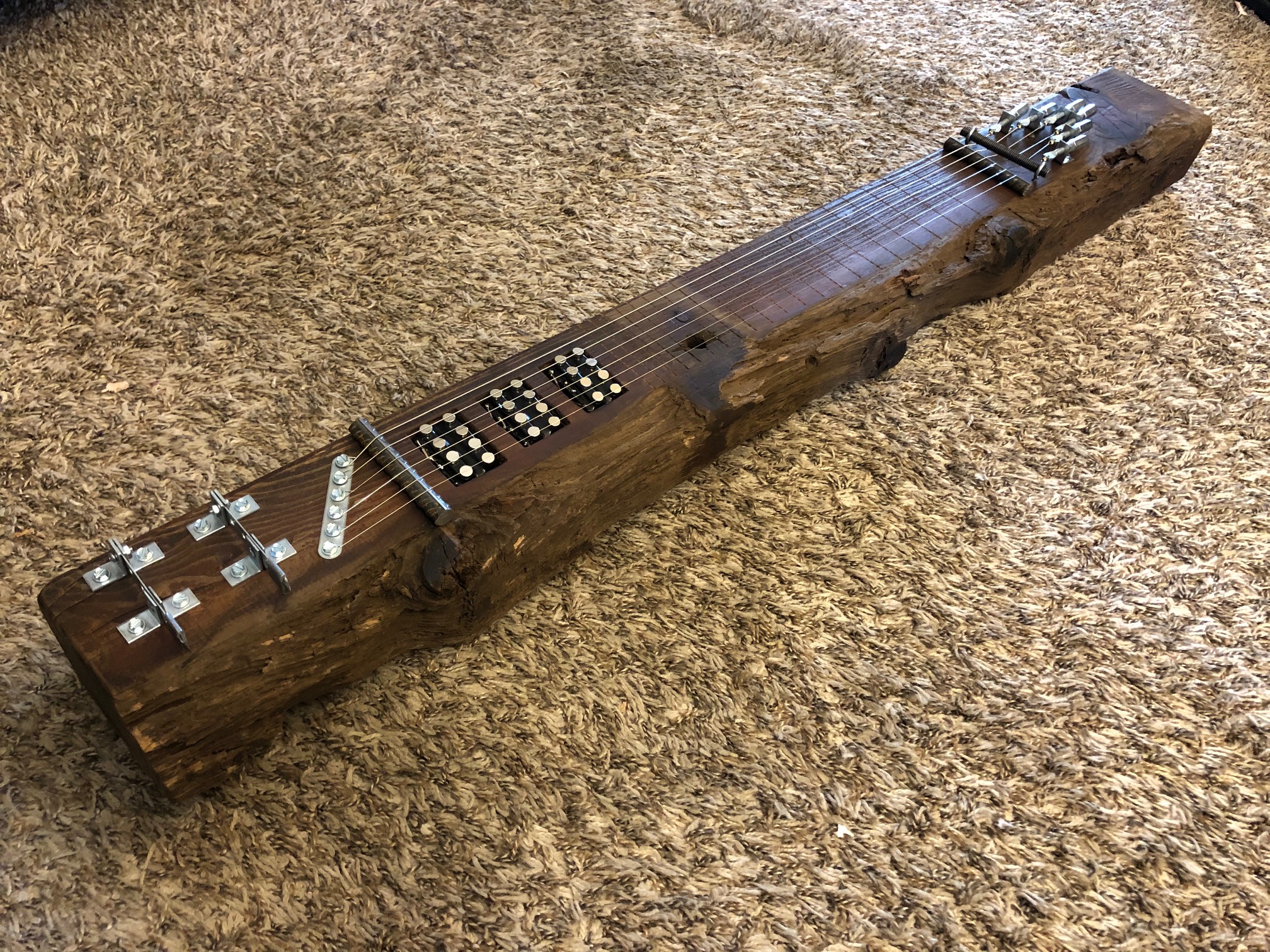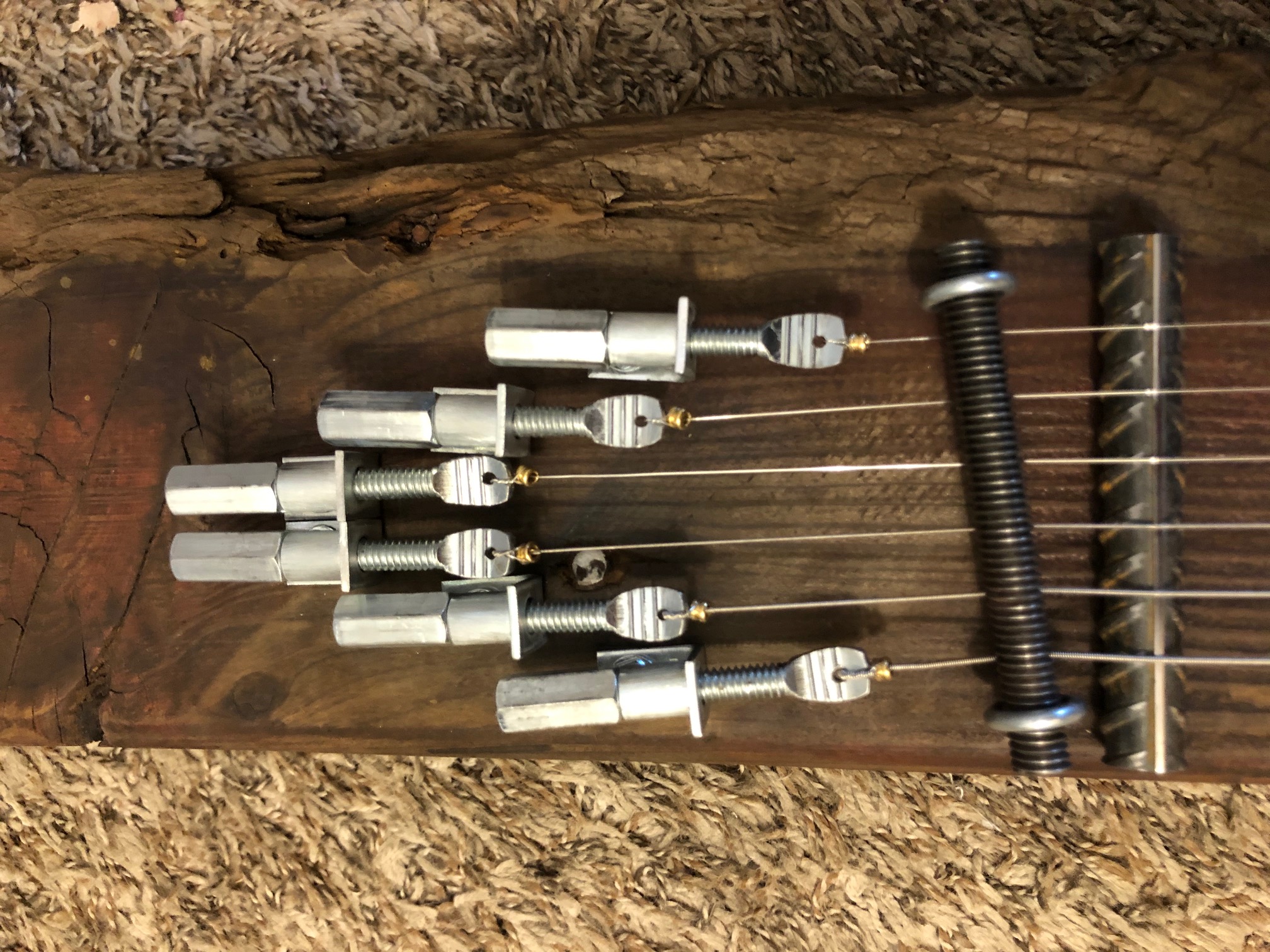 Rustic Three-Pickup, Mono/Stereo, 6-String Steel Guitar

I pulled this decaying, ant-eaten plank of cedar from a pile of trash wood that had been sitting in my backyard for years. My plan was the use 100% homemade and repurposed parts except for the strings.

The pickups are made from copper coils, harvested from 9v power adapters, and neodymium magnets. There are three pickups—two mono neck and bridge pickups and a middle stereo pickup. The neck and bridge pickups are selected by two handmade knife switches made from two-hole 90 degree angles, six-hole mending plates, nuts and bolts, and duct tape.

The output jacks are made from a duplex electrical outlet that has been isolated into two separate outputs—one mono and the other stereo. Special cords were created from electrical extension cords and modified to adapt from standard two and three-pronged electrical plugs to 1/4" TS mono plugs.

The tuners are made from two-hole 90 degree angles, ground and shaped thumb bolts, steel spacers and rod nuts. The bridge and nut are made from cut rebar and the strings are fastened behind the bridge with sheet metal screws set in a six-hole mending plate and the strings are held tight over the nut by a length of left-handed thread rod held by two eye screws.

A small wrench tunes the strings via the rod nuts and two stacks of small neodymium magnets are inset into the back of the body near the tuners, to hold it when not in use.
Random Drawing Winners:
These winners were selected from random entries in Facebook, Instagram and TikTok.
FACEBOOK ENTRIES:
Joe Sandviper
Mark Bove Baldwin
Joe Chipman (his entry was submitted by Preston)
INSTAGRAM
@trigger_guitars aka Bryan McCrea
@crocbite aka Harry Harne
@andres.fischer.iom aka Andreas Fischer Iom of Austria
TIKTOK
Toast Beers
Recent Posts
Shane Speal shows you how to turn a simple $24 Canjo neck into a cool Walkabout Dulcimer (Strum …

A guitar builder tore down his potting shed and turned it into a guitar! Recently uploaded to …

C. B. Gitty presents the Fireworks of Savings Sale - SAVE 20% on these Made in America items! …