These started out as just scrap 2x4s, spray paint and pieces of plexiglass...
Article by Shane Speal.
I've been having a blast with the new 2x4 Lap Steel Kits from C. B. Gi. In a burst of creativity, I went to the craft store and bought a bunch of Rustoleum spray paints. I even chose some radical glitter colors.
When I first developed the 2x4 Lap Steel, I kept the look very simple with raw wood and zip tie frets. In fact, the C. B. Gitty kit features my prototype in the photos:
The more I looked at the instrument, the more compelled I got to treat the body as if it were a blank canvas. In order to showcase the wood as much as possible, I cut pieces of plexiglass into 2.75" x 17.5" sections to serve as fretboards. The plexiglass fretboards are shown in this video:
One of the most radical ideas was to spray paint one body a light blue and then create psychedelic shapes by using masking tape and then spray painting a darker blue over top:
That artwork was actually inspired by John Lennon's psychedelic acoustic guitar from the Magical Mystery Tour era. Note the handpainted fretboard. I freehand painted the lines and dots for a quirky look. As with all these plexiglass fretboards, I painted the underside and then flipped it over to mount.
For the white lap steel, I masked off the fret lines using masking tape and painted the frets black. I then removed the masking tape and painted a red triangle shape over top. When flipped over, the black fret lines show up and the red is layered underneath. It has a cool retro vibe to it: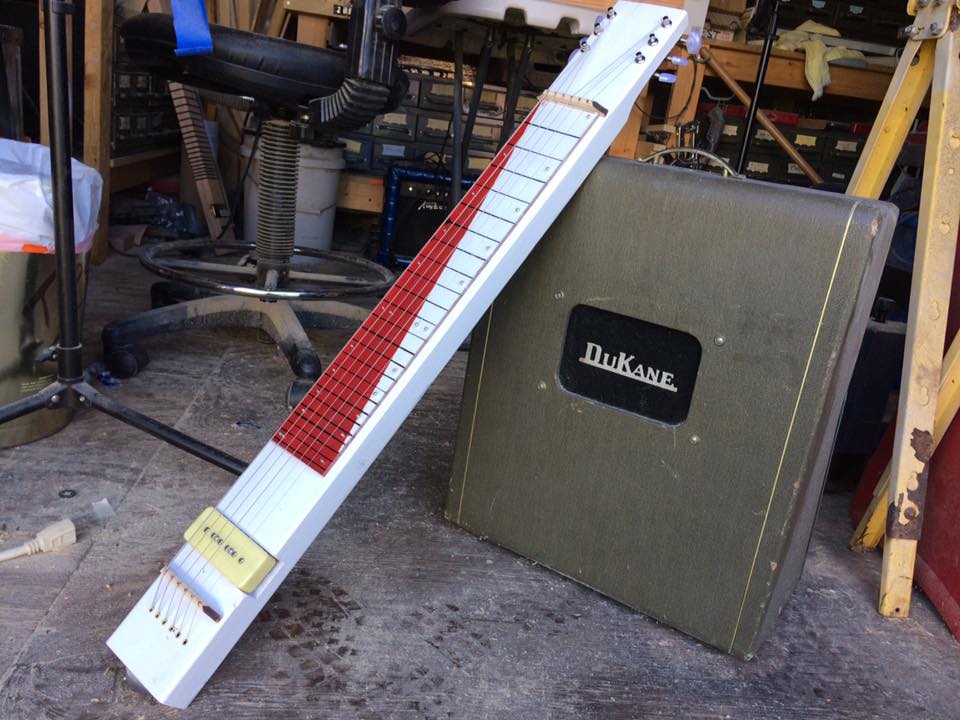 This is only the beginning. In fact, C. B. Gitty is working on an optional plexiglass fretboard with laser cut markers. The plexiglass lends to all kinds of ideas, such as mounting pictures underneath the fretboard, painting entire scenes and much more.
I'd also like to try to make a double neck lap steel with pickup switching and legs.
Note: The C. B. Gitty Lap Steel Kit actually comes with a Dual Rail Humbucker pickup. I had a shelf full of P90's in my shop, so that's what I used for these. The Dual Rails have more output and less hum. As with cigar box guitars, there are no rules to 2x4 lap steels...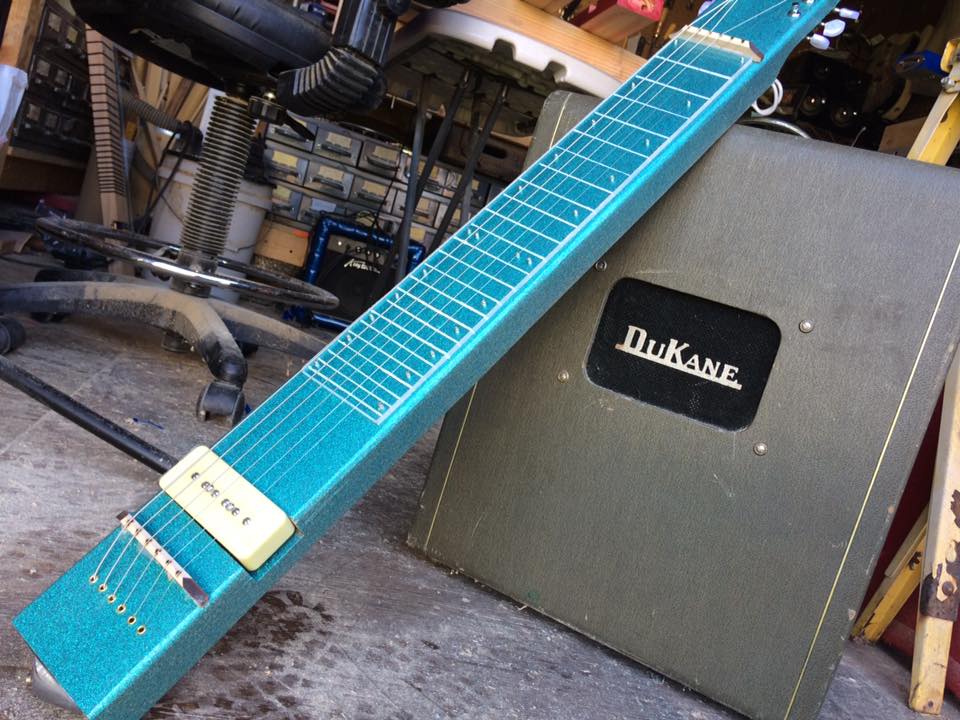 Recent Posts
On a request from a long-time customer, Ben Gitty recently sat down to arrange tablature for the bel …

Recently, Gitty customer Vince Wesley sent us a couple of pictures of recent builds, and one of them …

I've heard it said: "A cigar box guitar is never going to sound like a Martin or a Gibson... but the …