Our customers are the best. You all build with resourcefulness and ingenuity, making the best of tough situations, all the while sharing what you learned with the rest of the cigar box guitar community.
Your resourcefulness and ingenuity fuel your burning desire to solve problems, and to make some really cool stuff, like guitars out of cigar boxes.
Your willingness to share your hard-won wisdom builds upon the foundation of inclusivity and selfless guidance with every cigar box guitar (CBG) community member, new and old alike.
And, of course, your kind and thoughtful support for all community members is the icing on the cake.
What They Say Is True
To that end, here in this post you'll see how one CBG builder and player, who goes by the name Poorness Studios, exhibits all of those qualities that make cigar box guitar builders so special.
Poorness, a regular contributor to Cigar Box Nation and featured builder on C. B. Gitty, has shared some of his building tricks to make your own building more fun, productive,and meaningful.
Here Poorness describes how he
solved the sliding-box-lid problem
created one component to use with all of his guitars
and brought a little joy into his home and ours, here at C. B. Gitty
Without further ado, let's see how Poorness Studios demonstrates those qualities that make CBG builders so special.
Don't Let The Lid Stop You
Have you ever tried building a CBG with a box that has a sliding lid, only to shelve the box out of frustration?
Check out how Poorness installed a magnetic pickup in his bass-string diddley-bow using a sliding-lid box.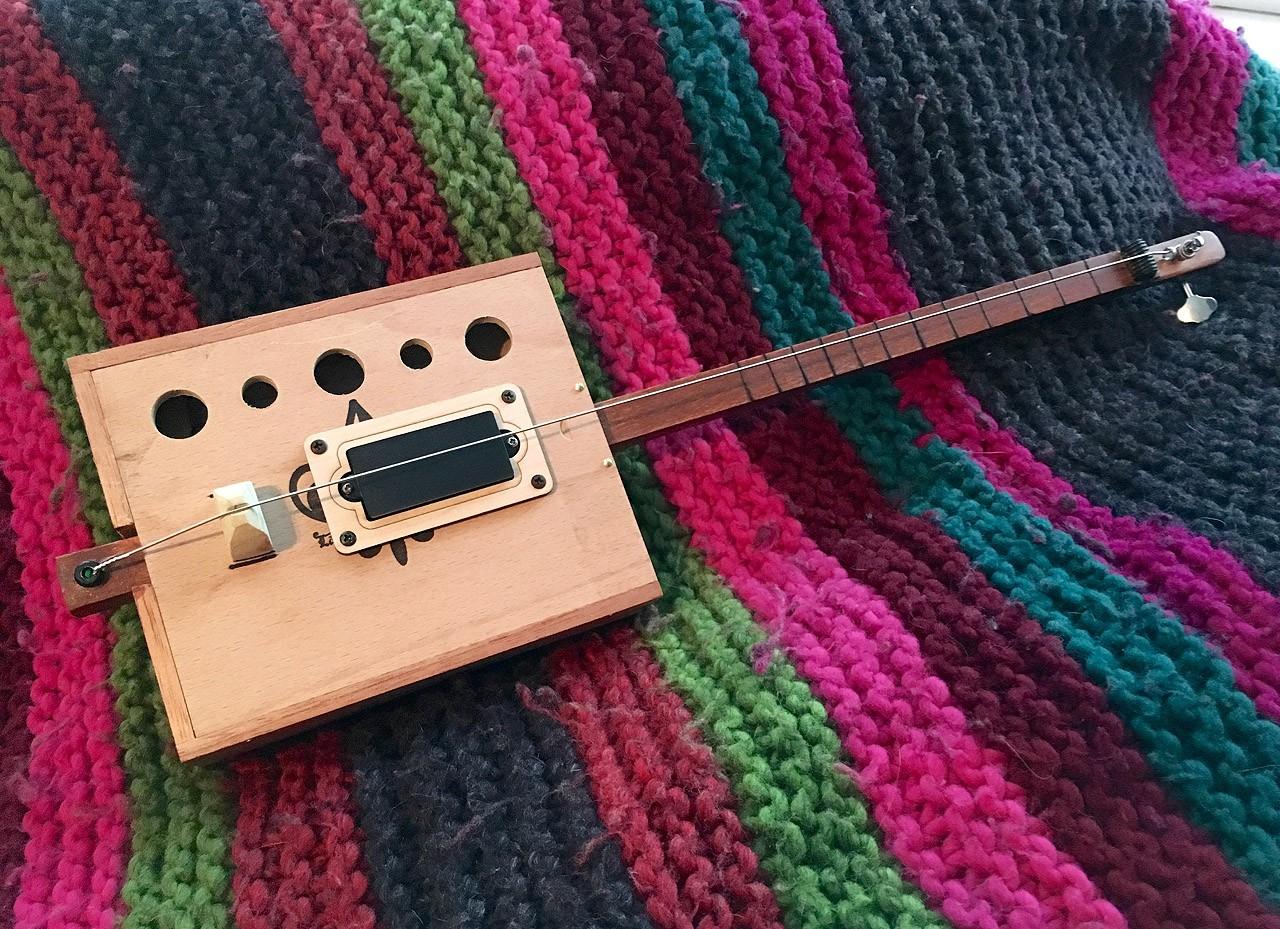 "I had this small cigar box with a sliding lid and wasn't sure what to make with it.
Inspiration struck one night and I decided to make a bass/ukulele/diddley bow hybrid instrument.
I call it the Bukey (boo-key) Bow.
It has a bass pickup, bass string (.050), & bass ferrule.
The instrument uses a (17") tenor uke scale and of course, it's in the diddley bow format.
I used a 3/4" square dowel for the neck and a single tuner left over from a guitar project I did years ago."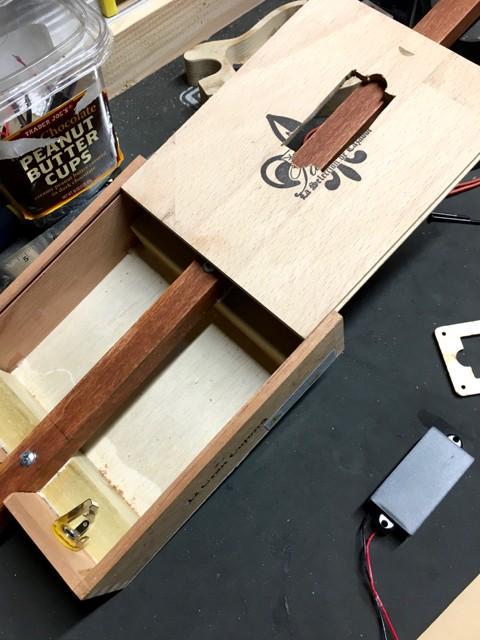 "It was a bit of a challenge to assemble because the sliding lid prevents the builder from mounting components to it.
I had to cut the pickup hole, set the lid in place, then set the pickup in the hole (with on wire on each side of the neck), and slide it slowly in place until I could solder the leads to the jack."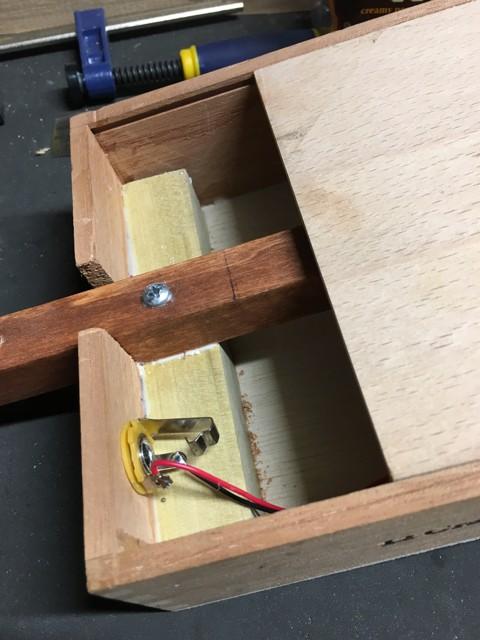 "Once soldered, I slid the lid all the way in place and screwed the pickup to neck (with springs for height adjustment).
The mounted pickup prevents the lid from sliding.
I used a pickup ring to finish it off and make everything look nice."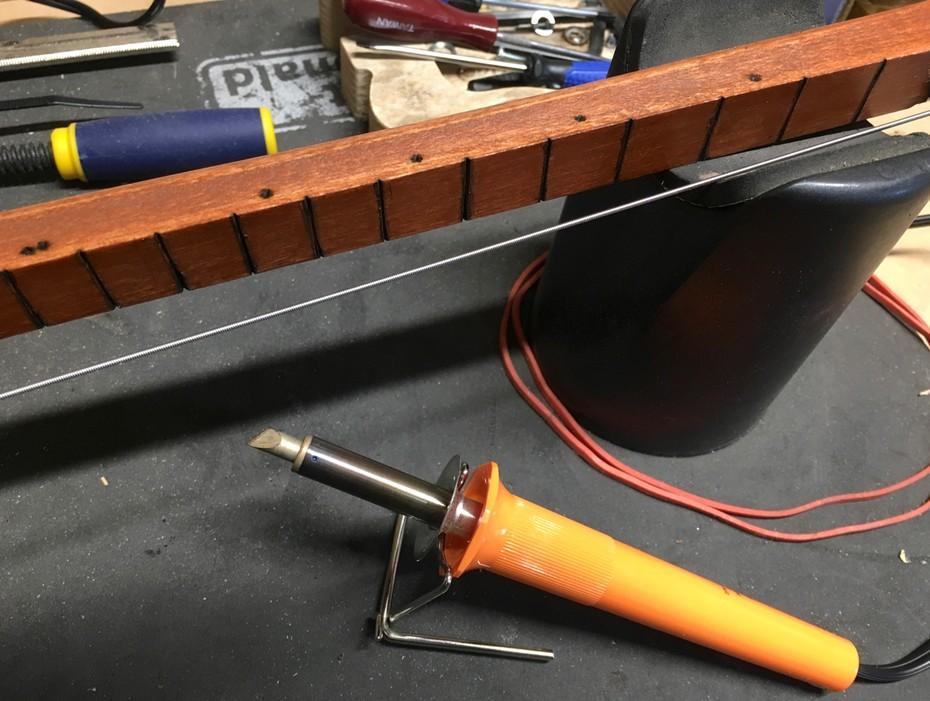 "When I got to the bridge, I tried a few different things and couldn't get it to line up correctly, so I just made a bridge out of a wood scrap.
Once I had everything assembled, I used my wife's woodburner to make fret line markers and then tuned her up.
She sounds great and it was a really fun build."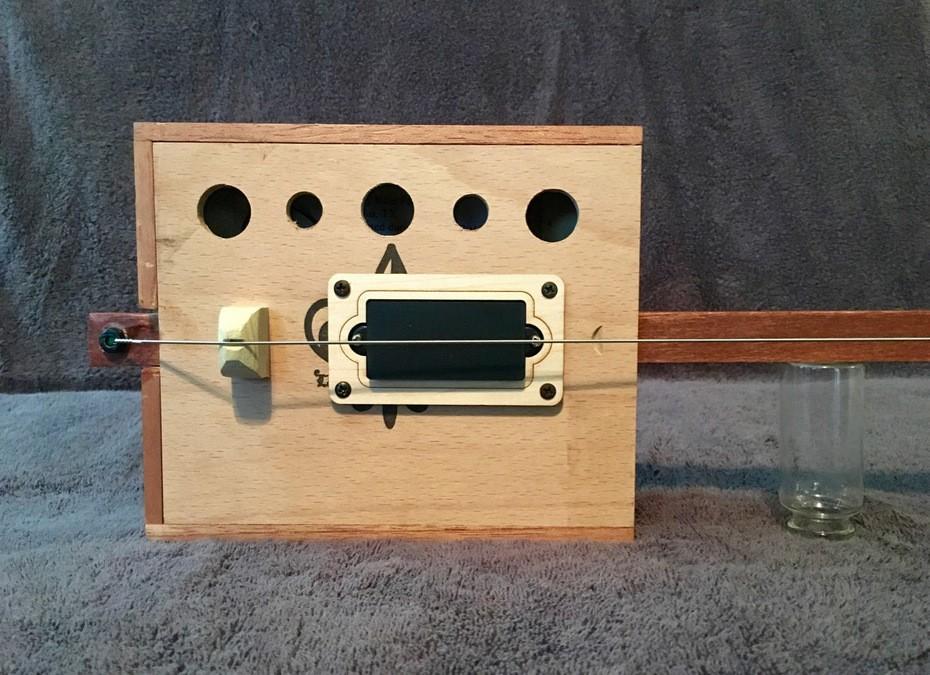 Nice work out of Poorness Studios, wouldn't you say?
With a little patience and ingenuity, he overcame a design problem and built a really cool handmade musical instrument: the Bukey Bow!
Let's check out some more of Poorness' resourcefulness, this time with a tried-and-true method for improving the sound of any piezo-electrified CBG, fully endorsed by Shane Speal, the King of the Cigar Box Guitar.
One Pre-Amp To Rule Them All
For the builder on a budget, Poorness shares how he made his piezo-electrified guitars sound so much better with this simple trick.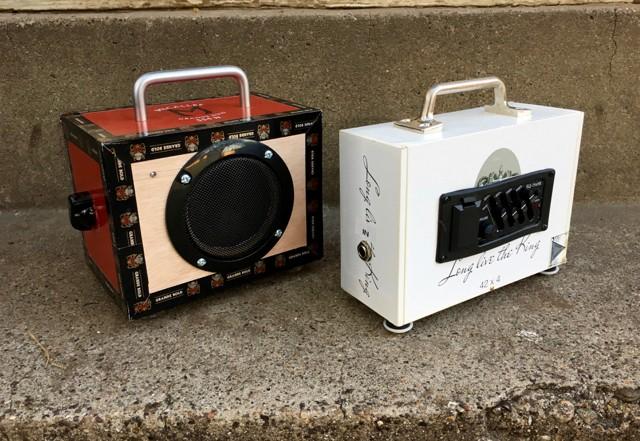 "I noticed my builds with piezo pickups are never quite the same volume as the ones with magnetic pickups.
I bought one of the EQ-7545R kits to try in a future build but then I decided to make a standalone preamp so I could use it with all of them."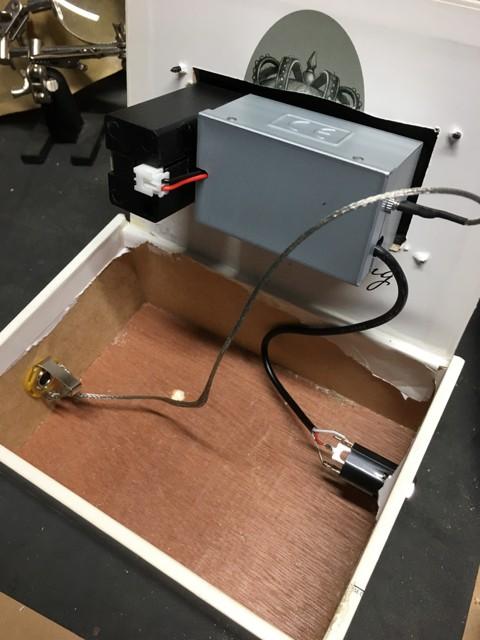 "Very simple. Just find a small box, saw a hole in the top, drill 2 holes in the sides, cut off the piezo rod, trim the excess wire, do a quick solder job, and viola... the CBP (Cigar Box Preamp)."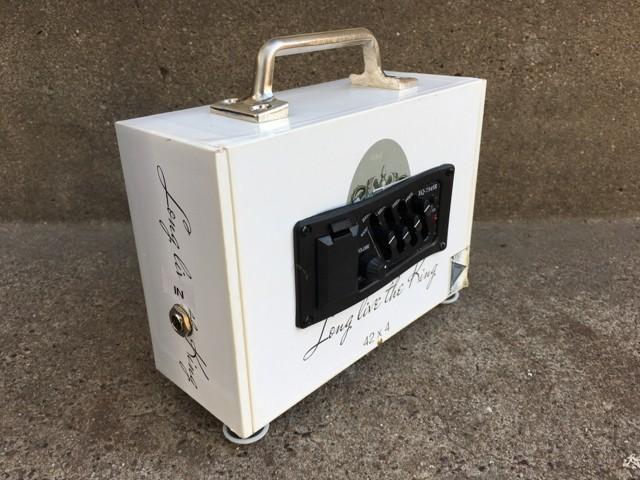 The single cigar box preamp is another great idea and sharing his take on it is another kind gesture for the rest of the CBG community.
It Takes A Village
Now how about some more of those positive vibes?
Here's Poorness sharing the love, and demonstrating the thoughtful community spirit in true form, and we're flattered that he chose The Gitty Gang for this instance.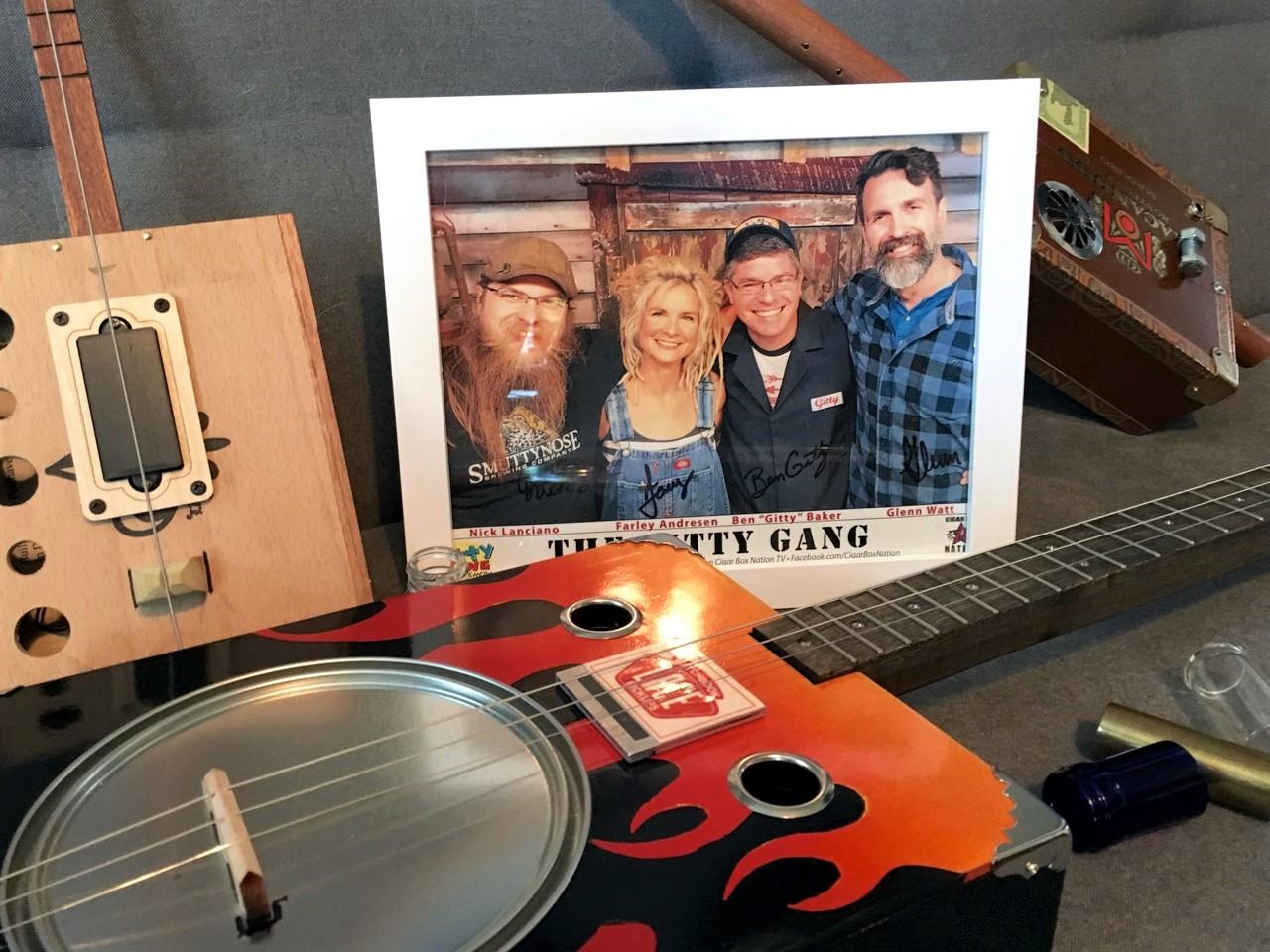 "(For ordering over $25 worth of stuff from Gitty), I chose the signed Gitty Gang photo as my free gift.
I figured a cool signed print like this deserved a frame so I found one for it.
I initially hung it in my workshop but then realized it would constantly be covered in sawdust so I moved it to the studio.
It looks great. Thanks Gitty Gang!"
Thank YOU, Poorness, for including us in your creative spaces (our favorite places)!
The Wrap-Up
So with the above examples set by Poorness Studios, you can see that what they say about us cigar box guitar builders is true:
We are a a resourceful, problem-solving bunch, happy to include and help all comers to this crazy world of handcrafted cigar box guitars.
What about you?
How else would you describe yourself as a CBG builder and player?
Recent Posts
Find this book on Amazon: "Fiddle Fever" by Sharon Arms DoucetPlunge into the world of the earl …

Want to upgrade your next DIY amplifier with a gain control? Looking for greater control over you …

C. B. Gitty Crafter Supply is proud to sponsor the 2019 Pennsylvania Cigar Box Guitar Festival. …