You cigar box guitar builders continue to astound us folk, here at C. B. Gitty. Whether you're sharing your latest tricked-out gitty, experimenting with new ideas, or building your very first guitar, you are moving the needle with your awesome builds. And we love to see them all!
To see just a small selection of the incredible work many of you shared with us this week, keep on scrolling down this post.
And if you want to see your work featured on our website, be certain to follow this link to share pictures, videos, and a bit of the story about your builds using cigar box guitar parts and kits from C. B. Gitty Crafter Supply.
Here, first, is a little gitty that's near and dear to our hearts: a Hobo Fiddle.
Our friend Steebos took time away from building cigar box guitars (CBGs) for friends and family to build himself this sweet-sounding, traveling guitar.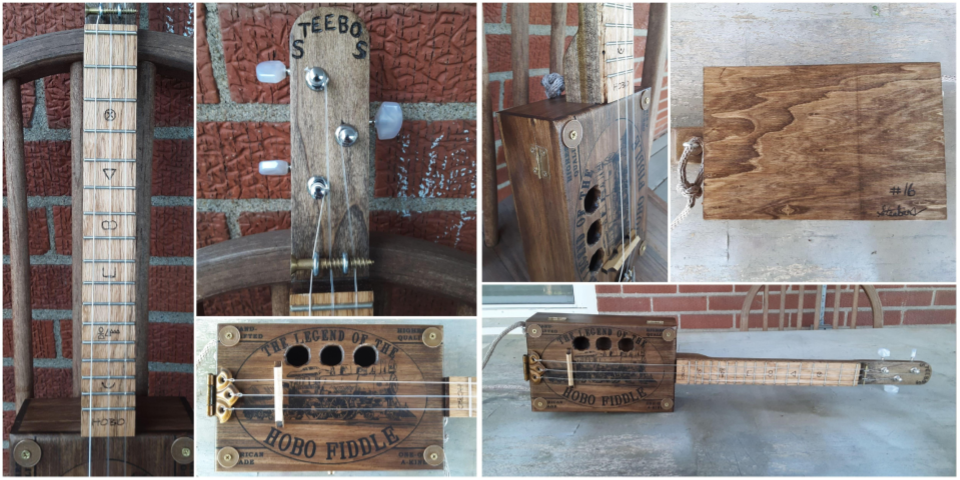 "What's up Gitty Gang?! Build #16 is my very own Hobo Fiddle" wrote Steebos when he shared his new build with us.
"Gitty always looks like he's having so much fun playing his, I had to have my own. So when I won the gift certificate from the Christmas contest I thought I would treat myself."
"I ordered the parts and in between building CBGs for other people I built my Hobo Fiddle."
"I like to incorporate pennies into my builds so I thought the wheat pennies would just be natural accents for a Hobo Fiddle. Thanks to Gitty for the inspiration."
"I loved the book and I love my Hobo Fiddle. I haven't been able to put it down. Thanks dudes for all that you do. Keep on keepin' on."
- Steebos
Thank you, Steebos, for sharing your kind words and inspiration with the rest of us!
C. B. Gitty parts used in this build include:
Next up, check out this jaw-dropping 4-string guitar made by our friend R. M. Odom, who's got a number of builds featured on cbgitty.com.
This intricate work of art started as a salad bowl and became something much more awe-inspiring.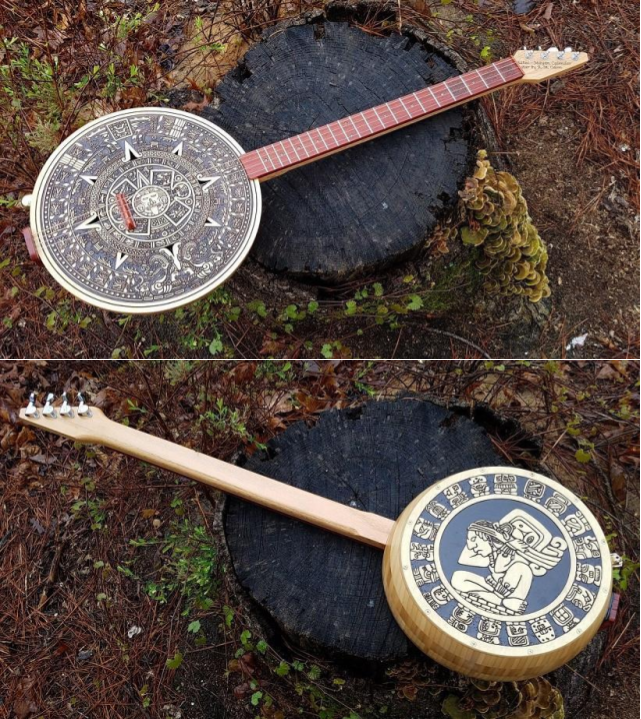 "Aztec and Mayan Calendar Theme Salad Bowl Guitar" wrote R.M. "Hey, they are both round, so why not use them on another weird guitar build?"
"I used three of the symbols from the Mayan Haab calendar on the fretboard for V-carved decoration, and another one to decorate the tailpiece."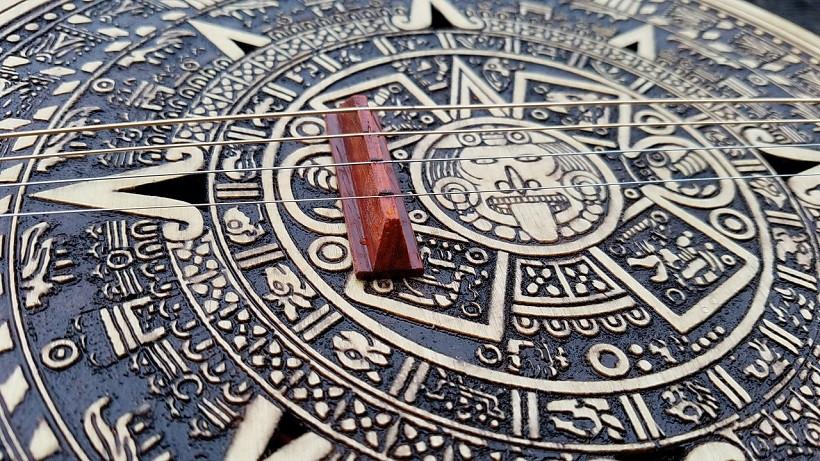 "The bridge is sort of a pyramid also. The top and bottom panels are made of 3mm 5 ply aircraft grade plywood that I have used in building radio control model aircraft over the years."
"The calendars are carved just 0.030" deep with a Whiteside #1540 60 degree carbide cutter. Both panels are dark stained with General Finishes Java gel stain."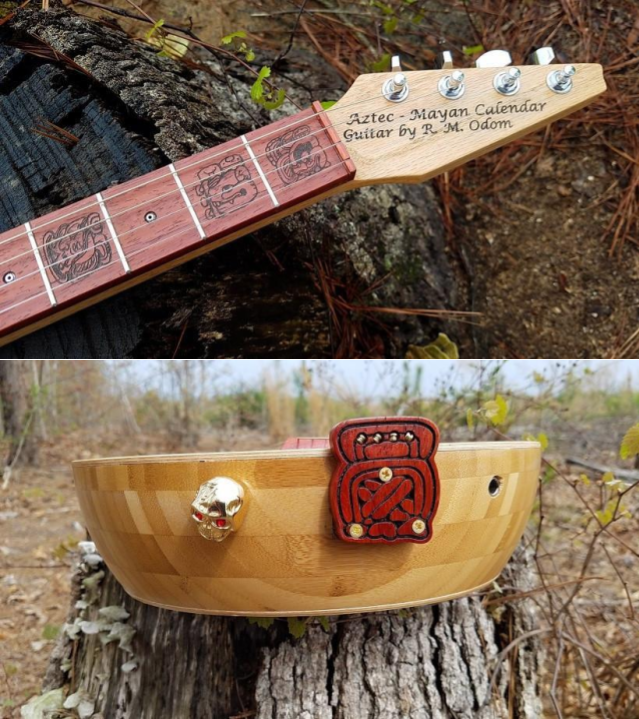 "The symbols on the fretboard are stained with General Finishes black gel stain. The red wood is Padauk, the brown layer under the fret board is black walnut."
"The neck is red oak. The bowl is an 11" diameter bamboo salad bowl from IKEA."
"The tuners, fret wire, dual piezo pickup kit, skull knob, and strings are from C. B. Gitty Crafter Supply. 25" tuning length. Tuned to DGBE."
- R. M. Odom
Now, how's that for something terrifically unexpected?
C. B. Gitty parts used include:
---
Want to submit your build to be featured on the C. B. Gitty website?
Follow this link to submit photos, videos and a bit of the story about your build!
---
If a salad bowl, turned Mayan calendar, turned 4-string guitar isn't enough to get you going, check out this next build.
Here's a little gitty, built by our friend Phil, that'll make you want to start crankin'!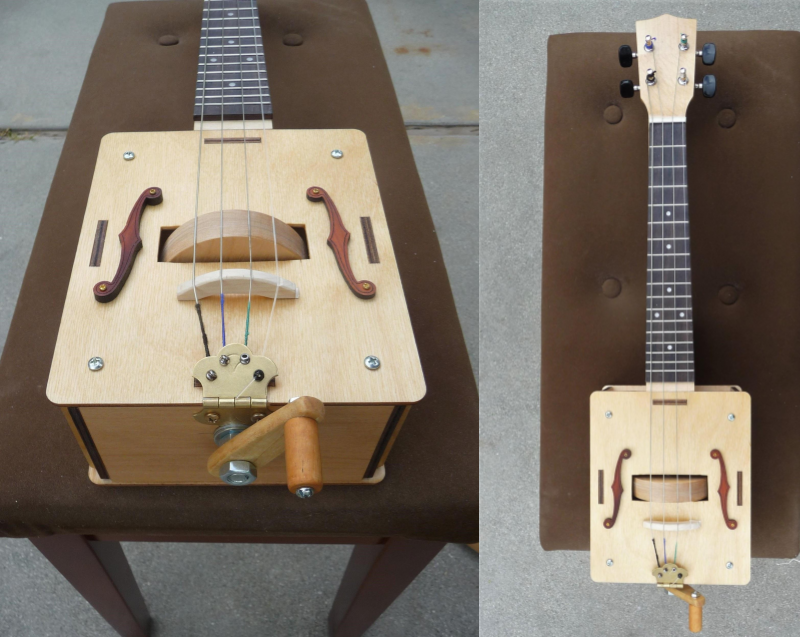 Wrote Phil about this one-of-a-kind CBG, "This was an experiment to make a bowed CBG called the Gitty Gurdy. It is entirely made out of C. B. Gitty parts with the exception of the strings (viola)."
"The 15.25 in. scale puts it in the alto violin range. It sounds like a bagpipe with drone as well as melody strings. One turns the crank with the right hand and fingers the strings with the left. It is quite tricky to play."
- Phil
This Gitty Gurdy may be tricky to play, but it is, without a doubt, one of the coolest works of ingenuity we've seen in a while.
Simply awesome work, Phil!
C. B. Gitty parts used included:
While that Gitty Gurdy is a truly unique handmade musical instrument, you don't have to break all the molds to build something really darn cool.
Sometimes, you just got to find a little inspiration by looking around at what's available.
And that's just what our new friend Rabid Bat did when he built this Chillin' Moose guitar with a tenor ukulele neck.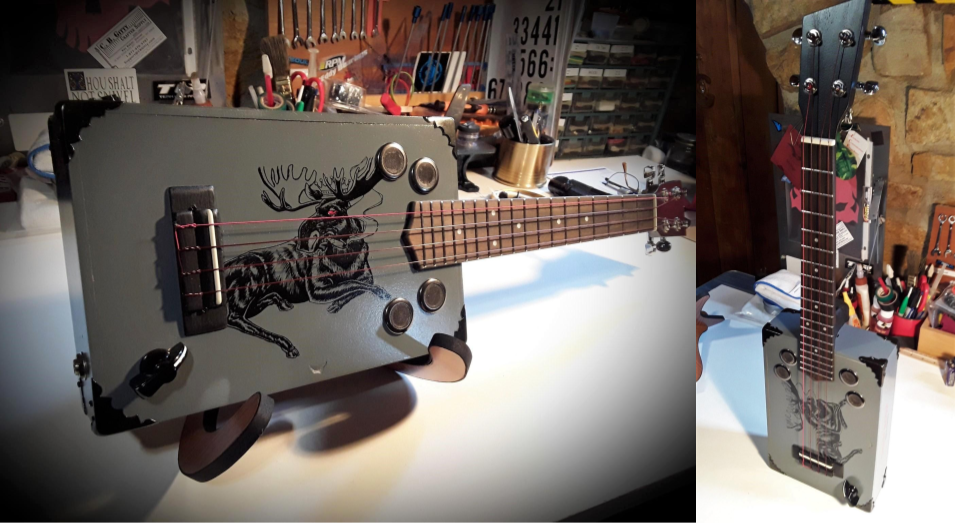 "I came up with this by looking at all the parts and hardware on CBGitty.com" said Rabid Bat. "I built the Gitty uke kit, and now I got the bug!"
"I have built 2 traditional ukes and thought I could do enough right things that this project would work out."
"I used 1"x2" oak neck and tail blocks. I also braced the sides. I used a uke neck, stained onyx black, with rosewood fretboard and bridge. Hand-shaped bone nut and saddle."
"The grommets are perfect, and right over the sweet spot. The pick up and harness worked great. The box corners look even better than I imagined."
"I just buffed a bit of carnuba wax over it, and lemon oil on the fretboard. I also gutted a danelectro honeytone amp and installed it in a d'jango box. Only used a drill and a screwdriver (that's the spirit, right?)"
"The piece stays in tune, sounds better than I imagined, and is now my daily-driver. Can't wait to start a new project!"
- Rabid Bat
Given that the C. B. Gitty shop here in New Hampshire is just south of moose-country in our friendly neighbor-state of Maine, we're pretty fond of Rabid Bat's new uke, and awfully excited to see all the C. B. Gitty parts he used on it.
C. B. Gitty parts used include:
Last up in this collection of customer-submitted, needle-moving, handmade guitars is actually from a first-time builder.
Our new friend Angel Wolf was given one of our new 4-string kits, and this is what she said...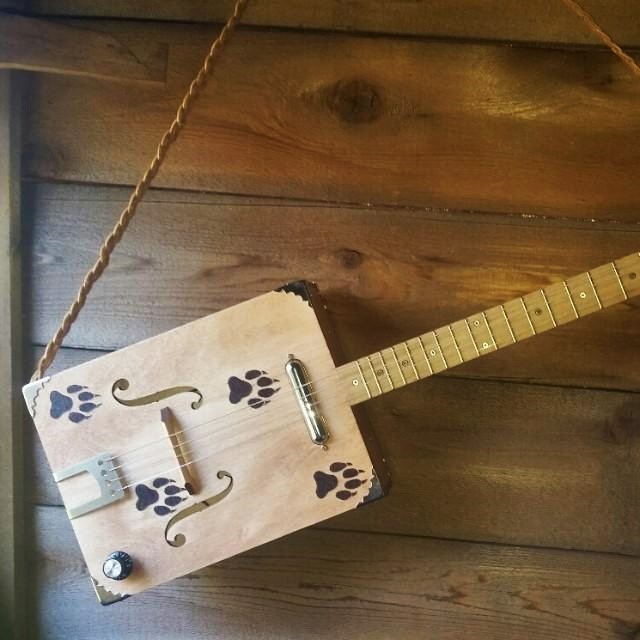 "First ever guitar build. My husband ordered the Tupelo Tenor kit for me. I was pretty skeptical at first... have never built a guitar before. But after a little prodding on his part, I got it started and really enjoyed building it."
"I love wolves...and the hubby even refers to me as "the wolf" so, had to wood burn a few wolf paws and a howling wolf on it."
"It has a really good sound and I think I'm really going to enjoy learning to play it. Thanks C. B. Gitty for an awesome kit!"
- Angel Wolf
Holy, howlin' smokes, Angel Wolf! Your new guitar looks fantastic!
We're excited that you enjoyed using your own creative twists to make the guitar all your own.
And welcome to your new addiction, Angel Wolf. If you're anything like the rest of us (and we'll be that you are), you won't be able to build just one!
C. B. Gitty kit used:
The Final Word
Ideas and inspiration come from an infinite number of resources.
And the more CBGs all of you thoughtful, talented builders share, the more opportunities you create to move the needle in your builds and in those of others.
Do you have a build featuring C. B. Gitty parts that you'd like to see on cbgitty.com?
If so, follow this link to submit photos, videos and a bit of the story about your build!
Now then, friend, which one of your needle-moving gittys will you share with us?
Recent Posts
The C. B. Gitty Gold Foil acoustic pickup is one of the most versatile and easiest magnetic picku …

We've been buried in entries for the 2020 Banjo Build-Off! This week, we're going to announce the fi …

Just as A. E. Staley's baking powder worked wondrous transformations in bakers' recipes a century …