Looking to sell your cigar box guitars at festivals? Shane Speal has been selling his cigar box guitars at festivals for years and in this post he shares some of his secrets for success.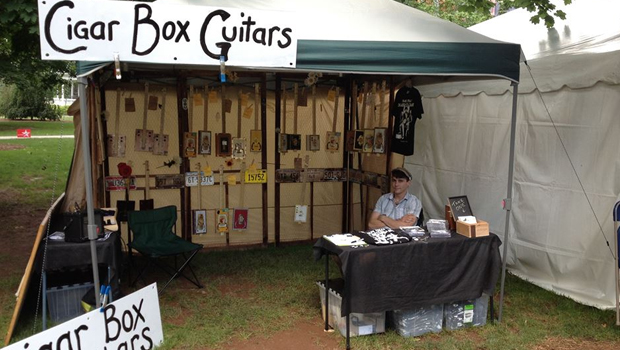 Shane Speal's Tips for Selling Cigar Box Guitars at Festivals
In part one of this two-part series, I talked about building cigar box guitars for extra income, preparing for summer festival season and how you should best use your time and resources by building in bulk.
This week, we explore how to book festivals and create some extra items to upsell.
Community arts and crafts festivals are a great place to sell cigar box guitars. Music festivals are even better because they have music lovers attending. Both are ripe for selling.
Tip #1: Where to Find Festivals
A great resource for finding fests in your area is www.festivalnet.com.
That website not only gives you dates, locations and times, but it also gives you contact and submission information for many of them.
Plus, keep your eye on the Events page on CigarBoxNation.com.
There are always new festivals popping up and getting in on them early can help you establish your name and give you experience in all aspects of selling your CBGs.
Tip #2: Book Your Festivals ASAP
You should be booking fests far in advance of summer.
Craft vendors are a well organized militia and always getting their applications early in for the next event.
Because space is limited, you apply as soon as possible.
Plus, the act of committing to an event will light a fire under you to build more, build better, and hopefully to practice playing your builds -- an essential skill to sell them.
Check out this video lesson I shared of the secret riff that will help you sell more cigar box guitars.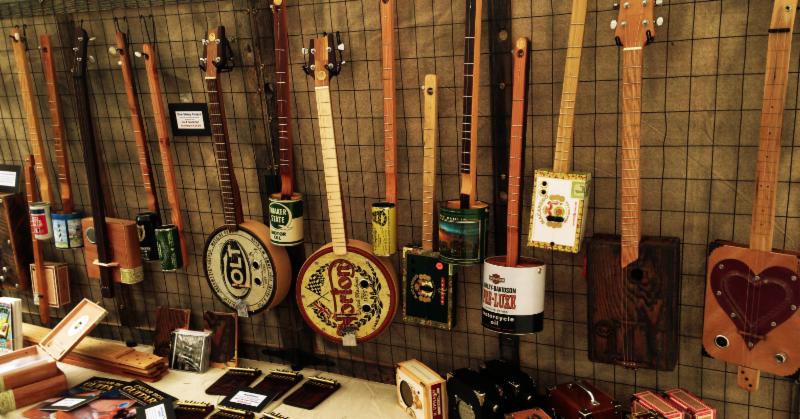 Tip #3: Research Other Sellers
Ask the event organizer if another cigar box guitar vendor will be selling.
If there's one thing I've learned, it's that cigar box guitars sell great when you're the only one selling.
If there are two or more CBG tents at a fest, you'll see your profits plummet.
The simple fact is, people spend too much time comparing one guitar maker to another...and then suffer "death by overchoice" and walk away without purchasing.
I just don't sell at events where other cigar box guitar venders are set up.
Bonus tip: Upsell!
In addition to cigar box guitars, think about the things people will need to play the guitar they buy from you.
Here's a short list of must-have items:
Gig bags
Amplifiers - this is especially important because electric CBGs sell much better than do just acoustic ones. Get a handful of

amplifier kits from C. B. Gitty

and make your own cigar box amps!
Another Bonus!
Take a tour with me through one of my festival tent set-ups.
In it, I show you:
what items I stock
how I display them
some key characteristics of my CBGs (that sell!)
and other helpful hints
Conclusion
This concludes my two-part series on how to sell your cigar box guitars at festivals for fun and profit.
In part one we covered how to
prepare for the festival season
build with efficiency
buy parts for maximum productivity
In this post, part two, we covered
where to find festivals
when to book your spot
what to research about the festivals
what to upsell to your customers
how to set up your vending tent
Armed with this knowledge, you're now set to sell your own cigar box guitars at festivals for fun, and yes, for profit.
Recommended Reading
Recent Posts
C. B. Gitty presents the Fireworks of Savings Sale - SAVE 20% on these Made in America items! …

HOW MANY INSTRUMENTS HAVE YOU MADE SINCE THE START OF QUARANTINE? As the quarantine slowly lif …

Shane Speal is back with his latest creation, and this time it's absolutely stunning! His "Mot …