We've got the short-list of Guitar Dad gifts. From shirts he'll actually wear (in sizes up to 5x on some designs) to tools he really needs, we got you covered.
When it all comes down to it, C. B. Gitty is a company made by a dad that serves fellow dads everywhere.
Dads live in t-shirts.
He may have a dresser full of clothing, but does he wear the stuff that lights him up? We've got the t-shirts that look good on Dad and that say the things on his mind. Give Dad full license to flex his superhero muscles with the...
"What's Your Superpower" T-Shirt - for Cigar Box Guitar-building Superheroes ONLY!
And what better way to let Dad express the things that make him shine than with sawdust?
"Sawdust is Man Glitter" T-Shirt - Get in the shop and make some sawdust!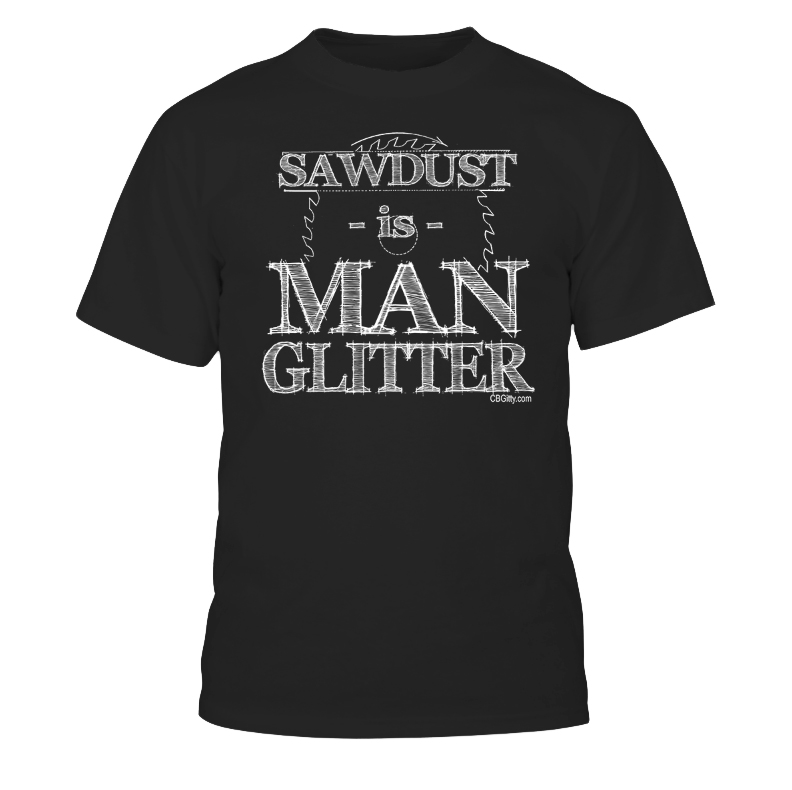 Now that you've got Dad looking and feeling good, how about giving him the tools to get him playing his cigar box guitar?
Get Dad Playing
In the past, getting Dad a gift, with some of his finicky tastes, was a challenge.
Not anymore.
Here you've got the goods that meet that challenge and put the right tool in his hand for all his musical tastes.
The Cigar Box Nation 4 Guitar Slide Combo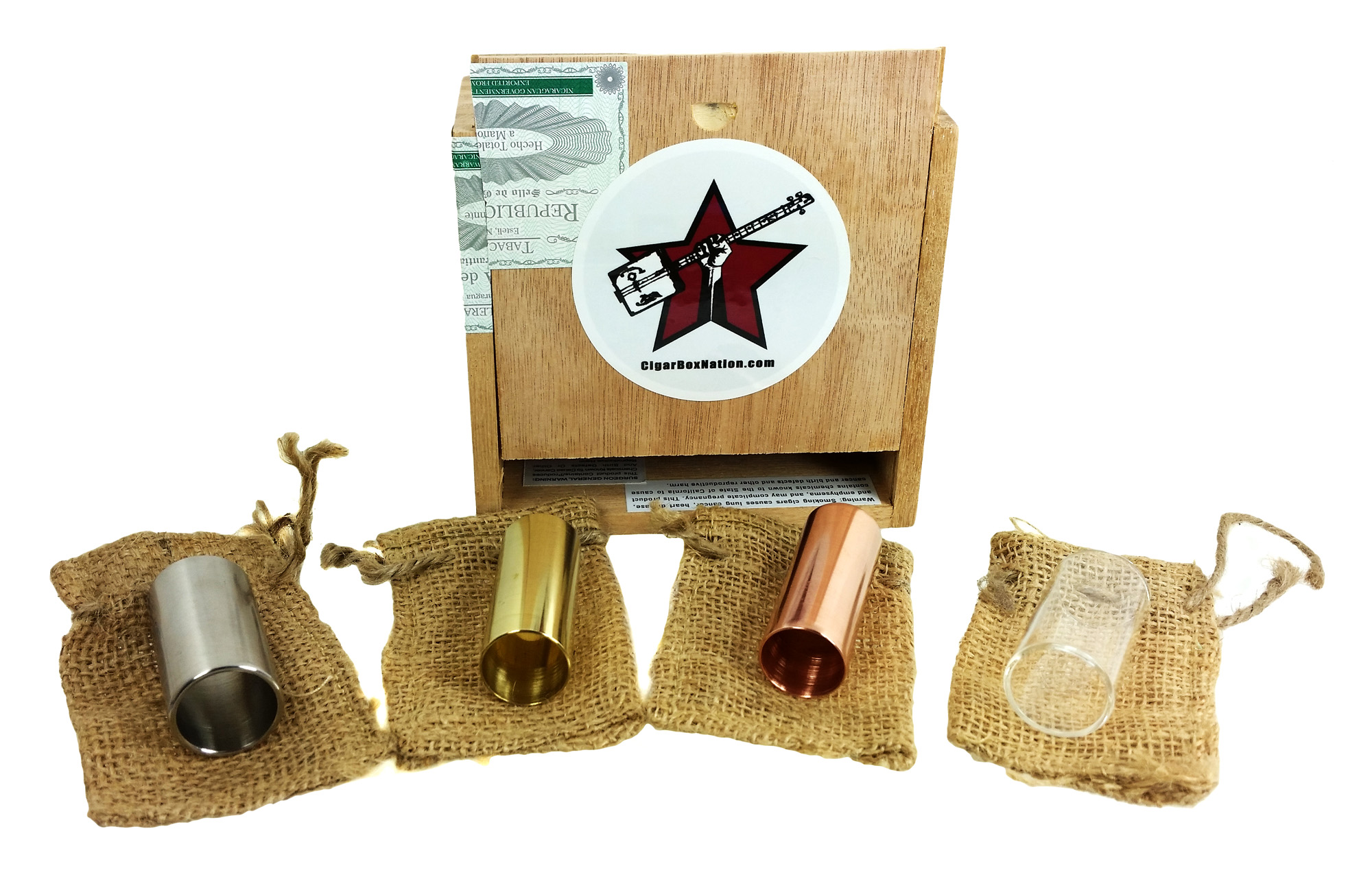 And what better way to organize his growing arsenal of sweet slides, and give Dad a fun activity to boot, than with this easy-to-assemble slide display rack?
Wall-mount Guitar Slide Display Rack Kit - Easy to Assemble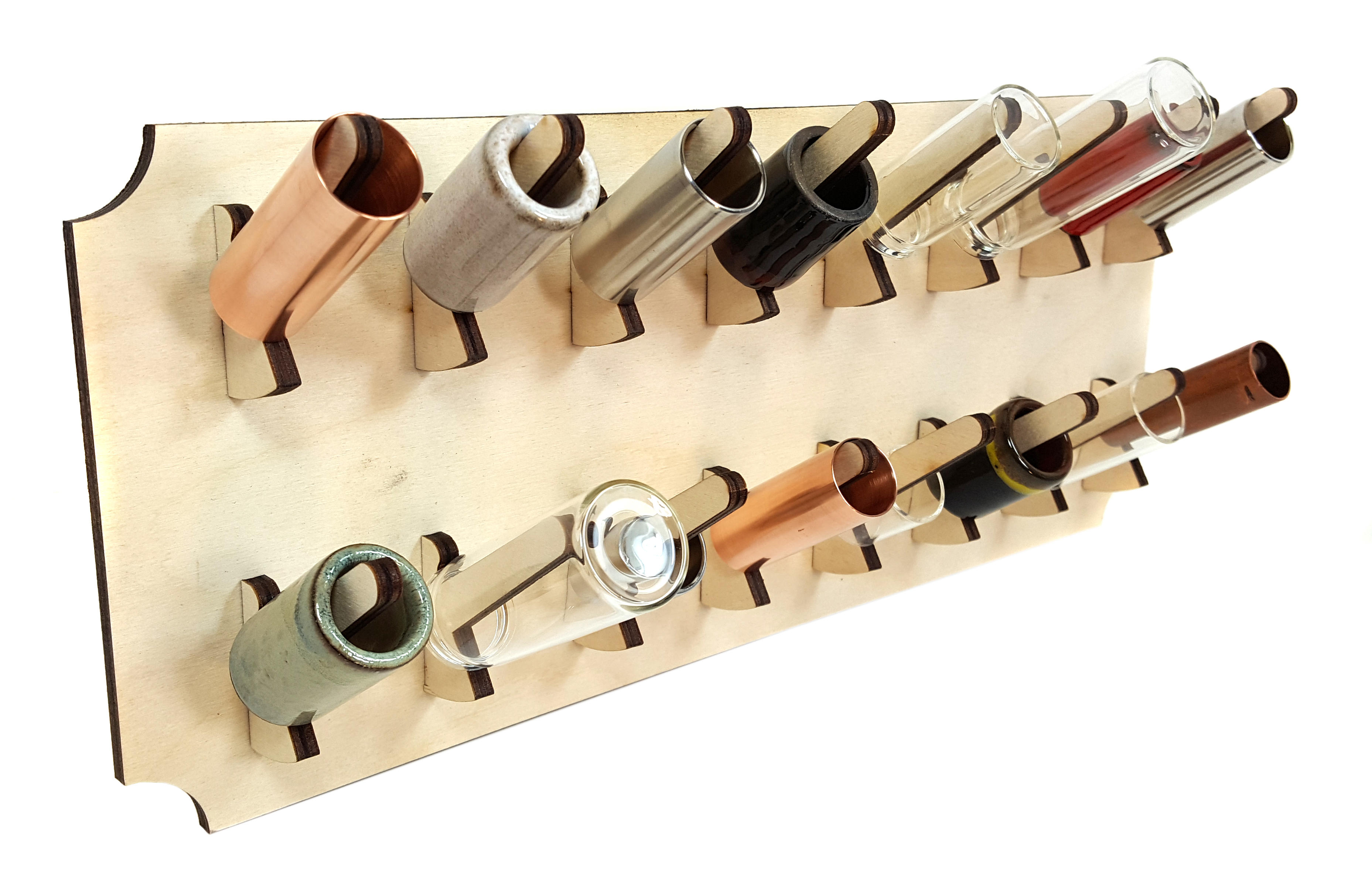 Before you know it, Dad will have a slide for every whim, and a place to put 'em all.
Since he'll be playing a lot more, he's going to build a lot more, too.
Better get Dad the tools required to keep him building with a smile.
Keep Dad Building
If you haven't heard him before, Dad's probably let out a few curses working on a build.
Why not remove any frustration he may feel by giving him the best cigar box guitar building tools available for Father's Day?
This jig, which he'll have a blast assembling himself, allows Dade to cut perfect scarf joints for his guitar necks by hand.
Scarf Joint Miter Box Kit - Cut Perfect Scarf Joints by Hand!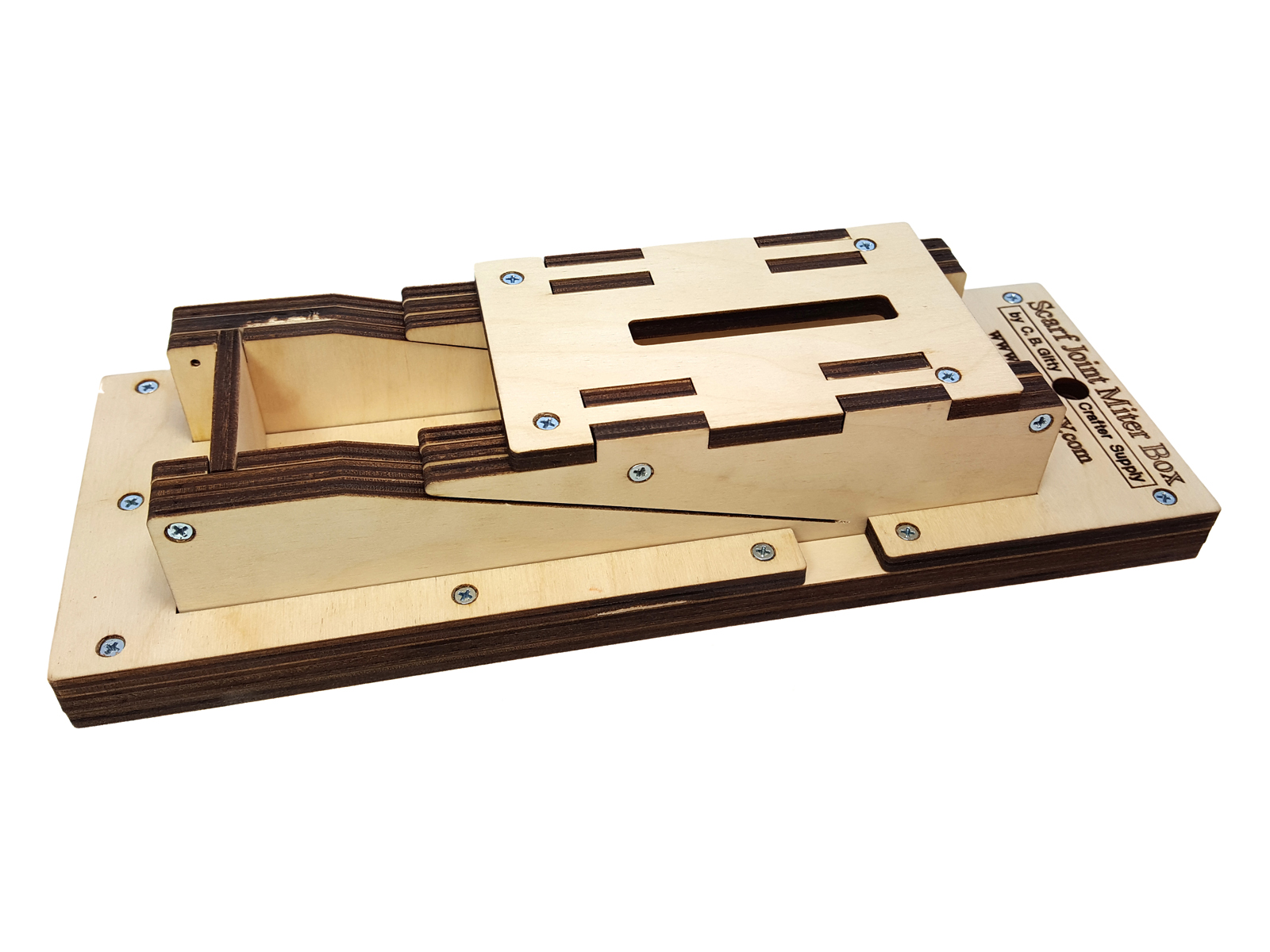 And this next kit gets Dad fretting his cigar box guitars with confidence.
It's the...
Complete Cigar Box Guitar Fretting Starter Kit: Tools, Templates, Frets & Guide ($40 savings!)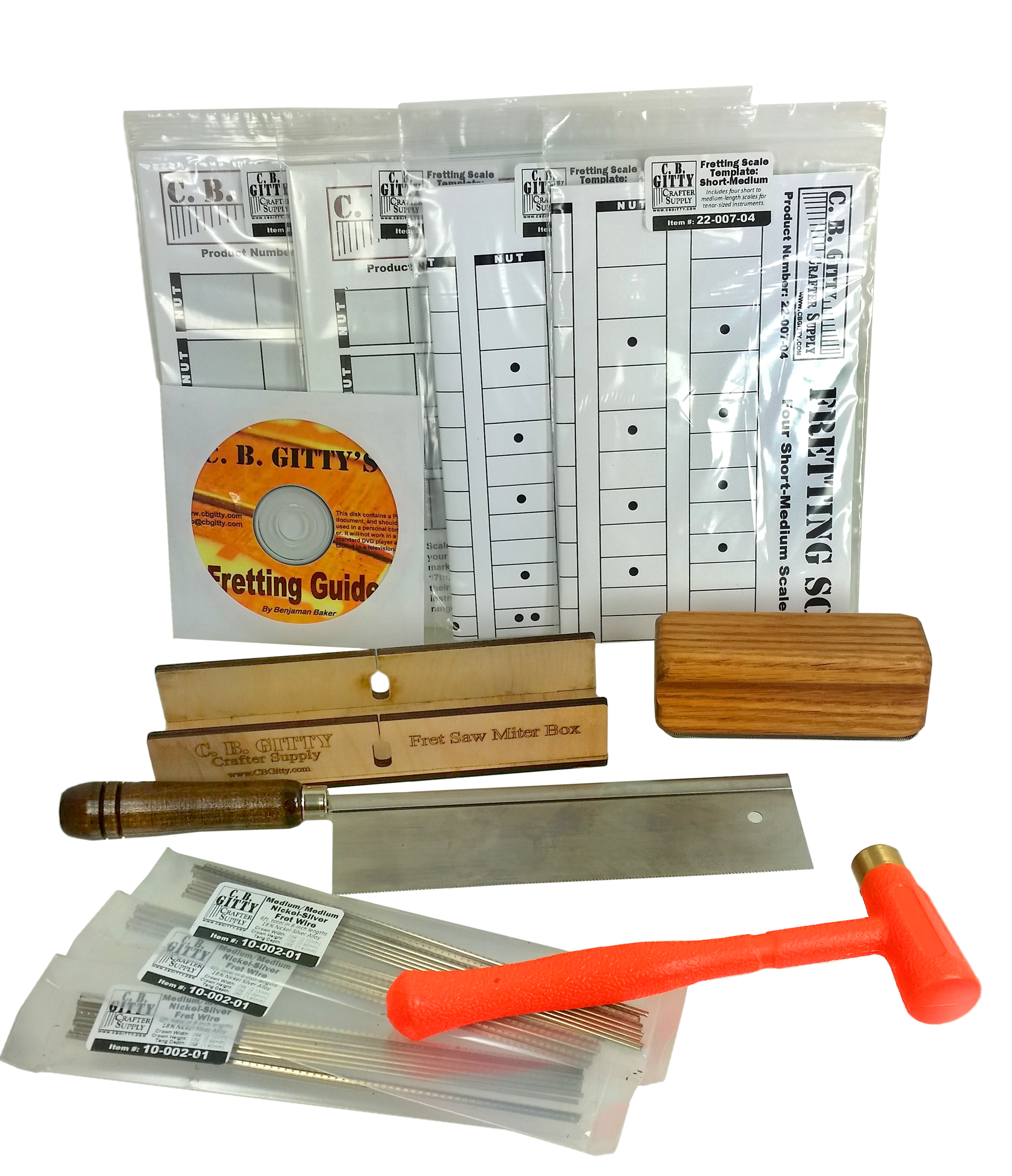 Building with confidence keeps Dad happy, and that's what we all want for Father's Day.
But what if he doesn't want to build or could use a little inspiration?
Well, you can really energize Dad with this gritty, Americana train-inspired guitar and amplifier combo.
Knock Dad's Socks Off
This matching guitar and amp combo is the perfect way to knock Dad's socks off.
The soundboard on this powerful guitar, as is the face of the amplifier, are wrapped with full-color reprints of a vintage postcard.
Both the guitar and amp produce terrific sound.
Coupled together, however, and Dad's got the perfect stage-ready setup to carry with ease to his favorite chair or out to his workshop.
"Southbound Katy" Rail-hopper Combo - Fully Fretted 3-string Open G Cigar Box Guitar/ Amp Combo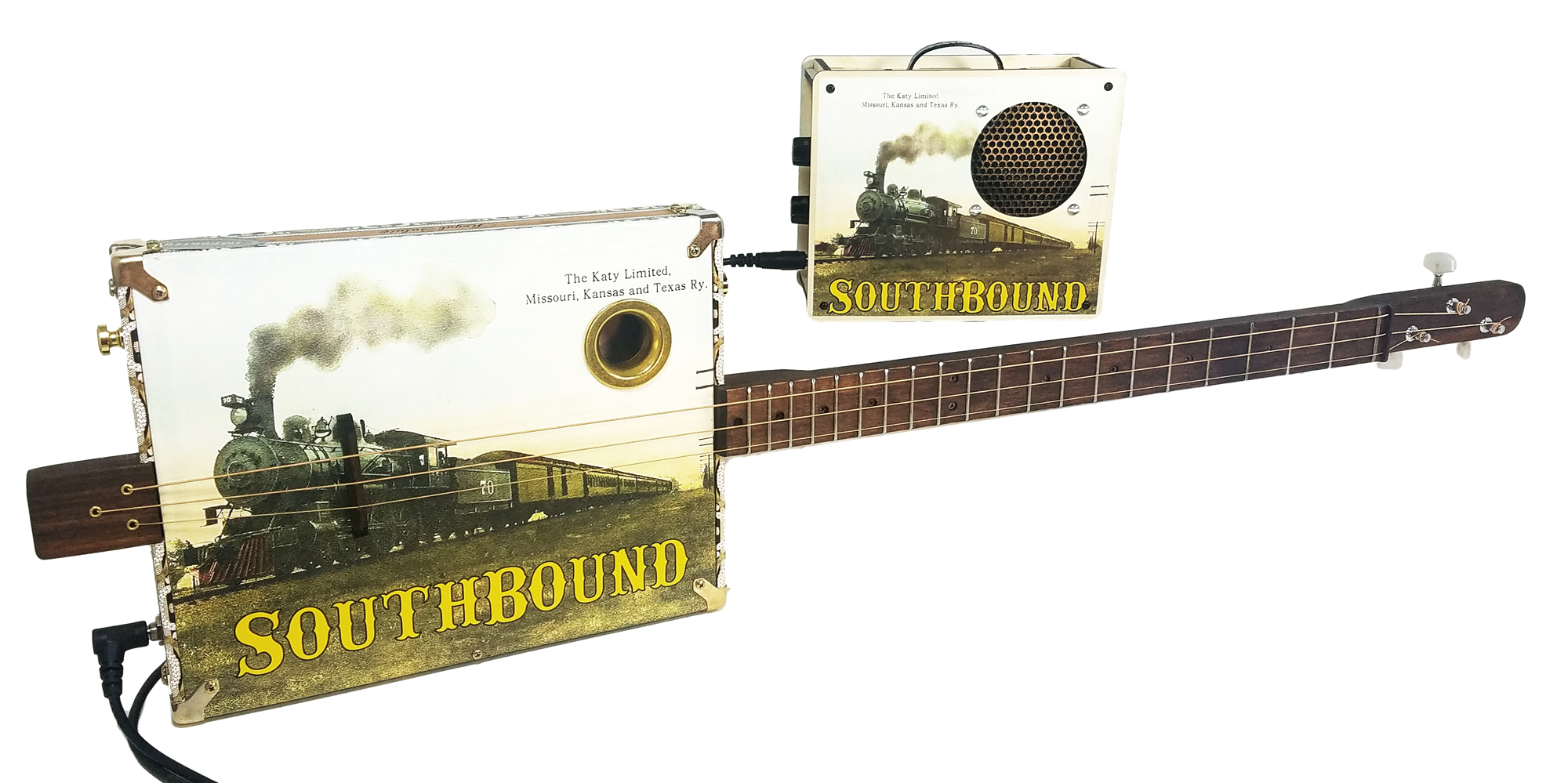 How's that for a short list of the things Dad wants?
From t-shirts and slides, to jigs and DIY kits, and even a history-rich and rockin' guitar and amp combo, your Dad will be pleased with what you choose for him.
The short list again is...
---> His new favorite T-shirts
---> Fun and easy to assemble Slide rack
---> Miter box for perfect scarf joints
---> Complete fretting kit for his best guitars yet
---> Glorious train-inspired guitar and amp combo
Be the favorite child and make Dad happy on Father's Day.
Get him what he wants from C. B. Gitty Crafter Supply.
Looking for something not listed here? Try our website or contact us at support@cbgitty.com.
Recent Posts
While a lot of cigar box guitar builder attention goes to disk piezos and standard acoustic guitar-s …

Reduced feedback. Deeper bass response. And no more "quack!"I was complaining about certain tonal pr …

Have you wondered, what kind of music can be played on a cigar box guitar? You may be surprised by t …