Want to challenge yourself with a new way to build your next guitar? Use an old wooden crate to make your biggest, most distinctive DIY-guitar yet!
There's no question that cigar boxes are the most popular repurposed item for building homemade/handmade musical instruments.
Of course, there are other popular options: wine and liquor boxes, silverware cases, metal boxes, and cookie tins and such, but what about when you want a little bigger challenge?
For me, that challenge is provided by building guitars from old wooden crates and packing boxes.
Big Beautiful Boxes
You can find them at flea markets, antique and junk shops, yard sales, all over the place: the worn and stained relics of a time when products were packaged in wooden boxes rather than plastic cartons or cardboard.
Often these old boxes have some lettering or branding on them, giving more or less obvious clues as to their original use.
These markings only add to the inherent attractiveness of using these boxes for guitars.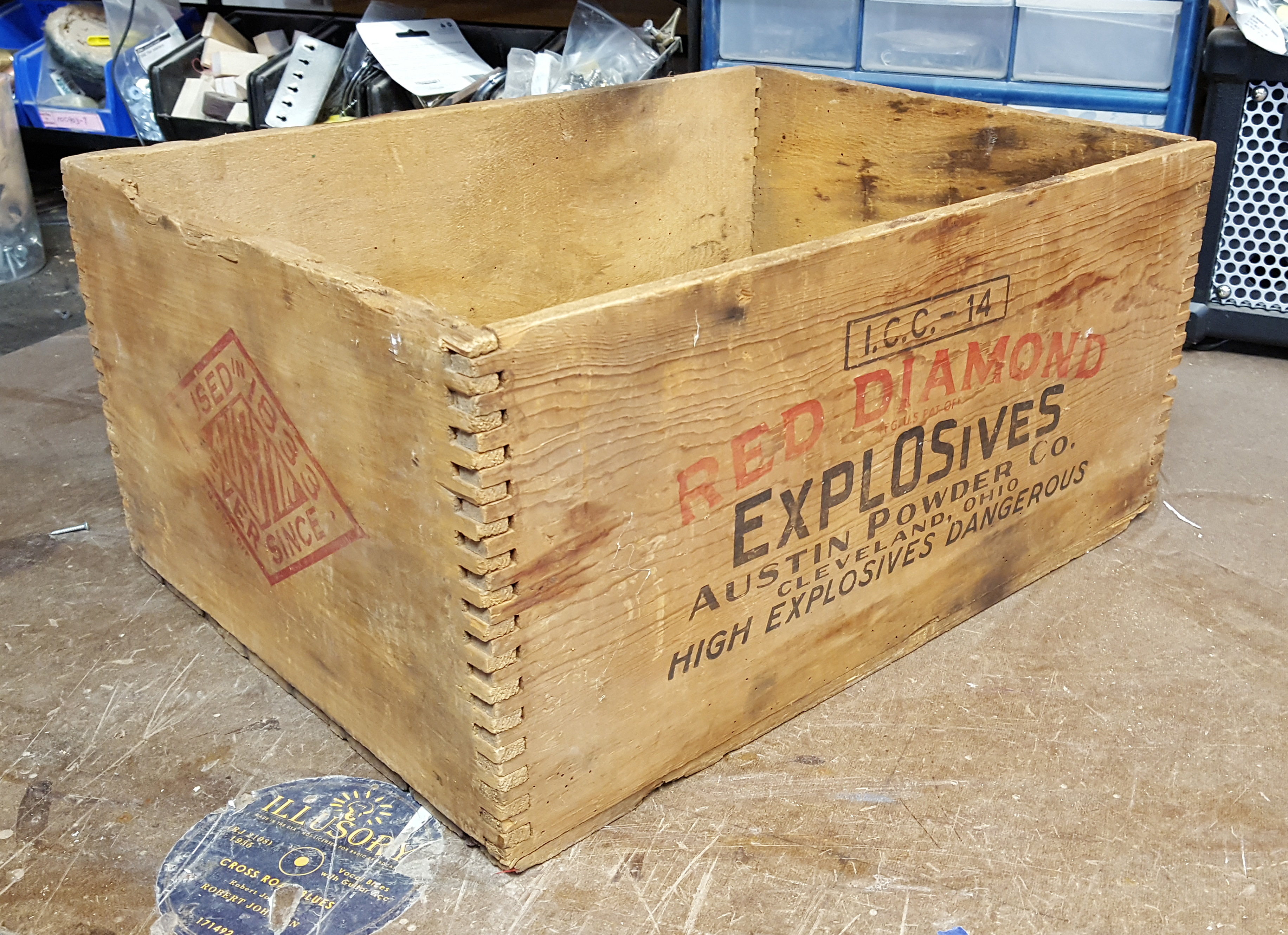 The Problem with Bigger Boxes
But there's a problem: many of these old crates and boxes are not the right size and shape for a guitar body.
Whereas many cigar boxes are often "in the zone" size-wise, these larger boxes were usually built on a bigger scale.
Therein lies the challenge: how to convert them into guitar-sized sound boxes?
The Solution to the Bigger Box Problem
The answer lies in taking them apart, re-sizing the panels, and then re-assembling the pieces as a new box.
This requires some woodworking skill and careful measuring and planning, but the end result can be spectacular.
For example, check out this Photojournal Album on Facebook of my Dynamite Guitar build.
The photos show the transformation of an old explosives crate into a beautiful 3-string guitar.
This was my first attempt at building a guitar out of an old crate, and I learned a lot while doing it.
Think About These Things (Before Jumping In)
Of those lessons learned, here are some key things you should consider before jumping in:
How many of the panels on your box are usable? Sometimes old boxes can have rotten or insect-damaged sections, which aren't stable enough for instrument building.
What panel of the box would make the best soundboard? I usually like to try to use a panel with the most striking lettering/branding.
If the box's panels are thick, you may need to thin one down for it to make a good acoustic soundboard (if you are building an electric guitar, this is not as much of a worry).
One larger panel can be sawn into longer, thinner panels to build the side walls of your new box.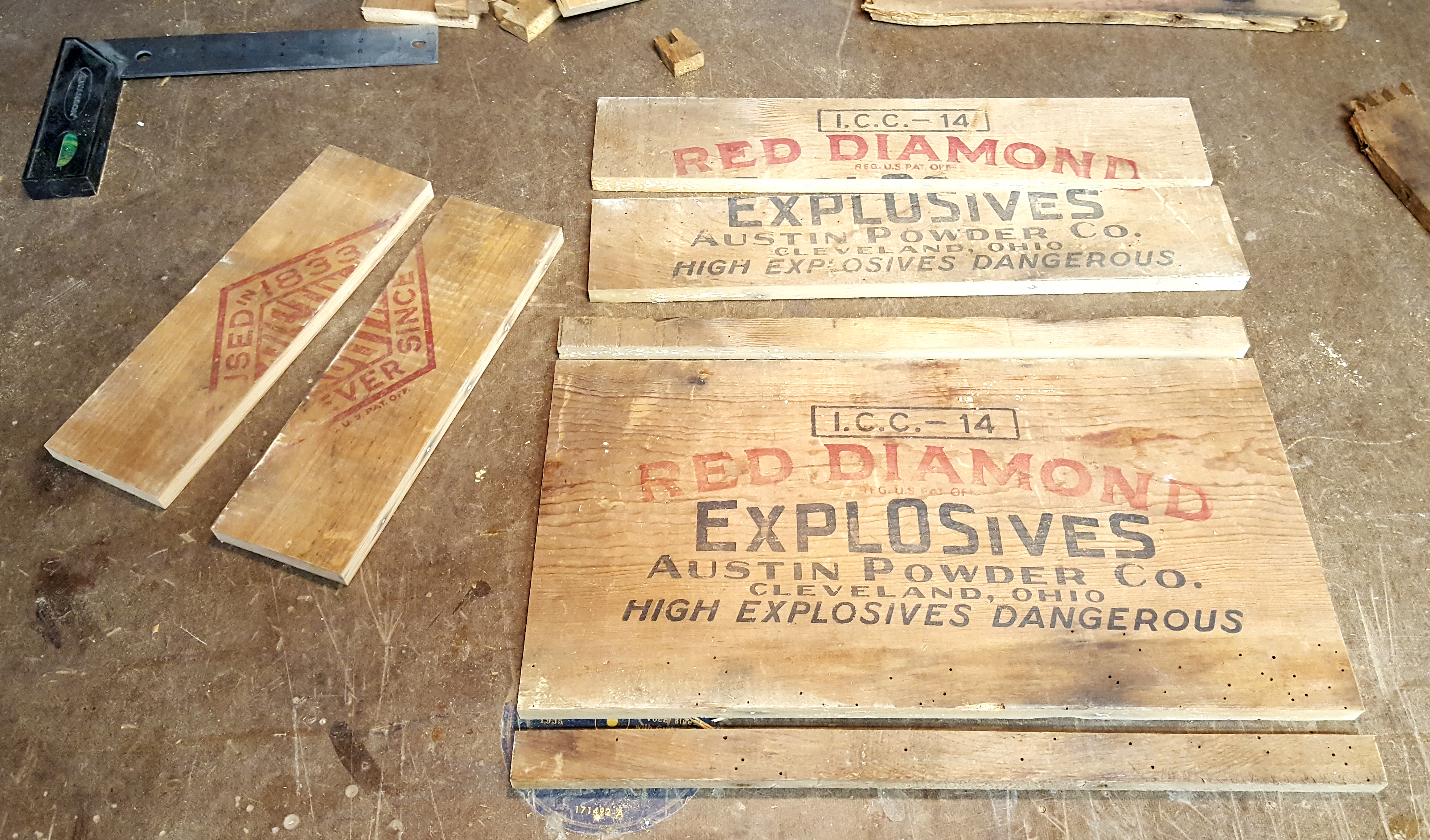 Butt joints are the easiest way to build a box - this is where the ends are joined to each other via flat 90-degree angles with no mitering or other fancy joinery. If you have a miter box or chop saw, you can try making 45-degree miter cuts instead.
Always do careful dry fits and take measurements to make sure your box frame doesn't end up bigger than expected - butt joints always add the width of the panels to the overall length or width, when can be an unpleasant surprise when you go to fit the top and bottom panels on.
If you have enough material, you can extend your soundboard's length or width to make it bigger and better-sized for a guitar.
If you run out of wood from your crate, you can use wood from another source. On my Dynamite Guitar, I took apart a second old crate and glued pieces together to form the back panel.
Video Explanations
If you need more of a visual, in-depth view, here is a video where I go over some of these points while beginning on a new packing crate guitar:
There's a lot of creative fun to be had venturing into these larger boxes.
It does require more creativity, and there is no definitive pre-written how-to guide or plans, you have to get in there and DIY: do it yourself!
If you're like me, you'll learn a lot, make some mistakes, and have a lot of fun along the way.
- Ben "Gitty" Baker
Bonus Box Guitar
As an added bonus, here's a 6-string guitar I built from an old Coke crate.
This one didn't require any cutting down and re-sizing of the crate, but a suitable soundboard did need to be found.
Some 150-year-old barn board did the job nicely.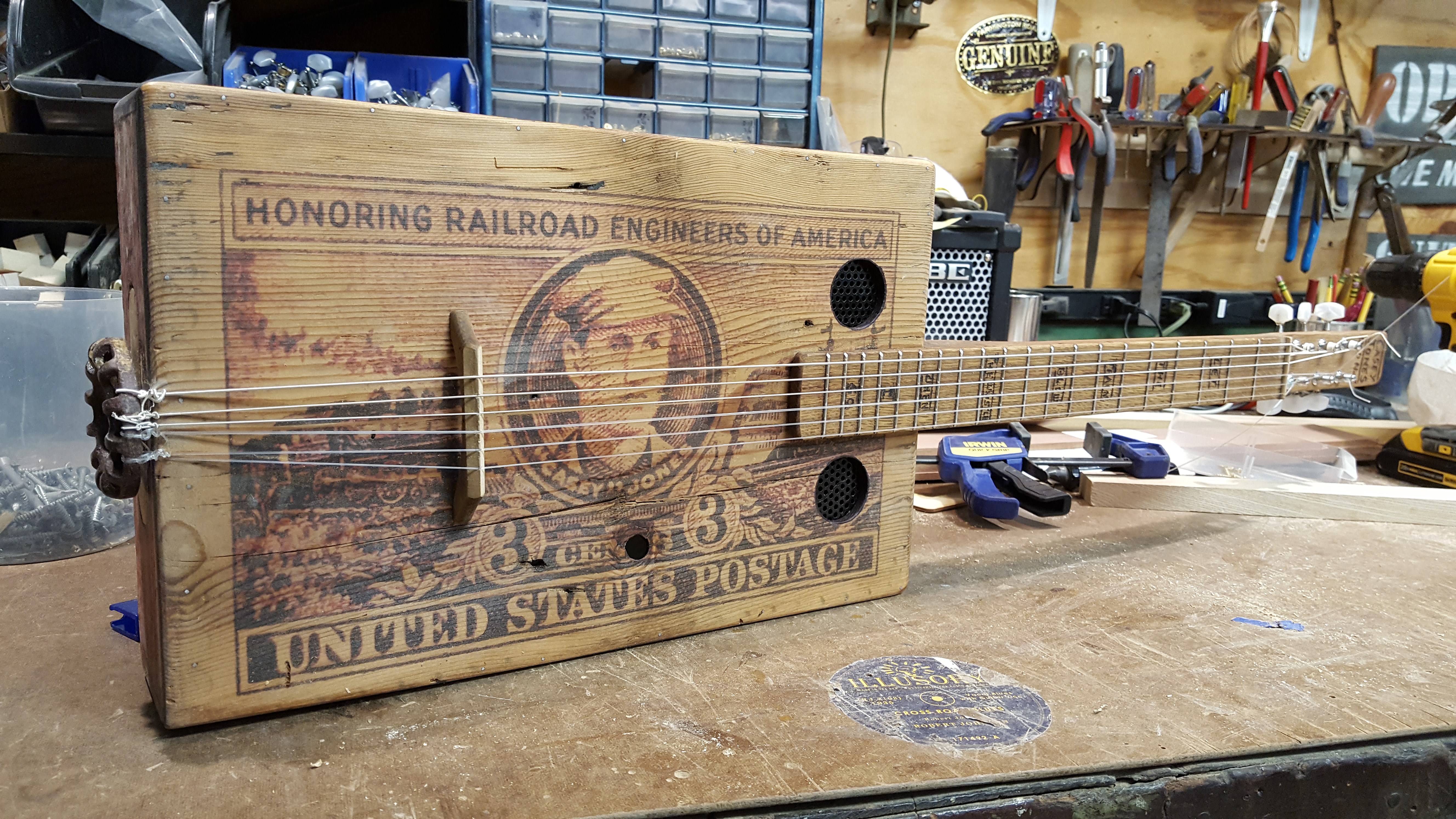 Recommended Reading
Like what you've read here?
Consider checking out a few other short, fun, and informative posts about finding cool stuff with which to build your guitars...
Gitty's Guide to Junkin' and Pickin' for Cigar Box Guitar Building - Part 1
Gitty's Guide to Junkin' and Pickin' for Cigar Box Guitar Building - Part 2
Why Use Reclaimed Materials To Build Cigar Box Guitars?
Recent Posts
On a request from a long-time customer, Ben Gitty recently sat down to arrange tablature for the bel …

Recently, Gitty customer Vince Wesley sent us a couple of pictures of recent builds, and one of them …

I've heard it said: "A cigar box guitar is never going to sound like a Martin or a Gibson... but the …