In their latest episode, the Gitty Gang put on another terrific show. The grab-bag variety show included multiple outstanding performances by Ben and Dan during Hobo Junction, and several incredible audience-submitted photos and videos, and a whole lot more!
In episode #122 of the Gitty Gang Show, the Gang was up to even more shenanigans than usual. Horseplay aside, they performed several songs that roused the audience with wide-ranging emotions. They also shared many inspiring audience-submitted videos and photos, ran a songbook giveaway, talked about cigar box fiddles, and much, much more.
Watch the video below. Also, make sure to scroll down to see the timestamps that link to your favorite show segments.
Video
Timestamps
5:41 News & Tidbits
Ben recounts a recent performance for some older folk in a nursing home and what it means to share music in that setting.
Talk about the recent 3rd Annual Florida CBG Festival with Steve Arvey and Ben Prestage.
Well wishes for cigar box guitar community member John Nickel who's recovering from some tough times
A songbook giveaway featuring the Celtic Session Songbook for Voice & Guitar.
Ben's new instrument experimentation (it's a mouthful!)
13:50 John Lowe, a lynchpin in the cigar box guitar movement, recently received positive press in Tennessee. Ben praises Lowe and takes cheeky exception to the headline for the article highlighting him.
15:52 Check out this beat using a cigar box guitar recorded by James Brite. James is a young man who's been building cigar box guitars since he was 11-years-old, and this track represents a modern take on how a CBG can be used.
22:49 Gitty's got two one-of-a-kind guitars for sale, built by Gitty-shop ace R. J. McCarty.
Here's the One of a Kind "Sailor Jane" Vintage Tattoo Art Illustrated 3-string Cigar Box Guitar.
Next, here's the One of a Kind "Fire Chief" Vintage Art Illustrated 3-string Cigar Box Guitar.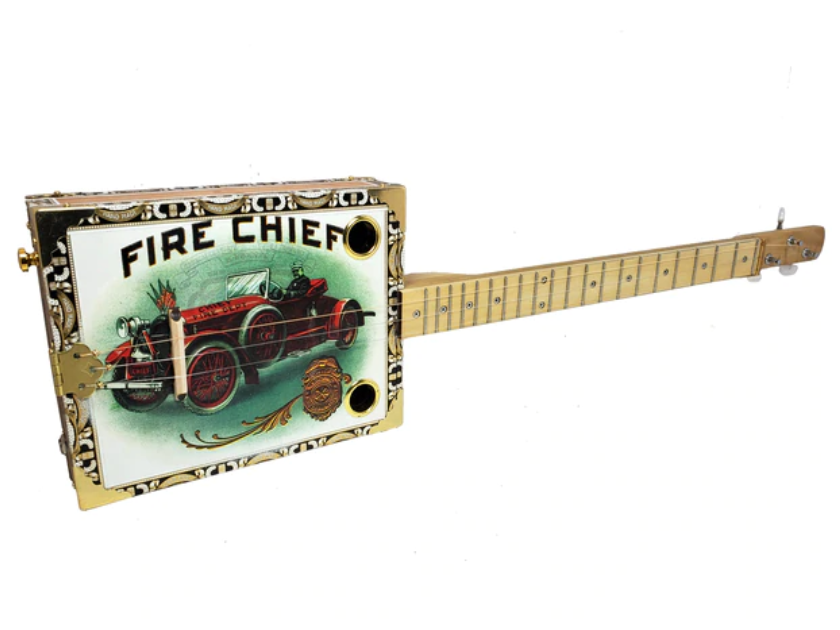 24:20 In this segment, you get some cigar box fiddle talk. Ben discusses his chin rest addition to a Jim Morris-built cigar box fiddle, why and how he added it, including the historical and sentimental value of the addition.
27:29 Ben and Dan play Saint Anne's Reel.
32:15 Ben and Dan play Ben's original song titled Charlie's Song, named for Ben's late best-friend, Charlie Boyle.
37:22 Check out this incredible cigar box guitar build that has strings on more than one side of the neck. A longer, explanatory video for this unique cigar box guitar is on Tim Sway's YouTube channel.
Watch the video below.
38:29 It's Watt Corner, people. This is where we share incredible stories and guitars built by Gitty Gangsters from the world over.
48:50 New Ben Baker-published songbooks are available, now. Here's the latest: Old-Time and Bluegrass Favorites Cigar Box Guitar Songbook - Volume 2 (Limited-Edition Spiral-Bound Version).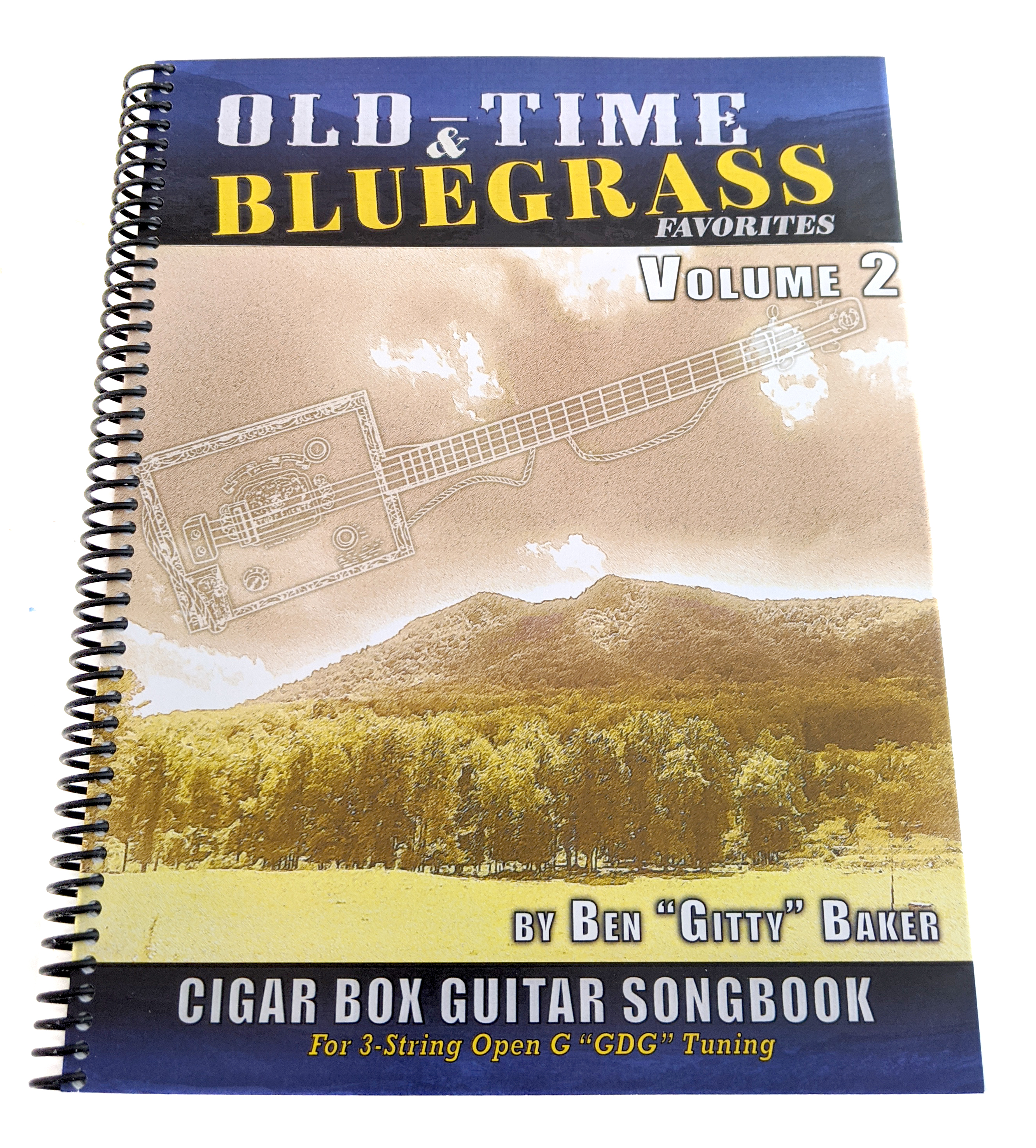 55:25 Ben and Dan perform Railroad Bill.
59:27 Ben and Dan perform Roll In My Sweet Baby's Arms.
1:03:03 Ben and Dan perform When I Lay My Burden Down.
1:07:04 Praise for Eric Denton and his tennis racket guitars (linked below), plus a video of Eric playing lap steel with a Janis Wilson Hughes tone bar (linked below.)
1:10:14 Gitty Gangster Bill Robertson plays a beautiful double-neck cigar box guitar.
1:11:50 Dan and Ben perform Turn Ye To Me.
1:15:40 The Gang plays out the show.
Recent Posts
On a request from a long-time customer, Ben Gitty recently sat down to arrange tablature for the bel …

Recently, Gitty customer Vince Wesley sent us a couple of pictures of recent builds, and one of them …

I've heard it said: "A cigar box guitar is never going to sound like a Martin or a Gibson... but the …