Want to build a cigar box guitar worth handing down to future generations? Want an antique-look and terrific tone for your next build?
You can build that kind of cigar box guitar with a little help from Shane Speal.
In this post you'll discover how Shane makes collector-quality guitars using antique cigar boxes.
Plus, he shares how your next build can have eye-popping vintage graphics, along with a host of other useful benchside tips.
Shane reveals all of his secrets and more in the video below.
After watching the video, scroll down this post to see all of Shane's tips broken down into easy-to-understand pictures and plain-speak text.
What You'll Learn
Here's what you'll learn from the video and pictures in this post:
What challenges you'll face building with antique cigar boxes
How to protect an antique cigar box
How to make vintage-graphic fretboards
How to repurpose big, old fruit crates for CBGs
How to protect the tail-end of cigar box guitar necks
How to sell your cigar box guitars (that is, if you can bear to part with them)
So strap in and get ready to learn what it takes to build cigar box guitars that have the vintage look, feel, and sound you've been searching for.
Watch the Video
Here's the video in which Shane shows all the tricks and tips you need to build an heirloom-quality cigar box guitar.
See the Step-by-Step Pics
Now that you've seen the video, check out the instructive photos below that detail Shane's advice, step-by-step.
"Hey Cigar Box Nation TV, my name is Shane Speal. Thank you for joining me.
[...]
I've got some secrets to show you today.
I'm going to be talking about antique boxes."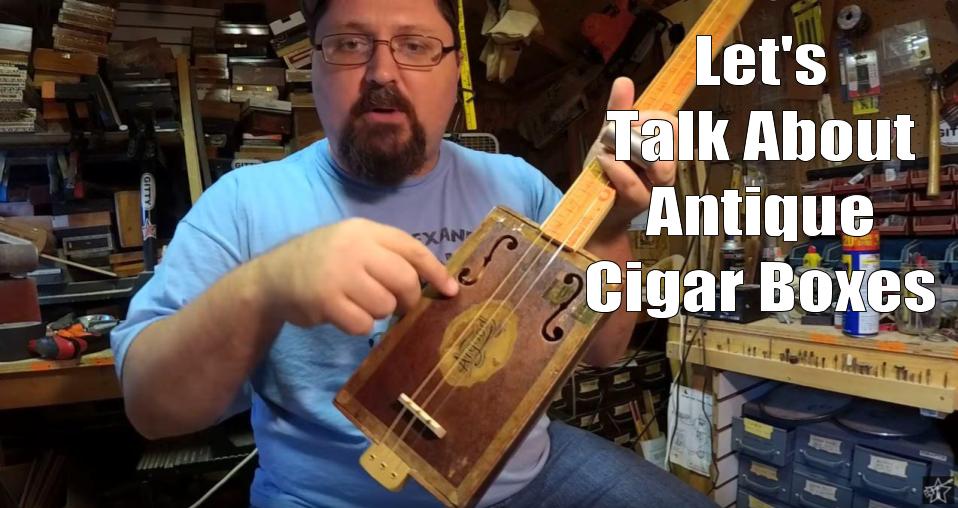 "I'm going to be talking about some interesting fretboard options...
We'll get into this in a minute and just give you some all-around cool secrets."
[...]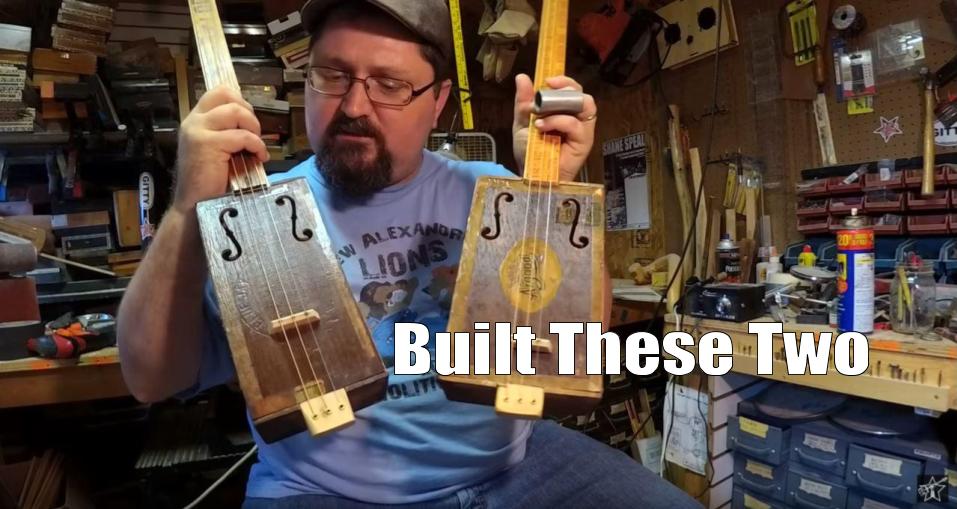 "I just got done building two cigar box guitars here... where I use the antique boxes to build these.
They came out great. They have an old-time sound."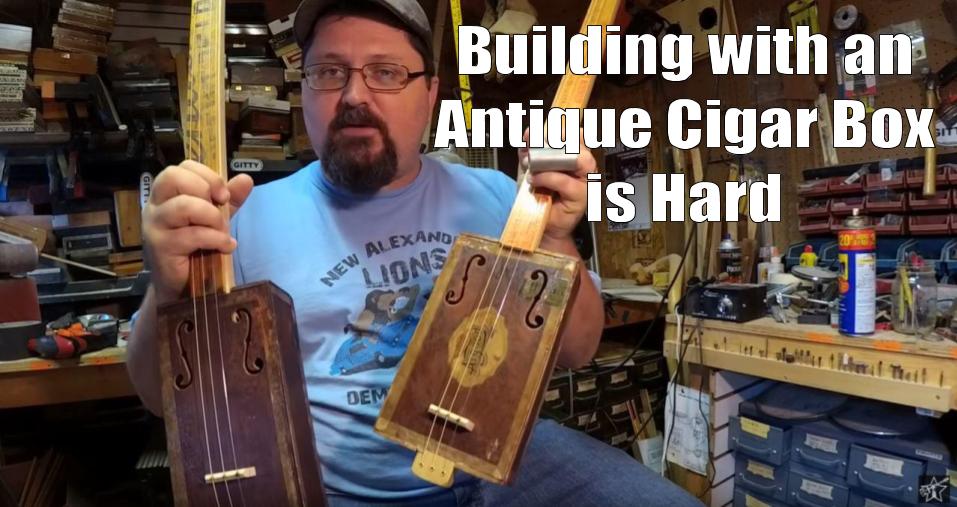 "I've really had to tweak these a lot because building with antique boxes is a lot harder and a lot more…
well, there's a bigger chance of these things imploding and getting destroyed as you're working with them."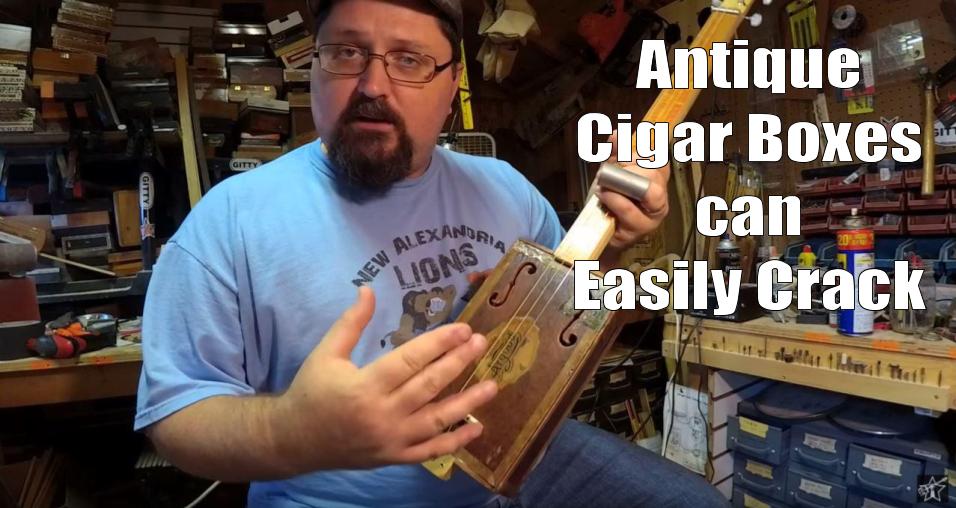 "Now, these boxes are each about 80-years-old, so you have that very dry, solid wood that would crack real easy.
In fact, I've even broke one box. I've got it over in my junk pile now, where the top of it just snapped right in half as I was working on it."
[...]
Seal the Box to Protect the Box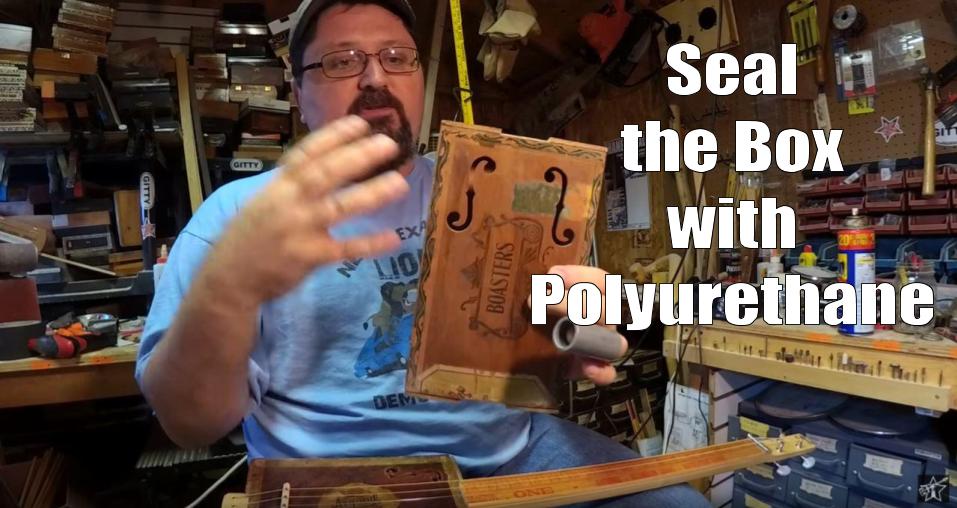 "I'm working with these antique boxes... first of all, I polyurethane the entire outside of them, and that seals in all the patina, and just gives them a nice, gorgeous finished look to it."
Antique Cigar Boxes Need Bracing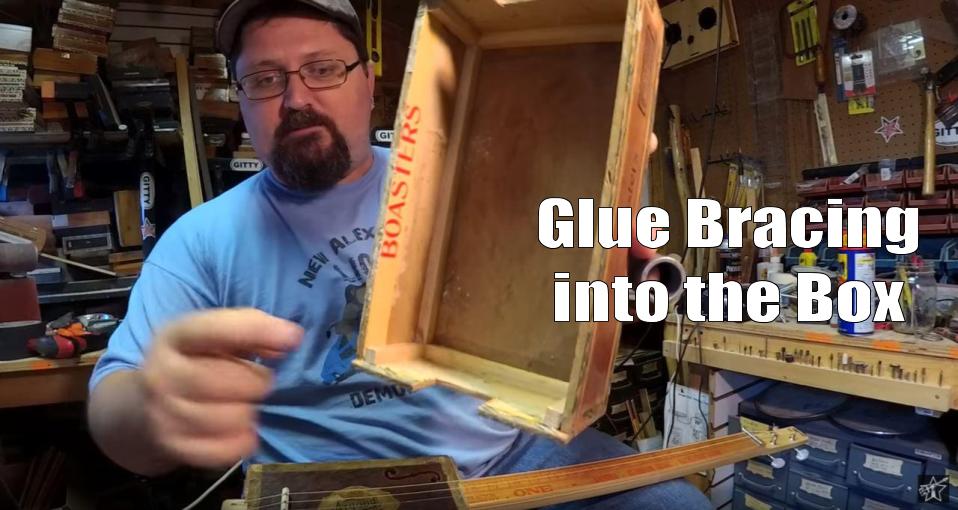 "Also, what I did with these was I took little pieces of three-eights-inch wood and I made little braces, all on the inside.
And that's all glued in here to keep the box nice and solid.
So, anytime I'm working with these antique boxes, I do a lot of extra bracing."
Choose the Right Strings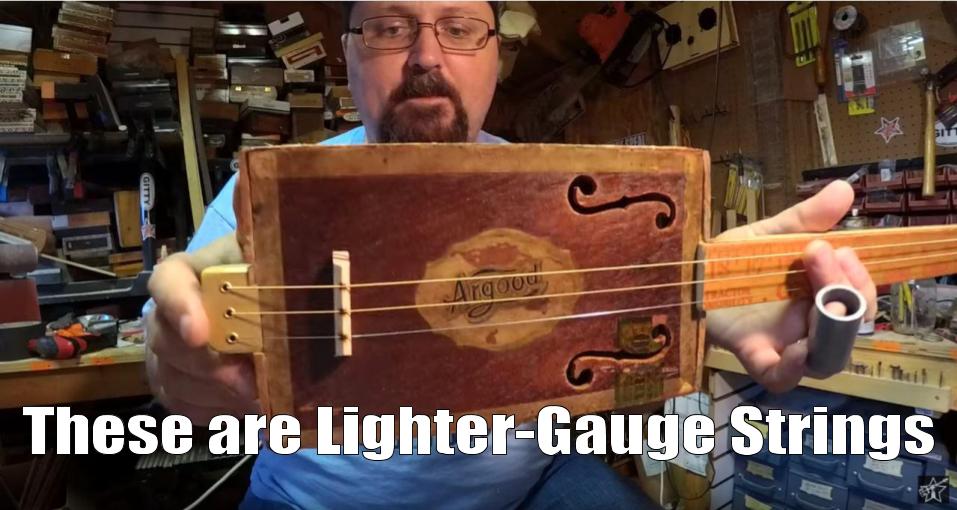 "Okay, and what we have here is the finished guitar, and this came out great, but you'll notice, sounds a little higher tuned than I'm used to building.
This is tuned to an open C right now and the string gauges are a lot lighter."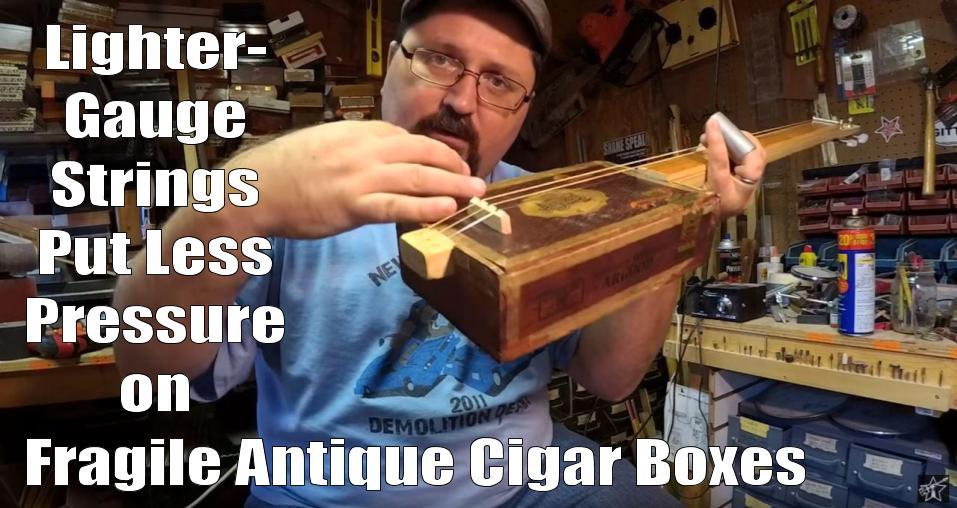 "C. B. Gitty sells acoustic guitar strings for D-A-D, and that's what I used for this because the lighter the gauge is the higher the tuning, but it's also less pressure on the box.
I didn't want to crush the box as the strings went over so I chose a thinner string and [...] a tuning, in this case, it was open C."
[...]
Use Caution Cutting Soundholes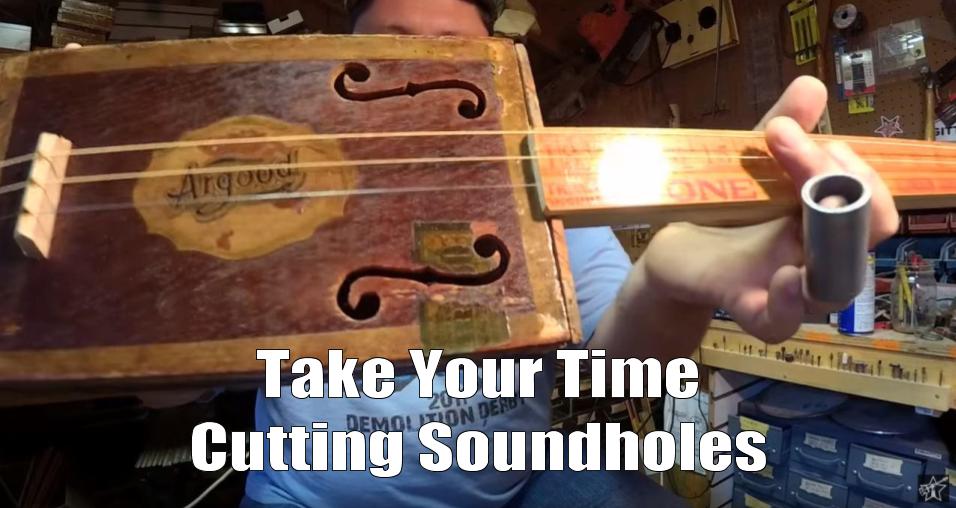 "I took my time cutting out the F-holes and I had a brand new scroll saw, so that was fun to do.
So, using antique boxes, I tell you what, they can be a pain in your butt.
You really need to take the extra time with them."
Antique Cigar Boxes Need Care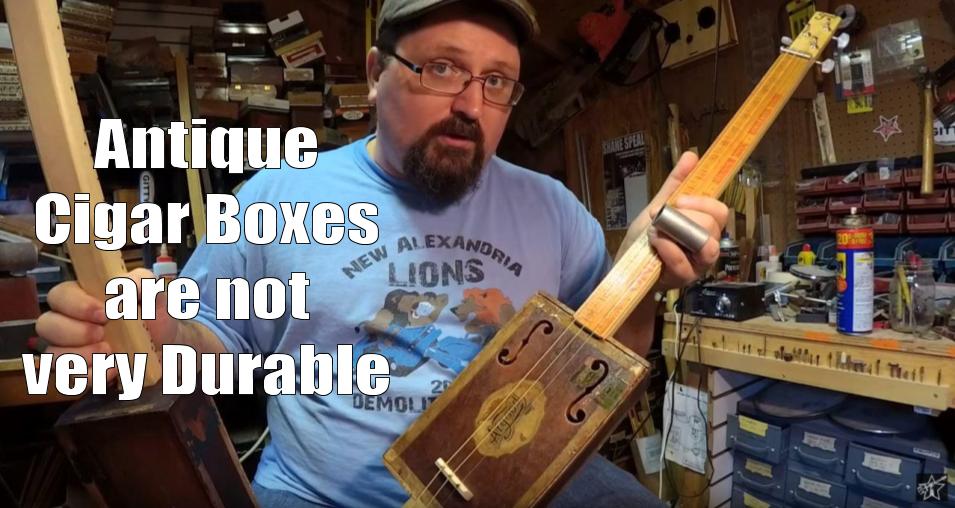 "If you're gonna make a guitar that you're gonna perform with, I would not suggest an antique box because unless you're very delicate…
I have the feeling these things just won't take the abuse of a normal three-hour gig.
But, playing at home, playing in the studio these things are perfect.
They're also gonna give you the sound of an old-time cigar box guitar."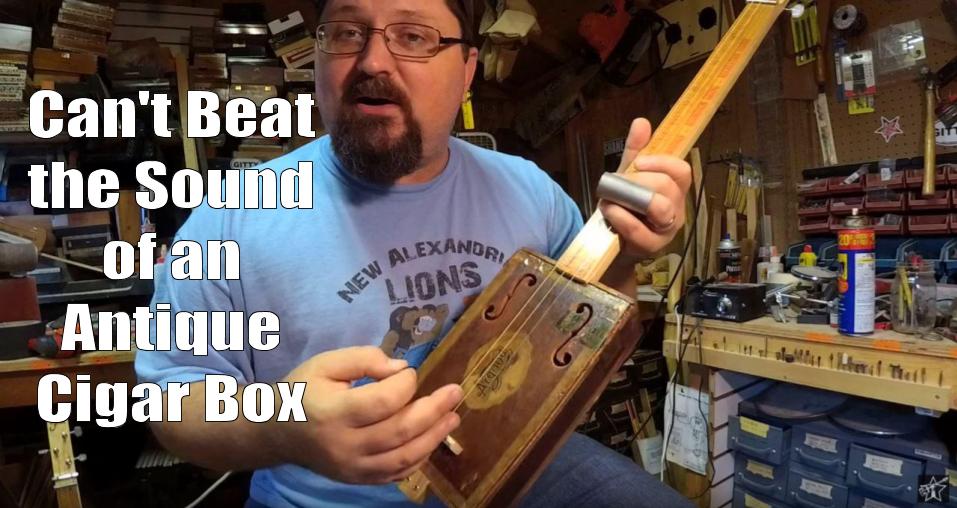 "... you just cannot beat the sound of an 80-year-old box singing."
Vintage Graphics Compliment Antique Boxes
"Now, you see with this one I used an old yardstick and I love using yardsticks. I get them at flea markets.
The best ones I like are when the telephone numbers are only four or five digits long which means they're pre-, like, 1960's.
But I always get these. I polyurethane them up, clean them up whenever I put them on a neck-through cigar box guitar.
They just give that appearance of frets.
And this one's cool because the numbers go backwards on it."
[...]
"So I put the fret markers on the side."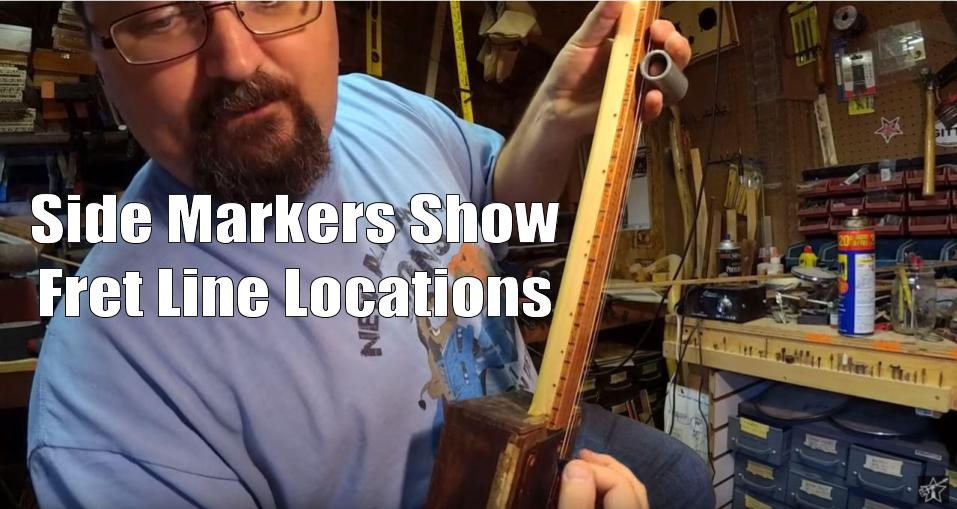 "For the performer, you can look as you're playing and see the frets as you're going up and down.
But the audience, all they see is old-time yardstick.
Now, I wanna give you this other tip.
I had an old apple crate. Or actually, it was a grape, fruit crate.
And you'll see, I've started to take it apart here."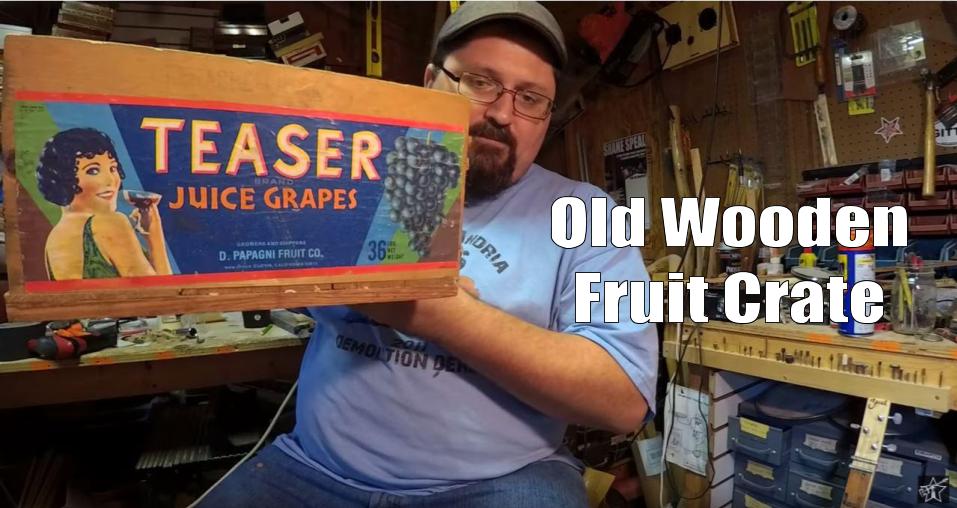 "It was for Teaser Juice Grapes. And these are those old wooden fruit crates from the 1950's, or before."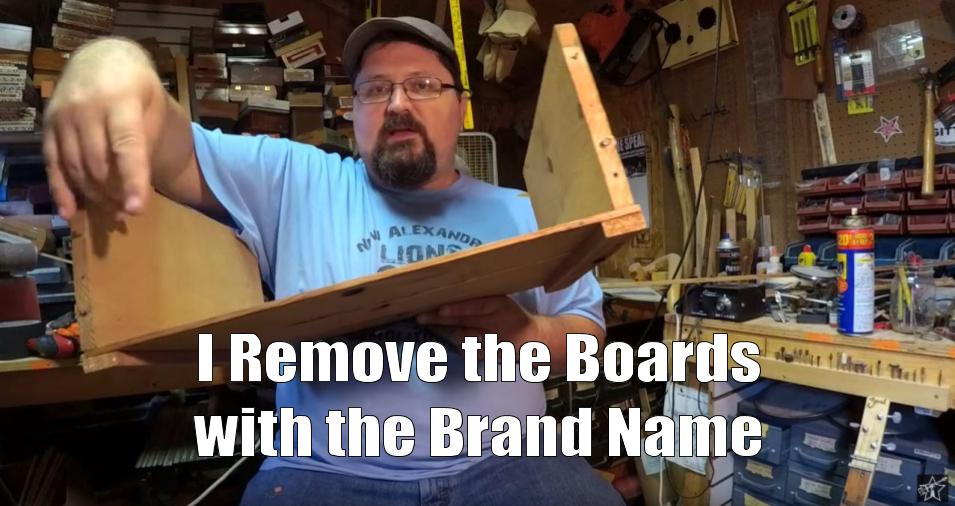 "But on this side of it, the boards going on this side had the brand name on.
I took those boards off and I cut them into 1.25-inch strips.
And I used that for the fretboard here."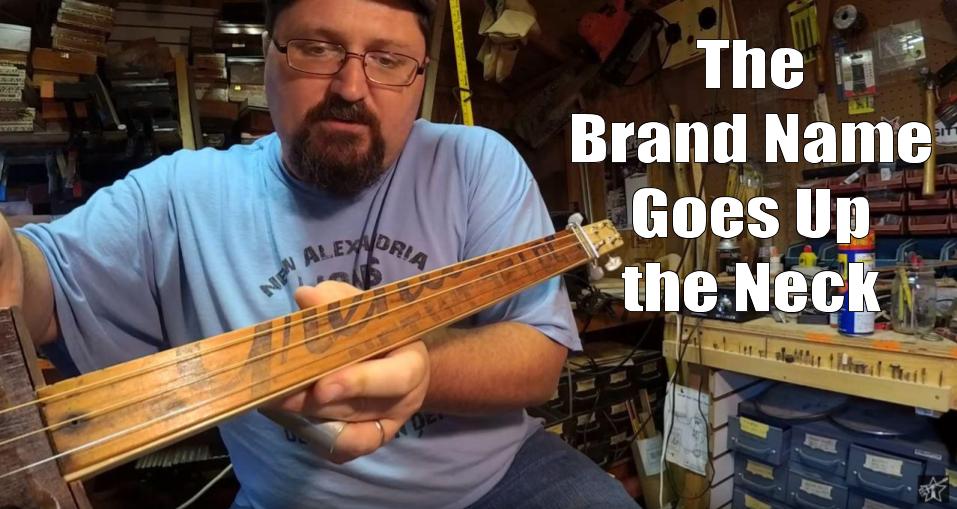 "So you can see a ghost of the old brand name going right up the neck.
[...]
And what I'll do with this, this will get polyurethane, cleaned up…
taking an old fruit crate and having that brand name going up the fretboard is a great, great visual trick.
Do it with old cigar boxes.
Match it with old boxes and you have something that looks like it was made by just junk laying around the farm.
So, I just cut the fretboard just a little bit skinnier than the neck and used my sander to sand off the edges, and put polyurethane on them.
But it is just a wonderful effect.
So, check that out.
If you're hitting flea markets or yard sales, look for old crates and especially ones with the name branded on the side.
I've also used old, like, soda crates like Coca-Cola or 7-up and I've cut the sides off that were branded and I've used those as fretboards as well."
"You want these things to be visually stunning and you just can't beat this.
So, there's an idea for you to steal.
I'm giving it to you guys. Go ahead and use it."
Protect the Neck
"Another big thing that's a secret I want to show you… I use poplar on these necks and I've made thousands of cigar box guitars with poplar."
[...]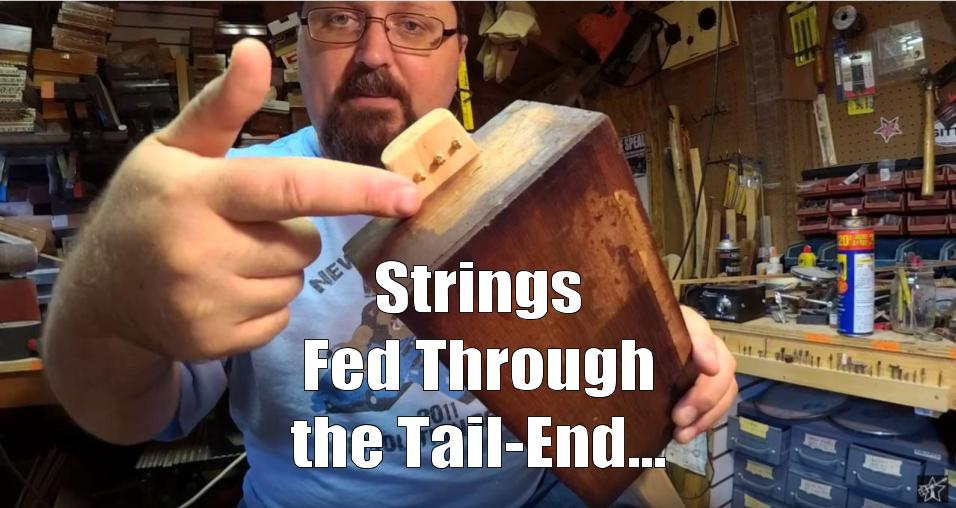 "When the strings are fed through the back and they come up the front,"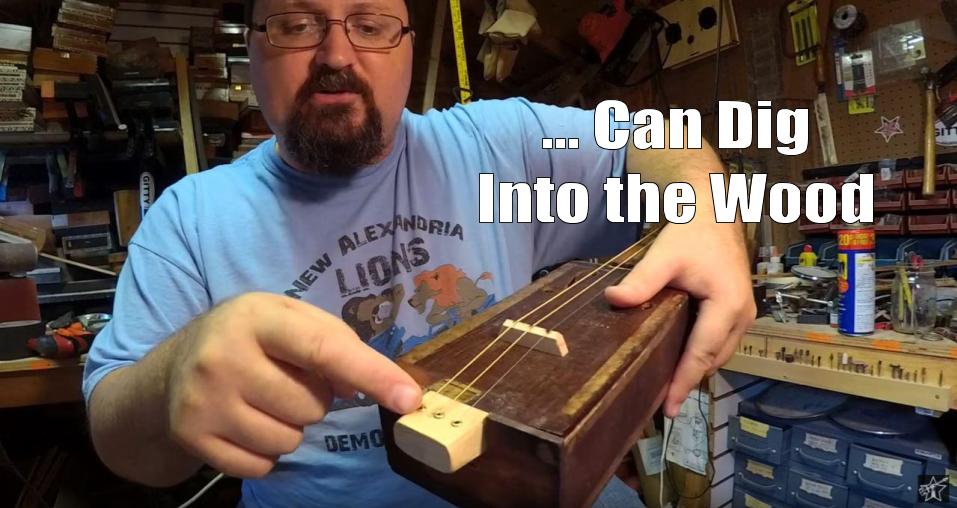 "with poplar sometimes it digs into the wood.
So I bought these."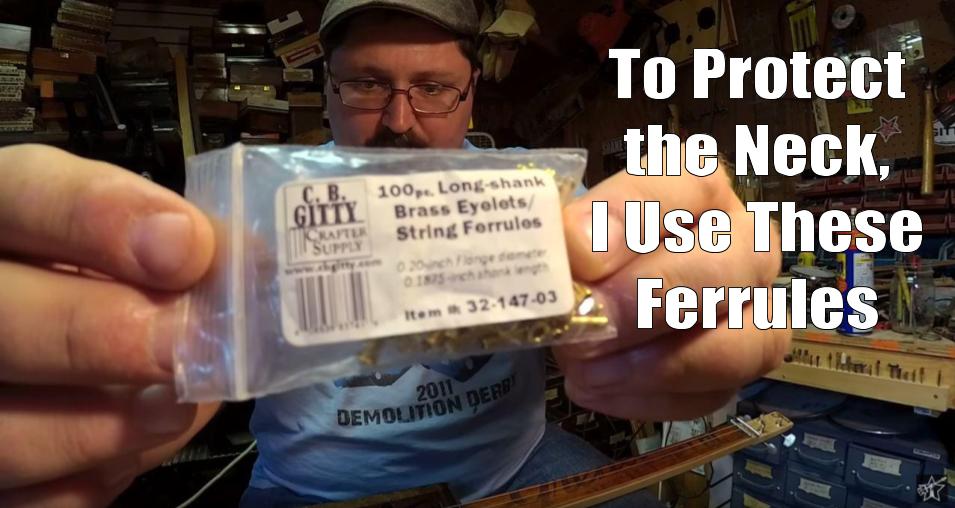 "These are from C. B. Gitty. They are 100 piece long-shank brass eyelets.
And he also calls them string ferrules."
[...]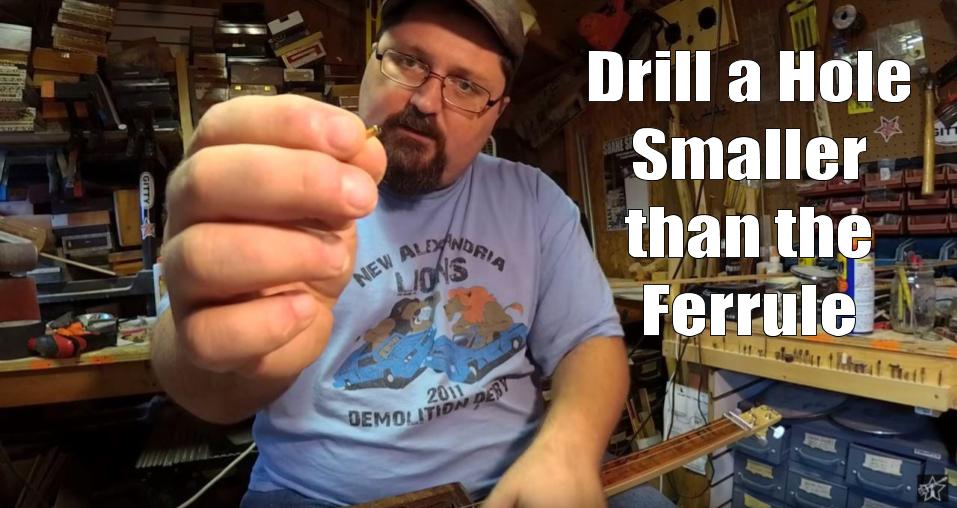 "And what you want to do is you want to drill a hole just smaller than the width of the ferrule.
Drill that hole the whole way through.
Because these string ferrules, even though it says long-shank, they only go halfway down into the wood here.
You see that?"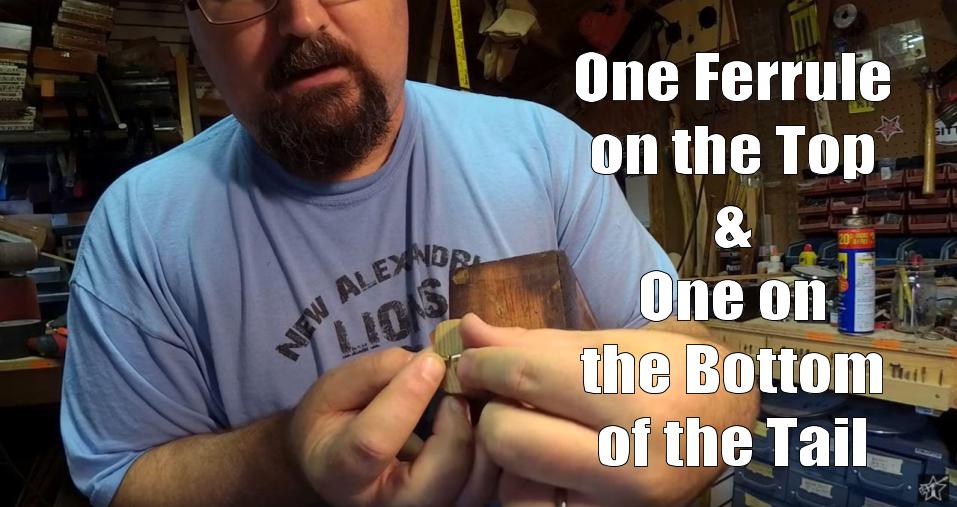 "Which means you can use two; one on the top and one on bottom.
And it fits just perfectly... I have one ferrule going top here and one in the bottom."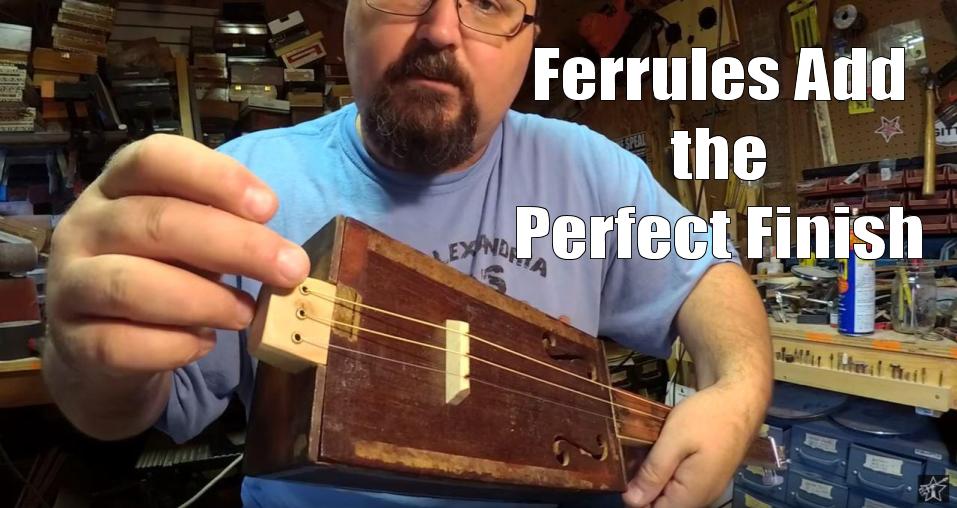 "And it adds the perfect finish to where the strings are fed up through at the butt-end of the cigar box guitar.
I just love these things."
Choose the Right Bridge
"… the bridge itself is one of C. B. Gitty's hardwood bridges. It's similar to this one.
[...]
What I did with this bridge was I cut it and I shrunk it down to size.
Used my sander to clean up the edges."
[...]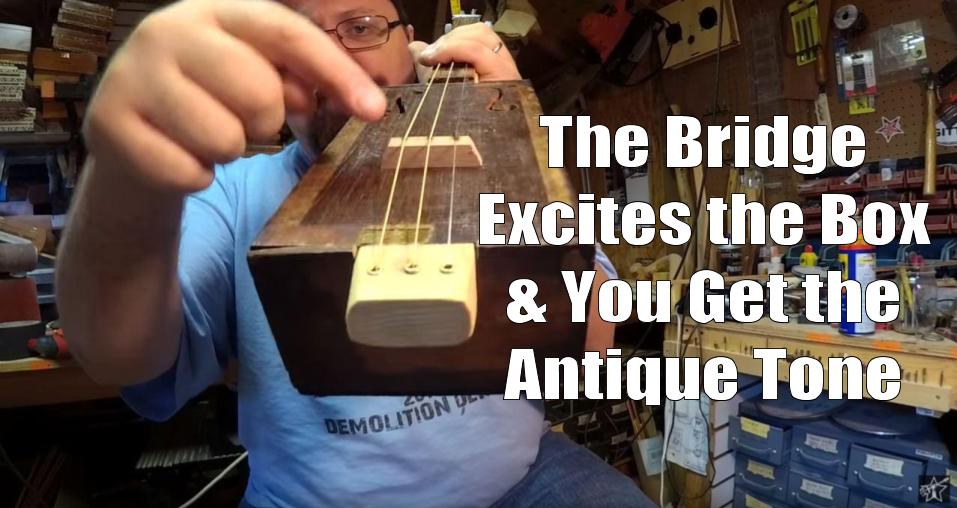 "The hardwood transfers string vibration straight to the box and excites the box and that's where you get the tone.
Now, I've got the guitars done."
[...]
Prepare for Sale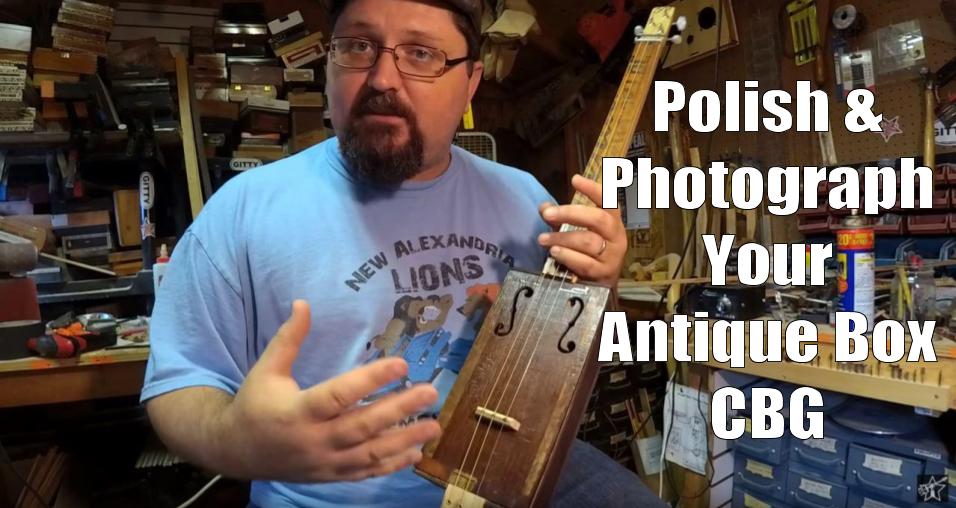 "In all of these videos I've tried to teach you guys how to sell and market your own guitars.
What I'm gonna do with these is, I'll go in the house and I'll get some furniture polish.
Pledge, it's fine.
I'm gonna polish up the guitars, make them look nice, and then I'm gonna photograph them.
I like to photograph mine right on the workbench here.
I'll clean up my messy workbench, put a single light on there and get some great photos."
Demonstrate the Sound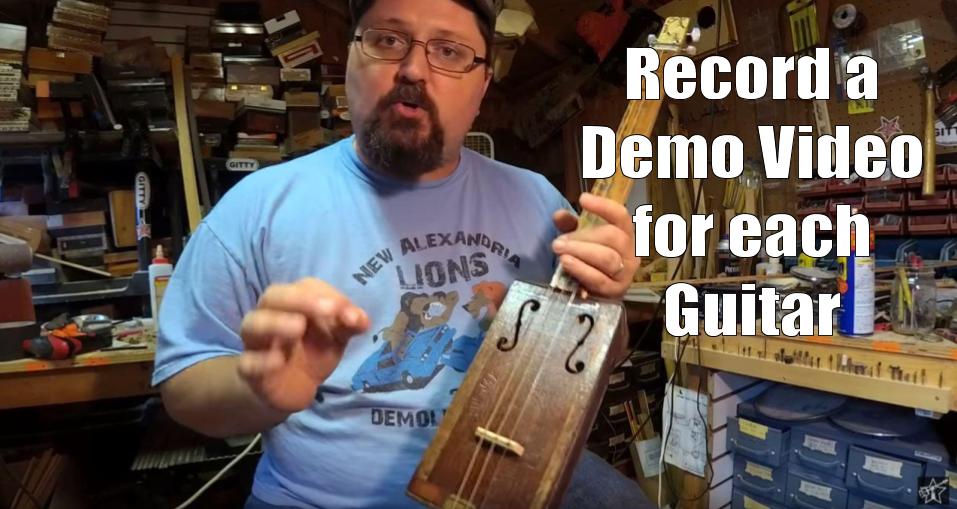 "In addition, I'm gonna take my iPhone and record a one-minute demo video for each guitar.
Those demo videos I'm gonna upload to YouTube.
And when I put these guitars on ShaneSpeal.com, I will embed the video right beside the listing.
So, if you're going to go look for guitars on my website, you're gonna have some great pictures showing all the different details, and you're also going to have a demo video.
People, I cannot tell you how much a demo video will help."
Do this to Sell More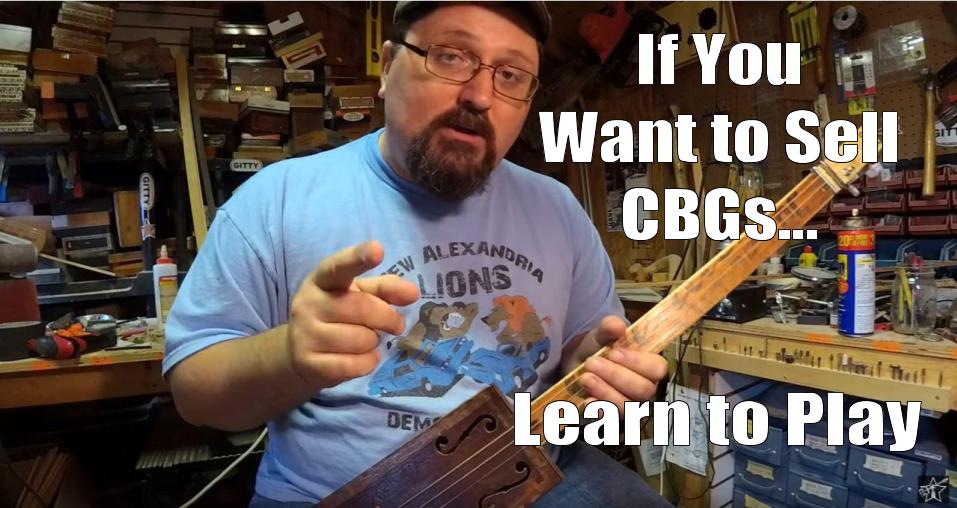 "And if you're not good at playing, I've told you before, if you want to sell cigar box guitars, learn to play.
Try to get at least one or two licks that you can fire off, that sound good, and make that your demo video.
But, all of these things are important.
You can't just build a beautiful guitar and expect people to find it somewhere.
You gotta do the right pictures, do a good video, and wherever you sell it, whether it be Facebook, Etsy, eBay… do a demo video.
It helps big-time."
[...]
Sign Your Work
"Oh! One other huge… please, please, please do this as you're building: please sign your work.
I put my last name at the headstock, but that is hand-signed.
I also put a date on the back of them."
"Sign your work; you're an artist. Sign your work.
So, that's what I got for you today.
Antique boxes are a pain in the butt.
But if you take time bracing them, and spend a lot of extra time in the setup, you can have a great-sounding guitar.
Fruit crates are great to take apart and use for fretboards because they look awesome.
And so do yardsticks.
[...]
Don't forget the string ferrules because they keep the strings from cutting into the wood.
[...]
For Cigar Box Nation, I am Shane Speal. You guys, Happy building! I will see you soon."
Conclusion
In this post Shane Speal shows you how to build cigar box guitars with antique cigar boxes and other vintage items.
Through video and pictures, you learn
What challenges you'll face building with antique cigar boxes
How to protect an antique cigar box
How to get vintage graphic fretboards
How to repurpose old crates for CBGs
How to protect the tail-end of cigar box guitar necks
And how to sell your cigar box guitars
To learn more about building with vintage, antique, reclaimed and repurposed objects, click through the links below for more fantastic articles.
Things Shane Used in this Post
Recommended Reading
Recent Posts
Reclaiming wood from old pallets to build cigar box guitars can be a satisfying endeavor. Givin …

In this episode of the Gitty Gang Show, Ben and the Gang discuss Hobo fiddle innovations, songwritin …

In this surprise birthday episode celebrating Ben "Gitty" Baker, the Gang shares several old-time …