In this post, you'll see episode #124 of the Gitty Gang Show, this one titled Homemade Music Is Amazing. Scroll down to see a video of the entire show. Scroll a bit further to see timestamps directing you to your favorite show segments, along with other helpful tidbits of information.
Every Friday afternoon at 2 PM (US Eastern), the Gitty Gang goes live on Facebook and YouTube. The Gitty Gang Show is a grabbag variety show full of cigar box guitars and other homemade instruments, how-to, songs, stories, jokes and more.
VIDEO
TIMESTAMPS
3:35 "Getting everyone playing the instruments they build is very important," said Ben "Gitty" during this part of the show in which he introduces his newest publication, the Children's Favorites Cigar Box Guitar Songbook. This current edition of the book is spiral-bound and signed by Ben.
Ben continued speaking about his growing library of self-published songbooks by saying, "... the true way to spread the word about this homemade, handmade music concept is don't just build them, play them as well."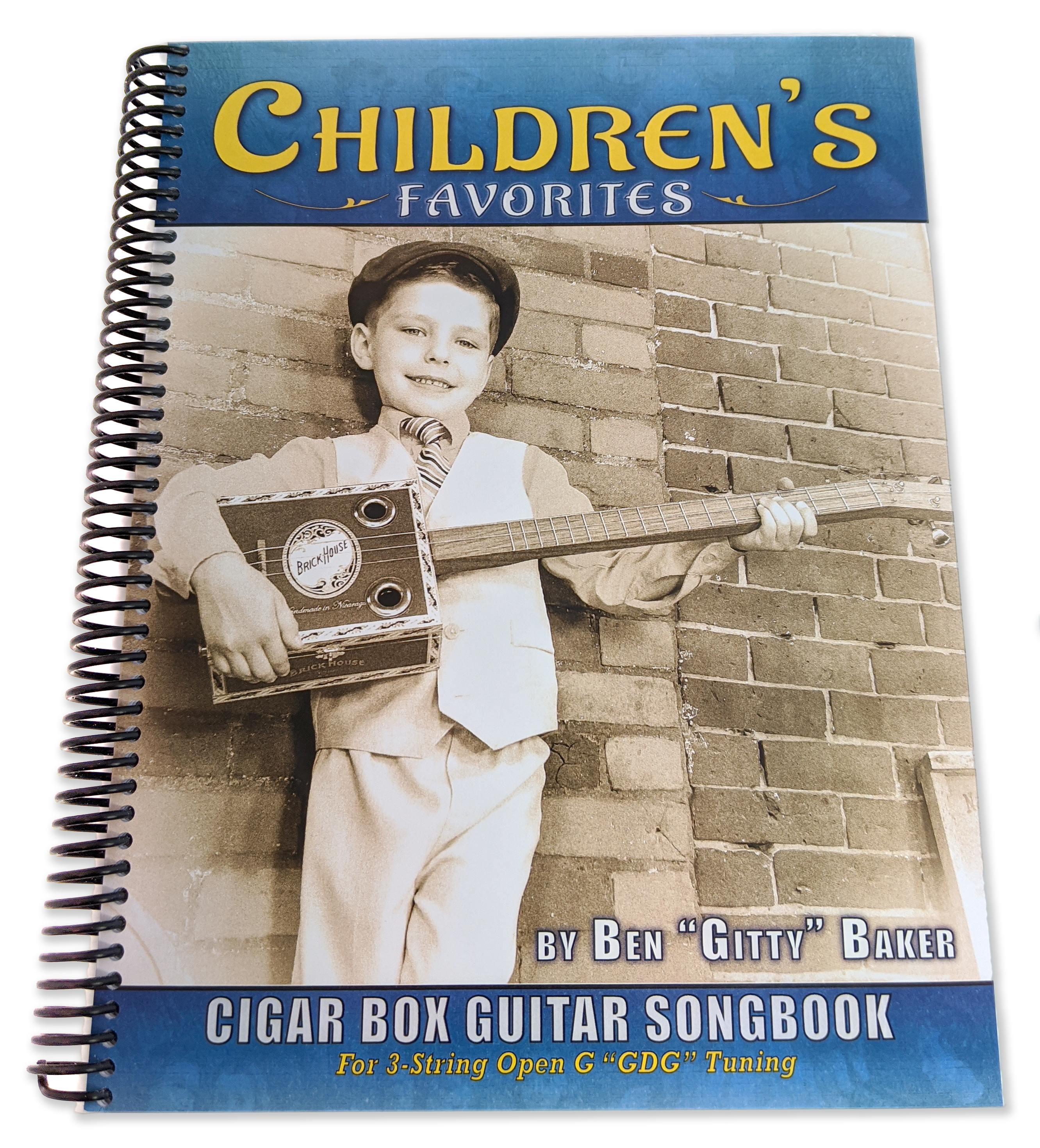 8:38 Here's Jimmy Driftwood performing one of his more than 6,000 songs on a homemade six-string guitar made from a bed headboard. We marvel at how the guitar is intonated so well and how Jimmy can make that thing sing!
After Jimmy's six-string performance, stick around to watch him play a mouth bow and sing a good ol' American folk song.
12:17 Following the two Jimmy Driftwood videos, hear Ben discuss how mouth bows may have been the first-ever stringed-instrument in history. From a hunting bow to a musical instrument, necessity (in this case, passing the time and making music) continues to be the mother of all inventions.
13:46 It's Watt Corner, people! Check out some of the coolest things to be found from the cigar box guitar community in the past week. This Corner includes Gitty Gangsters Jimbo Burt, Dave Lynas, Randy Bretz, Rob Wrobel, Nil Swanson, Steve Beckwith and Marty Tauber, Walt Davis, and Tyler Garrett.
28:16 Check out our dear friend and one of the hardest working one-man-bands, A.J. Gaither. This man knows how to tear down a honky-tonk with his brand of homemade music.
32:44 It's the return of At The Bench with Gitty! This time around, the segment starts with Ben introducing the newest Gitty Gangster Danny Woodman. Then you'll learn about the C. B. Gitty canjo necks, handmade right here in the Gitty workshop with help from Danny. Then be introduced to how those canjo necks can be used to make more than just canjos. The possibilities will surprise and inspire you!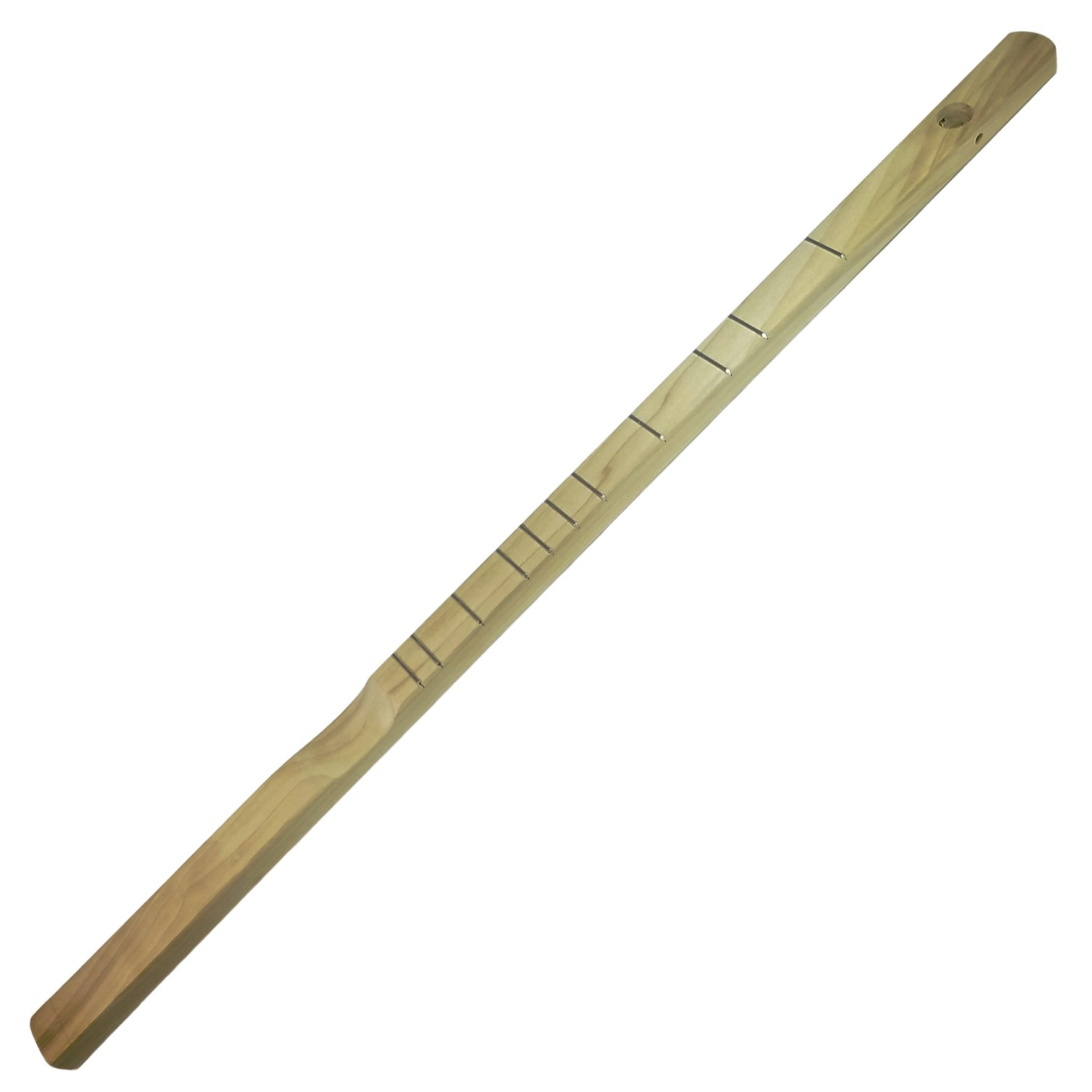 39:50 Next up in At The Bench with Gitty, check out a new kit Ben is close to releasing! It's a DIY kit that will organize your tangle of guitar strings in the workshop.
43:29 Last in the Bench segment, Ben shares another kit in progress: a totally DIY, handmade cigar box ukulele kit.
48:43 Would you look at this musical typewriter? In this video, see how Tom Thompson of Primitive Acoustics uses an ingeniously modified typewriter to create music. He even plays it with a bow!
50:49 Look who won first place in the builders' contest at the Samantha Fish Cigar Box Guitar Festival (formerly known as the New Orleans Cigar Box Guitar Festival.) Gitty Gangster El Gordeaux shows off his prize and the four-string hubcap guitar that won him top honors.
52:14 Ben "Gitty" poses to all this question, "How can you learn to play five instruments at the same time?" What do you think? Watch the next segment to find out.
52:57 Gitty discusses a mandolin-inspired alternate tuning that spans several other instruments. Learn how to play this tuning and you can pick up several instruments including a mandolin, a four-string CBG, an Irish tenor banjo, a tenor guitar, and get a leg-up on a fiddle!
55:55 Take a peek at a little snafu Ben reveals on one of his first builds.
56:14 Speaking of mandolins, Ben released another songbook. Does this man ever get tired?! Here's the Celtic Session Songbook for Mandolin and Related Instruments. This songbook that contains large-print lyrics and chords for 170 beloved Irish and Celtic Favorites is available only on Amazon.
59:58 Here's a feature-video for Shane Speal's newest edition of Poor Man's Guide featuring the late, great Liberian performer Wesseh.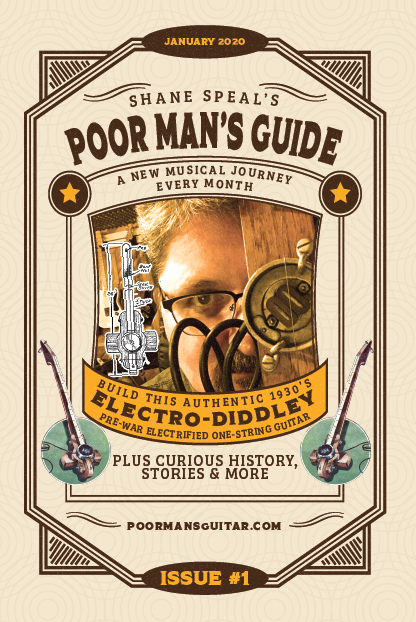 1:04:31 Here's another terrific feature-video created by Shane Speal. This one is for Ben "Gitty's" two volumes of Old-Time and Bluegrass Favorites Cigar Box Guitar Songbooks seen below.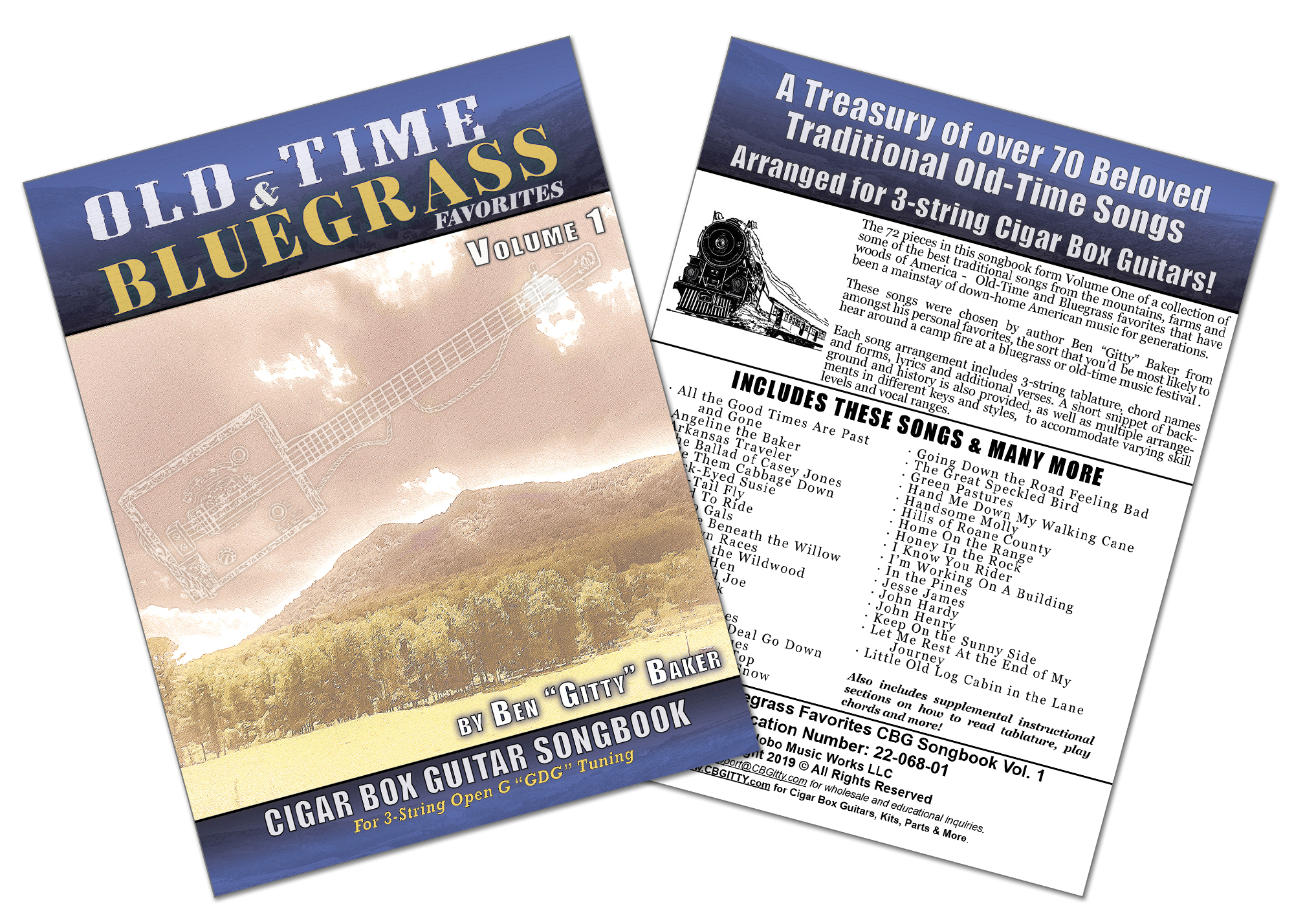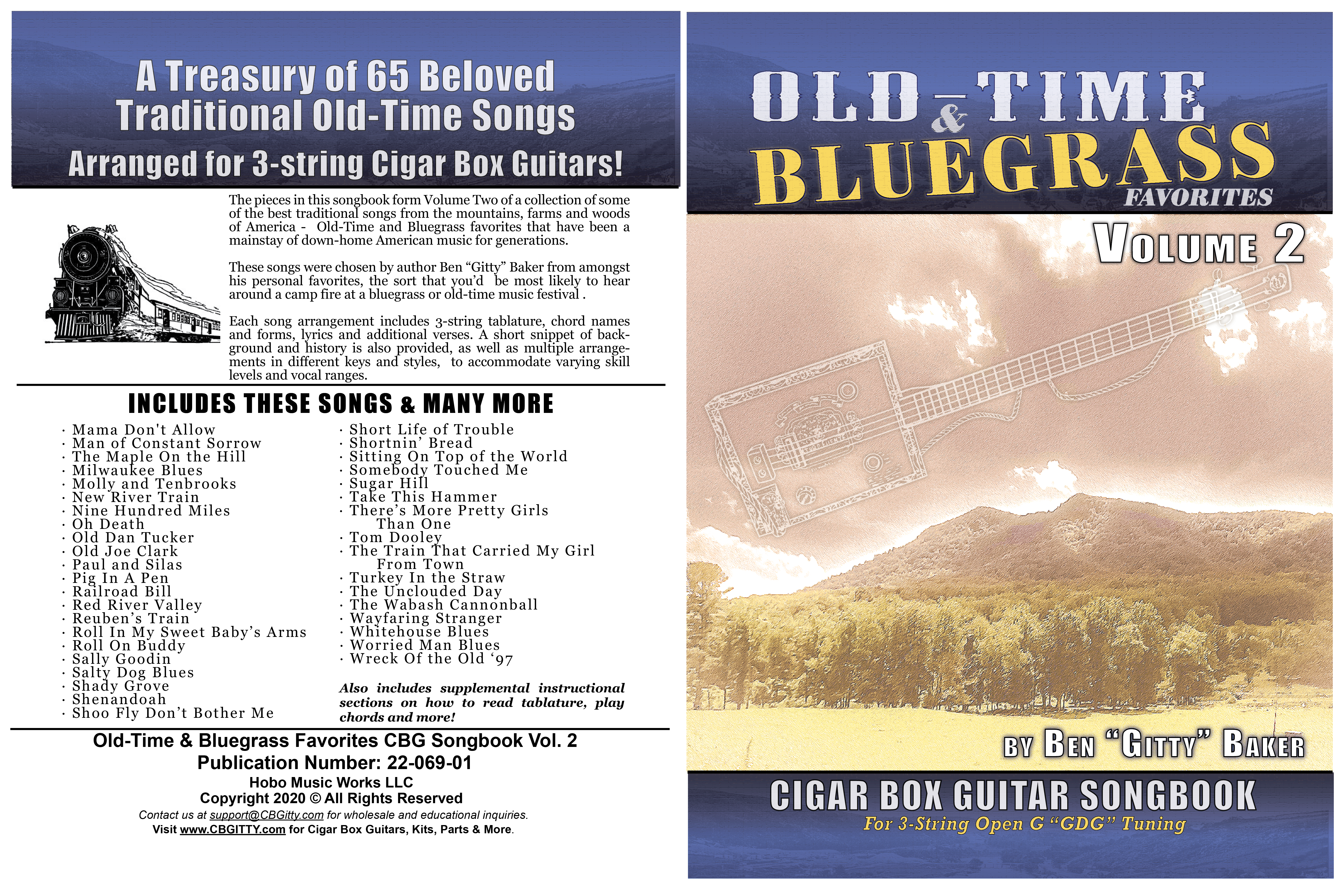 1:05:38 If you've ever felt like you can't, for whatever reasons, build or play a homemade instrument, watch this short bit of advice from Ben. It just may change the way you see the world.
1:06:16 See the winners of last week's songbook giveaway. Congrats, all!
1:09:31 The Gang plays out the show.
Recent Posts
On a request from a long-time customer, Ben Gitty recently sat down to arrange tablature for the bel …

Recently, Gitty customer Vince Wesley sent us a couple of pictures of recent builds, and one of them …

I've heard it said: "A cigar box guitar is never going to sound like a Martin or a Gibson... but the …